Infinity Nursing Home #StrikeForOurLives
How you can help
Donate to the Strike Fund
Social Media
Click here to share social media that will help bring about a good contact.
Join us on the strike line
Updated times starting Monday 11/30.
Ambassador, 4900 NORTH BERNARD, CHICAGO
Shift 1: 6-10am Shift 2: 9:30am-1:30pm
City View, 5825 WEST CERMAK ROAD, CICERO
Shift 1: 6am-10am Shift 2: 9:30-2pm
Continental, 5336 NORTH WESTERN AVENUE, CHICAGO
Shift 1: 6a-9a, Shift 2: 1p-4p
Forest View,  535 SOUTH ELM, ITASCA
7-11 am* (updated Mon 11/30)
Lakeview, 735 WEST DIVERSEY, CHICAGO
Shift 1: 6-10 am Shift 2: 12p-4p
Momence, 500 SOUTH WALNUT MOMENCE
8am-12p
Niles, 9777 GREENWOOD, NILES
Shift 1: 6-10 am Shift 2: 12-4 pm
Oak Lawn, 9525 SOUTH MAYFIELD, OAK LAWN
Shift 1: 6-9 am Shift 2: 2-4 pm
Parker, 516 WEST FRECH STREET, STREATOR
Shift 1: 6-10 am Shift 2: 12-4 pm
Southpoint, 1010 WEST 95TH STREET
Shift 1: 6-10 am Shift 2: 12-4 pm
West Suburban, 311 EDGEWATER DRIVE BLOOMINGDALE
1-4 pm* (updated Mon 11/30)
Infinity Nursing Homes on Strike 
Home
Address
City
NILES NSG & REHAB CTR
9777 GREENWOOD
NILES
CITY VIEW MULTICARE CENTER
5825 WEST CERMAK ROAD
CICERO
LAKEVIEW  REHAB & NURSING CENTER
735 WEST DIVERSEY
CHICAGO
AMBASSADOR NURSING & REHAB CENTER
4900 NORTH BERNARD
CHICAGO
CONTINENTAL NURSING & REHAB CENTER
5336 NORTH WESTERN AVENUE
CHICAGO
OAK LAWN RESPIRATORY & REHAB
9525 SOUTH MAYFIELD
OAK LAWN
SOUTHPOINT NURSING & REHAB CENTER
1010 WEST 95TH STREET
CHICAGO
WEST SUBURBAN NURSING & REHAB CENTER
311 EDGEWATER DRIVE
BLOOMINGDALE
FOREST VIEW REHAB & NURSING CENTER
535 SOUTH ELM
ITASCA
MOMENCE MEADOWS NURSING & REHAB
500 SOUTH WALNUT
MOMENCE
PARKER NURSING & REHAB CENTER
516 WEST FRECH STREET
STREATOR
Demands
Living wages so workers aren't forced to work multiple jobs and risk spreading the virus
Pandemic pay that rewards workers for their heroic work and retains staff
Adequate staffing to combat COVID means paying living wages of at least $15 an hour
Proper & adequate PPE
Background
Workers from multiple Infinity nursing homes across the Greater Chicago area delivered strike notices at 11 facilities on Thursday November 12th with a strike start date of November 23rd. The frontline, majority black and brown workers made the difficult decision to call a strike after months of bargaining in which management ignored their calls for pandemic pay and living wages as the spread of the virus not only extends but surges into record breaking numbers across Illinois.
Workers are prepared to strike for their lives. Infinity's management can avoid a strike by settling a contract that puts patient care & workers before profits.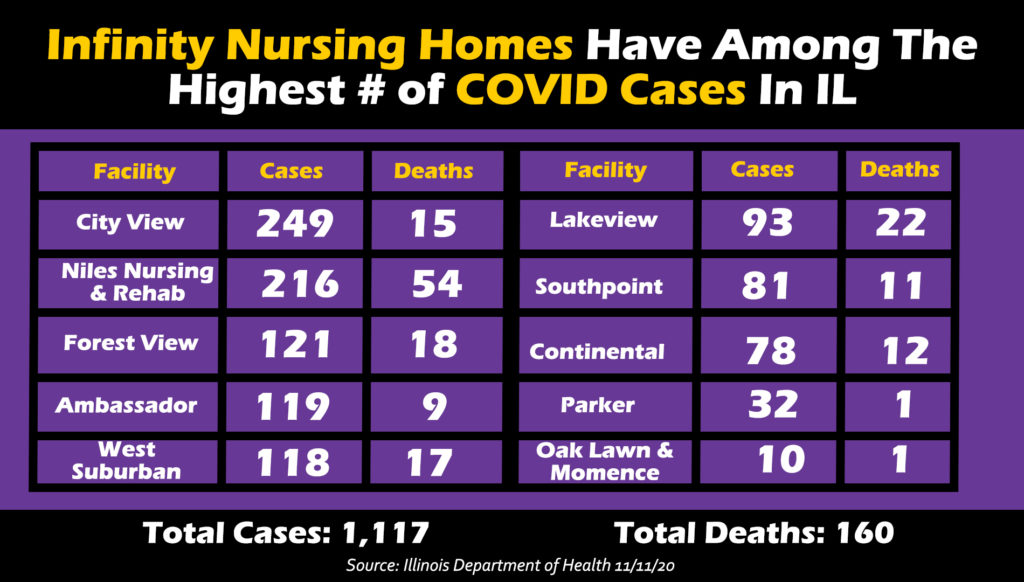 Infinity Nursing Homes Got Almost $13 Million in Federal COVID Funding