Member Resource Center
The Member Resource Center is available to answer questions you may have about your contract, your union, your rights on the job and more. The Member Resource Center is now taking calls from 8:30 a.m. -5 p.m., Monday through Friday at 866-933-SEIU (866-933-7348). Call the Member Resource Center or send your question via email by clicking here or by clicking on the picture below.
If you need to file a grievance or if your rights under your collective bargaining agreement have been violated, please call the Member Resource Center at 866-933-7348 — do not send your request via email.

Training
The Member Training and Education Center offers paid training for DORS and child care members. Click here or on the picture below for more information.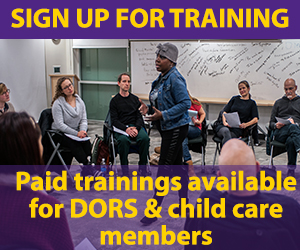 Member Healthcare
Click here to learn about healthcare for SEIU members.
Member Benefits
Click here or on the picture below to learn about member benefits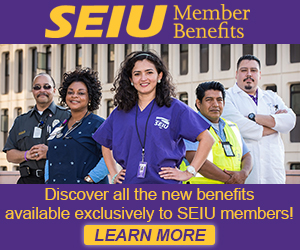 Use Your Member Benefits
You probably know that being a member of the union gives you a strong voice to fight for higher wages and improved working conditions—and to fight for the issues that impact your community.
But did you know that it provides you with other benefits that can save you money and enhance your quality of life?
Benefits include:
A free checking account which will save you money on check-cashing and other financial fees. The Self-Help Credit Union's SEIU Value Account includes unlimited direct deposits and cash withdrawals at 25,000 ATMs. Plus, you get access to all their banking and Credit Loan Services, including home mortgages, car loans, and citizenship loans.
A dental discount program that can significantly reduce your out-of-pocket costs on dental procedures like oral exams, dentures, root canals, and braces.
A free $4,000 Accidental Death & Dismemberment (ADD) Insurance policy from AIL. This ADD policy is FREE for as long as you are a member of SEIU.
A 20% discount on AMC Theater Tickets.
15% off cell phone rates from AT&T, the only national, unionized wireless provider.
For more details call the Member Resource Center at 866-933-7348.
Reach your educational goals with a union scholarship!
Through five different scholarship programs, SEIU awards 53 scholarships that enable SEIU members and their children to pursue their educational goals at colleges, universities, labor study programs and technical schools.
The Chicago Federation of Labor offers scholarships to the children of union members.
The Union Plus College Scholarship offers scholarship awards to union members and their children, for both undergraduate and graduate programs.