VICTORY! Striking Frontline Workers Win Contract with Significant Gains in Wages, Pandemic Pay, Sick Days and PPE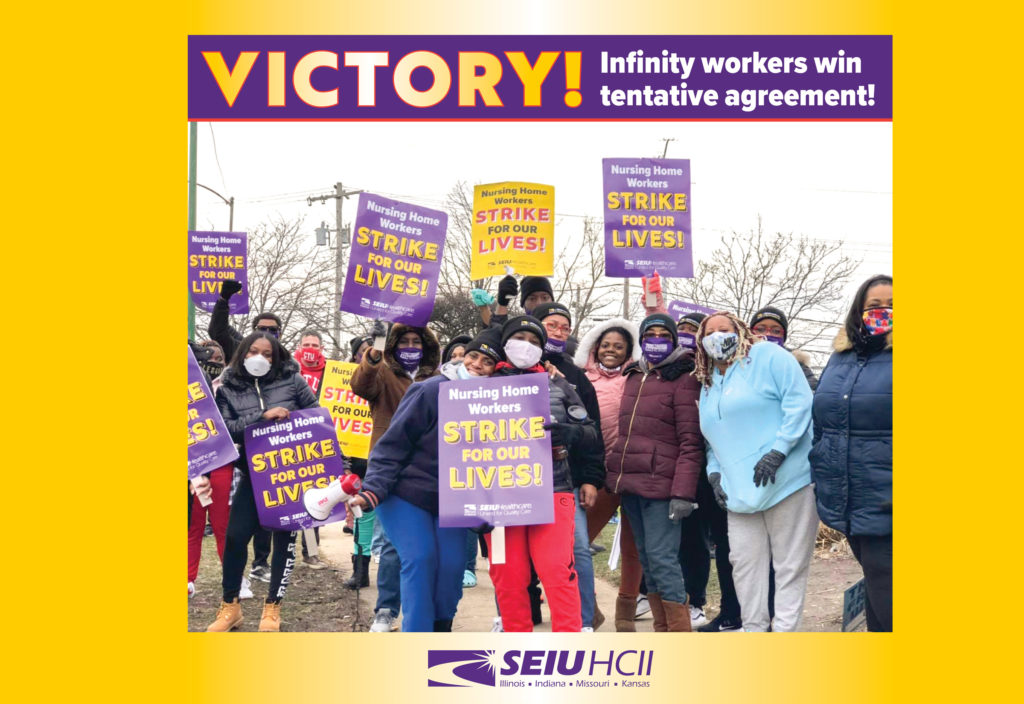 Tentative Agreement on 12th Day of Strike Will Help Ensure Quality Care for Residents, Address COVID-19 Concerns and Help Lift Workers Out of Poverty
Chicago – Striking frontline workers at 11 Infinity Healthcare facilities won a major victory in bargaining late this afternoon, securing a tentative agreement with significant gains in base wages, pandemic pay, sick days and personal protective equipment provisions.

The strike by the over 800 essential Infinity nursing home workers began last Monday, November 23rd, when the caregivers walked off the job in their fight for above-poverty-level base wages, expanded pandemic pay and improved policies related to PPE and COVID-19-related sick time.

The tentative agreement workers won is for a 2.5-year contract which includes the following gains:
All workers will immediately receive significant wage increases—a minimum of $1 an hour, with an average increase of over $2 an hour. Workers will receive additional wage increases in years 2 and 3 of the contract.
Pandemic pay will increase from $2 to $2.50 an hour and is now secured for all workers who work in areas that either have verified cases of COVID-19 or areas with residents under observation for COVID for as long as COVID-19 is present in a facility.
Workers will gain an additional 5 days of COVID-19-related sick time.
Workers won significant PPE guarantees and protections
Additionally, the tentative agreement will raise standards for Certified Nursing Assistant (CNA) pay across all 11 Infinity Healthcare facilities, which in turn will help improve staffing levels and the level of resident care. Both workers and residents have spoken out in recent days about the impact of low wages on staffing levels.

"I've been at Lakeview Nursing and Rehab for 15 years even though I could easily earn a lot more at another facility," said CNA Rosalind Reggans. "I've stayed because I love my residents, but I don't love working short staffed and worrying about whether my residents are getting all the care they deserve. With this new contract, we won't have people leaving for other facilities because they can't afford to work here—and that means higher quality care for my residents."


"This contract is about more than base wages and pandemic pay—though it's absolutely crucial that frontline caregivers make enough to support their own families and are compensated for risking their lives during this pandemic. It's about lifting up the standard of care at Infinity facilities and across the state, because workers deserve better and residents deserve better. And because workers stood up and made the brave decision to go on strike, both workers and residents have won," said SEIU Healthcare Illinois President Greg Kelley.

Workers received an outpouring of support from community members, residents, residents' families, labor and faith leaders as well as from many elected leaders.

"We'd especially like to thank Governor J.B. Pritzker and all of the elected officials that were able to support our members, including strong public support, making phone calls, baking cookies for strikers and joining a strike line with us. The support was crucial to our ability to reach this agreement," said SEIU Healthcare Illinois Executive Vice President Erica Bland-Durosinmi.
# # #