Leader Profile: Janice Hill, CNA City View, Rallies Striking McDonald's Workers at Fight for $15 Event: "Our Infinity Strike Mattered Because Our Lives Mattered!"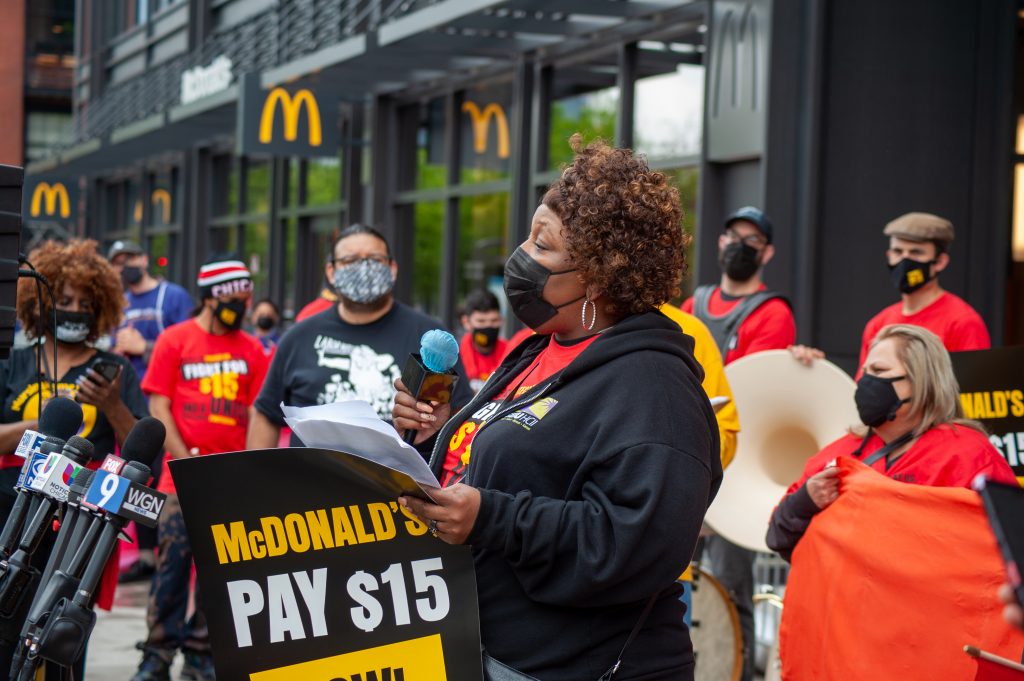 (May 19th, 2021, Chicago) – Janice Hill, our steward and CNA at City View gave a powerful speech outside McDonald's Corporate Headquarters to support striking fast-food workers with the Fight for $15 movement – see video and her speech below.
McDonald's held its annual shareholder's meeting. Workers demanded that McDonald's sit down with workers and negotiate a national collective bargaining contract and urgently called on Congress to raise the minimum wage to $15 an hour.
My name is Janice Hill, and I have worked as a CNA at City View nursing home.
I'm proud to stand in solidarity in our collective fight for respect, dignity, and fairness!
Let me offer some words of inspiration and support for our McDonald's workers on strike today.
I've worked at City View for 13-years, and in the nursing home industry for over 33-years.
In November 2020 I was making $14.90 an hour, struggling to make ends meet.
Infinity Healthcare, our ownership group of 11 facilities, offered us an insulting .25 cent raise in the midst of the pandemic.
They wouldn't give us more paid-sick time. We are constantly short-staffed.
I care for 30 residents by myself on the night shift.
We had to fight for our own PPE.
We witnessed thousands of residents and seniors die and get sick from COVID-19, including our own co-workers.
The industry called us heroes, but didn't want to respect us, protect us, or pay us what we worth!
Does this sound familiar McDonald's workers?
So, you know what we did?
We went on strike for 12-days last November in the 2nd wave of the pandemic to protect our residents and co-workers!
I was making $14.90 – and now because we went on STRIKE with my Infinity workers, I'm making well over $15 an hour and we won our best ever contract!
Our SEIU Healthcare UNION made all the difference.
We stood strong and won because we were unified, organized, and energized!
Our strike mattered because our lives mattered! And so do our residents!
I'm honored to speak today because we are all in this struggle together!
We all demand a fair and decent wage no matter where we work or what we do.
It is simply immoral for anyone in America to be paid less than $15 an hour!
We have families. We have dreams. We have lives.
We deserve the right to join a Union to have our voices heard and to fight to be safe at our jobs!
Powerful corporations like McDonald's, or even the nursing home industry, have the money to pay us $15 RIGHT NOW!
But these powerful and rich special-interests simply refuse to pay us what we're worth until we demand it.
On behalf of all our Union members at SEIU Healthcare Illinois Indiana, we honor your courage and grit to go on strike today to fight for justice!
Because when we FIGHT – we WIN!
Thank you!