IL COVID Community Resources
Questions about these resources or need additional help? Contact Myra Glassman (312-446-1152,  Myra.Glassman@seiuhcil.org) or Jaquie Algee (Jaquie.Algee@seiuhcil.org, 1-312-933-2351).  If you are inquiring about COVID issues on the job, please contact our Member Resource Center at 866-933-7348 or via this form.
For community resources in other states, click here. 
Big thanks to the Chicago Teachers Union, who helped compile many of these resources.
NEW (4/28): Illinois COVID Text Line. Dial 552020 with the appropriate phrase.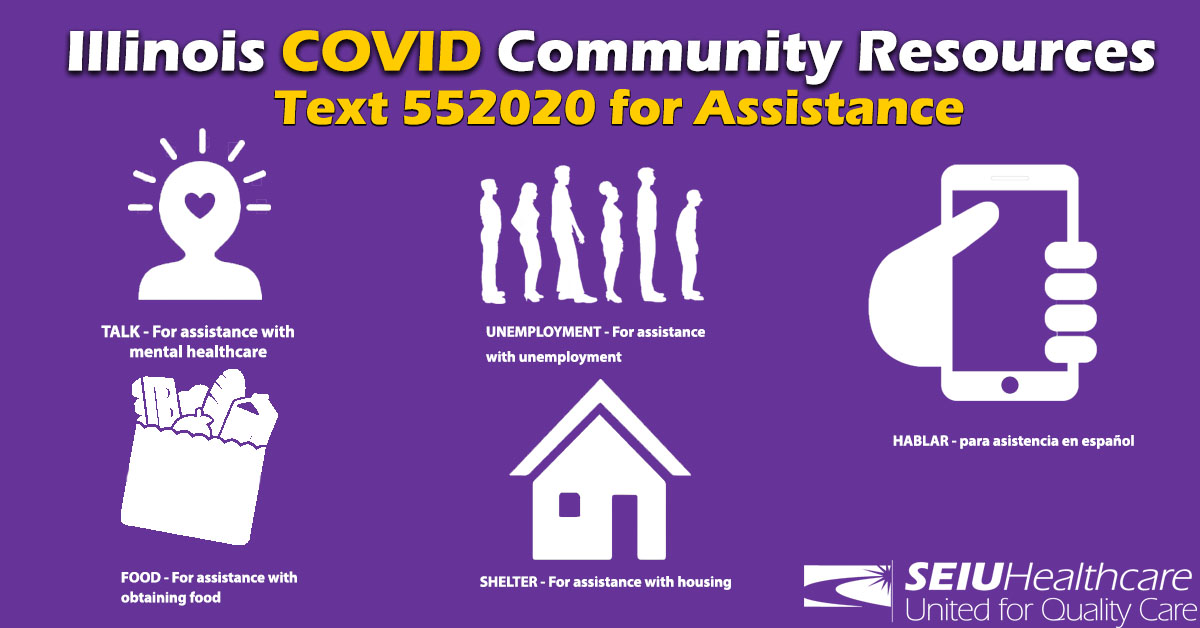 Financial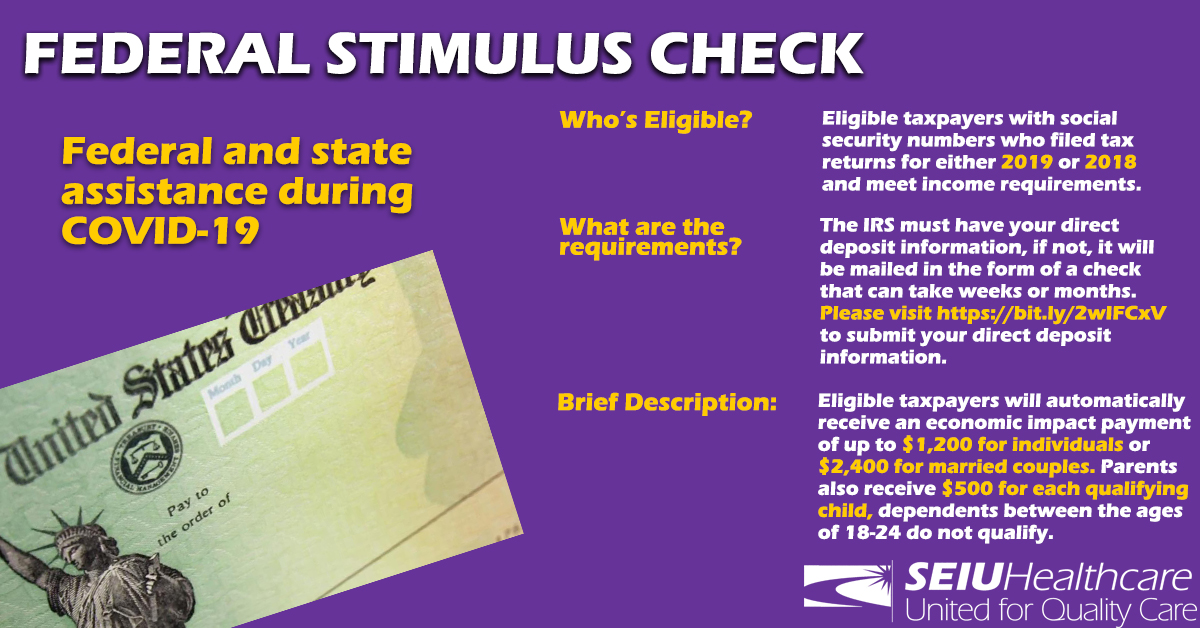 Additional $600 per week: The CARES Act's Pandemic Unemployment Compensation offers an additional $600 per week above whatever benefits an individual would normally receive from their state's unemployment insurance. This additional benefit does not count against Medicaid or CHIP eligibility, but may affect other benefits. The additional payments will be in effect through July 31, 2020.
Additional 13 weeks of benefits: Under the CARES Act people receiving unemployment benefits will receive up to 39 total weeks of benefits. Recipients will be paid $600 per week for the additional 13 weeks.
Job Opportunities at Chicago Area Grocers

Chicago-area grocers Jewel Osco and Marianos are hiring additional staff in light of a recent spike in demand. Many employees are represented by the United Food and Commercial Workers Union (UFCW). For more information on open positions at Jewel Osco, click here. For more information on open positions at Marianos, click here.
Housing/Utilities
Renters
Home Owners
NO EVICTIONS OR FORECLOSURES FOR FEDERALLY-BACKED MORTGAGES: In an Executive Order issued on March 20, Governor Pritzker prohibited evictions in Illinois for the duration of the Disaster Proclamation. This is currently expected to extend through April 30, 2020. However, it could be extended further. Visit Illinois' Coronavirus Response website for up-to-date information
Utilities
Childcare for Essential Workers
The COVID-19 Prioritized Essential Workers Child Care Application includes instructions that clarify who is eligible to receive child care through this program. Download, fill it out, save as…, then e-mail to your local CCR&R .
A dedicated help line has been created so Child Care Resource and Referral Agencies (CCR&Rs) can help connect essential worker families to emergency child care. Call toll-free (888) 228-1146. The helpline will be available from 9:00 AM – 3:00 PM Monday through Friday to answer calls, but callers will be able to leave a message 24 hours a day.
For residents in Cook County, Illinois Action for Children (IAFC) has launched a temporary text messaging service to answer CCAP questions during IAFC's office closure. Text: 312-736-7390 Monday through Friday between 8:30 AM-5:00 PM. Priority will be given to first responders, health care workers, and essential workers to help them find and pay for child care.
Immigrants and Refugees
DIRECT ASSISTANCE
INFORMATION RESOURCES
Mental & Emotional Health
Illinois residents experiencing stress and mental health issues related to COVID-19 can text "TALK" or "HABLAR" to: 5-5-2-0-2-0. Within 24 hours, you will receive a call from a counselor employed by a local community mental health center to provide support.
Chicago neighborhood resources
Southwest Side
Chicago neighborhood resources
Northwest Side
South Side