Anjanette Young Ordinance Town Hall News Coverage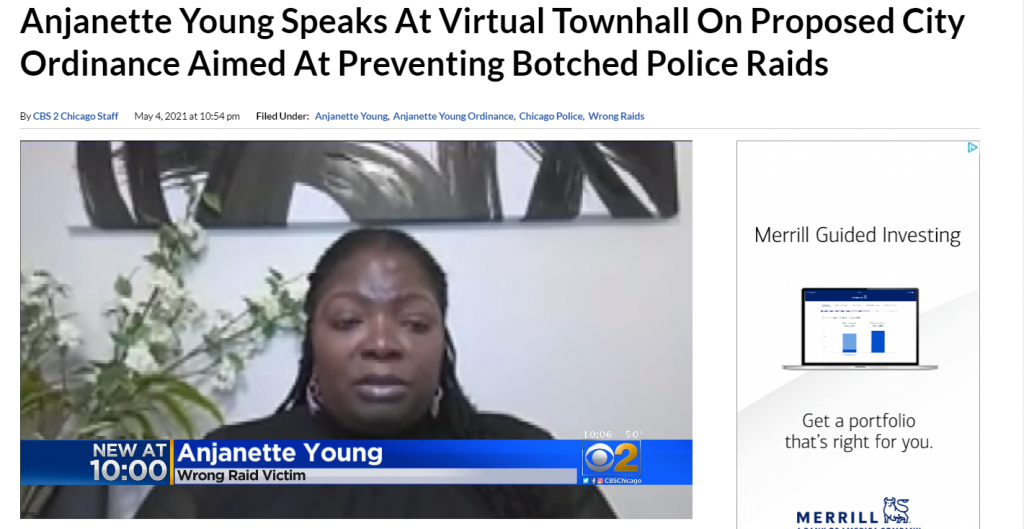 On Tuesday, a virtual town hall was held on the Anjanette Young Ordinance (#IAmAnjanetteYoung). Block Club, CBS 2, WGN, & the Hyde Park Herald covered the event.
After the wrongful and humiliating raid on her home, Anjanette Young is asking aldermen to sign on to support the search warrant reform proposal that bears her name.
Young, a social worker, was launched into the spotlight after she was left naked and handcuffed for 40 minutes as 12 male police officers raided her Near West Side home in 2019, and CBS2 made the footage public in December. Ever since then, Young has worked to hold the officers and city officials accountable and work to reform the policies that allowed it to happen.
At a virtual forum with the five Black alderwomen co-sponsoring the proposed Anjanette Young Ordinance, Young called on the 31 aldermen who haven't signed on as co-sponsors yet to support the measure.
"I don't know what your hesitancy is, but if you've seen the videos, and they're out there, I would challenge you to dig deep into your heart and do the right thing," she said.
All 50 aldermen should be signing on to the changes, Young said.
"If I need to come have a personal conversation with you to help you understand why this is so important, then I welcome an invite so we can have that conversation," she said.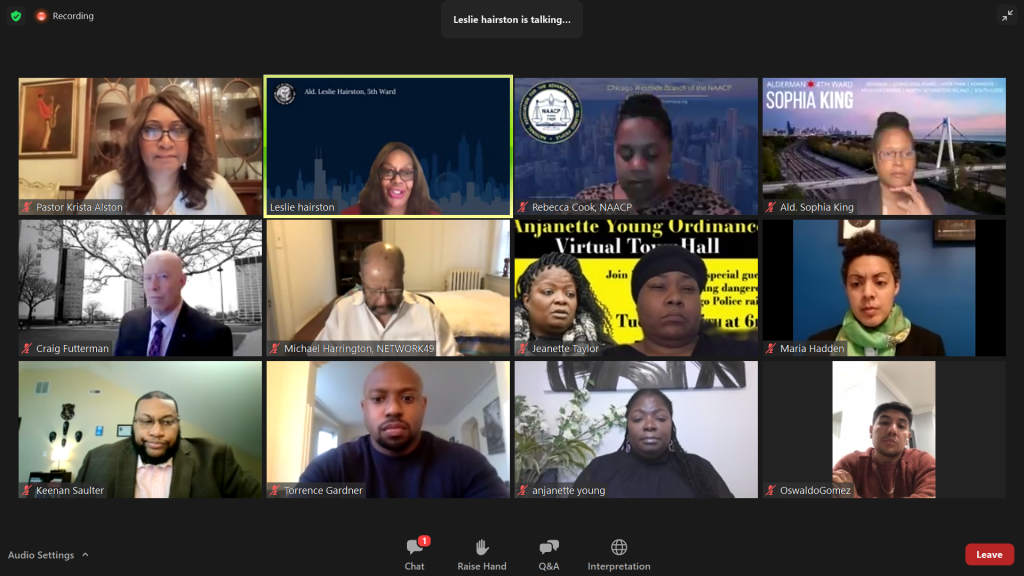 "You know, my name is on it. This started because of my experience," she said. "But this is larger than Anjanette Young."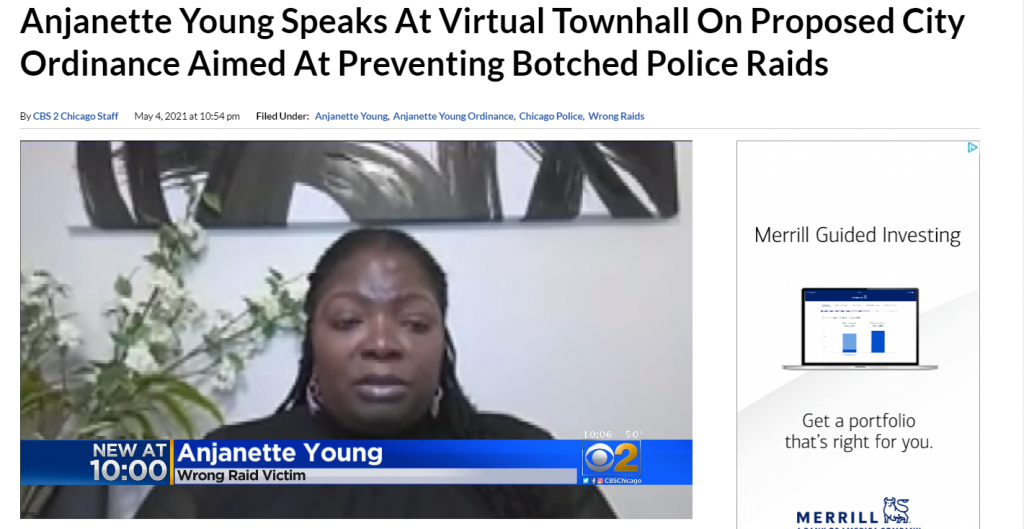 by: Shannon Halligan
"What we are attempting to do is correct this and to make it a way in which there are true guidelines that are actually followed and that there are consequences if they are not followed," Ald. Leslie Harrison said.
The town hall comes just days after COPA announced it completed a 16 month investigation into the raid on Young's home.
COPA said it found nearly 100 allegations of misconduct by the officers who wrongly raided the home.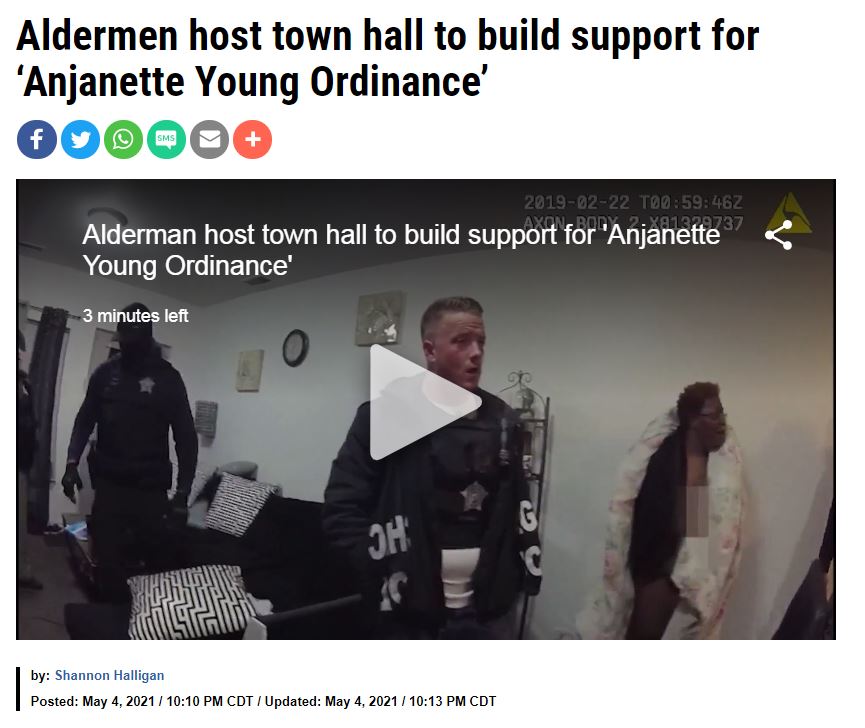 At a May 4 town hall on the AYO, University of Chicago Law School Professor Craig Futterman said that CPD disproportionately raids homes of Black and Brown Chicagoans and that police find drugs in fewer than 5% of the raids. Ordinance supporters additionally note that, between 2016 and 2019, the CPD performed on average more than 1,500 raids a year, 43% of which resulted in no arrests.
"No accountability, not even for all those times that officers pointed guns at little children. No transparency to the public. CPD doesn't even document when it targets the wrong address, the wrong home, much less report it, to any of us during those 1,500 raids they perpetrate every year," Futterman said.
The 20th Ward had the fourth-most raids in 2019: 85, 46 of which resulted in no arrests.
…
"You need to know that there is something of some significance that is in that home. Why are you raiding a home for nothing or a few joints? That makes no sense, and that is a waste of resources," Hairston said. "We have to change the way in which we identify who provides information, and if you're not providing information, you don't get to say anything."
Furthermore, Hairston said the government needs to examine whether judges, who issue warrants, "are doing their due diligence when these officers come before them and ask for a warrant," saying the courts need to follow up afterwards and do accountability on whether the raids returned "something of value, something of significance."
"Negative raids" occur, and officers return nothing, Hairston said, "But to the average citizen, we got our house messed up, we've sometimes got our kids in the room, we've got trauma, we've got so many issues that they never have to account for. And what we are attempting to do is to correct this and make it a way in which there are true guidelines that are actually followed, that there are consequences if they are not followed, and that we have a way to keep them accountable and keep their books open, so we know what they are doing."
…
Taylor, as she has done before, compared Young to Breonna Taylor, who was killed by Louisville, Kentucky, police officers during a botched no-knock raid in March 2020, saying that the only difference between the two was that Young survived to tell her story. She also pointed out that some informant had been paid for the incorrect information that led to the raid on Young's house.
"When you go to the store and pay your taxes," Taylor said, "this is what your tax dollars pay for." She said the fact that all 50 aldermen do not co-sponsor the AYO is a problem, encouraging town hall attendees to vote against their representatives if they do not support the ordinance.