CCSI Workers: Important News to Share!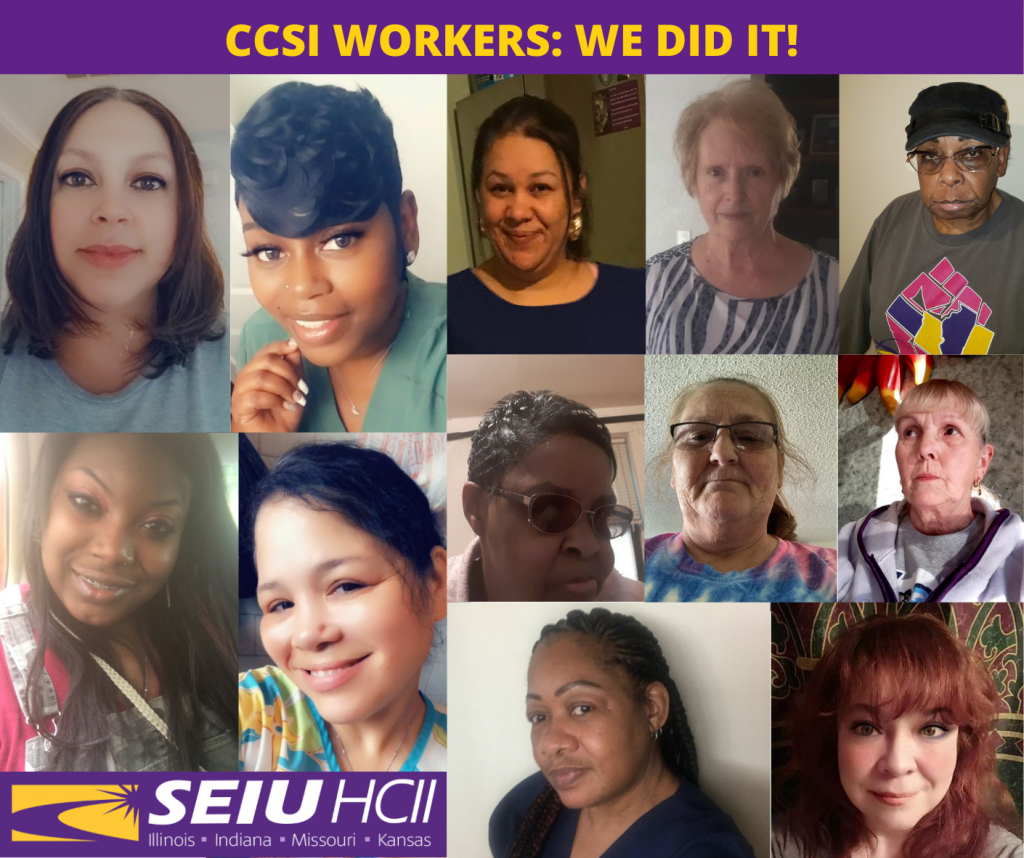 UPDATED:
THANK YOU to our workers who shared their written & video stories of how they had been economically and mentally affected due to getting infected or exposed to COVID-19 through the job! See the stories here:

Barbara Williams Video: https://drive.google.com/file/d/1NEPz_FVqGpXrRgV92a_kHT31TdCBPv3_/view?usp=sharing
Ana Delgado Video: https://drive.google.com/file/d/1jEuC-PbYoYG3Ww8TsMBaMCUZFtKcp-Yi/view?usp=sharing
Bobbie Davis, Springfield: "I had been working with my client for a few months. Back in the Fall 2020, without my knowing, she traveled with her relative – who then contracted COVID-19. My client then contracted COVID-19, which caused me to become exposed to the virus and subsequently contract COVID-19 myself as well. I did not get notified that my client had COVID-19 until days after I had seen her, meaning that I also had exposed other clients because of my regular schedule. Luckily, none of my other clients got COVID-19. Because of all of this, I had to take a leave from work, losing pay. I was off work from November until January, and it was a really tough time. Not only did I jeopardize my livelihood but I also jeopardized my family and their health. CCSI needs to give Emergency Sick Pay to its workers who, like me, lost pay due to COVID-19 exposure from the job." 
Romelia Herrera, Hill Side/Melrose Park – Romelia has been working with the company for 12 years, she almost never stops working. In November 2020, her supervisor told her that she could not go back to work because she needed to get tested because a family member that lived with one of her clients reported some coronavirus symptom. It took 4 days for her to get tested and to get her results; they were Negative. A few days later her supervisor called her to tell her she couldn't go back to work, and that she needed to get tested again. Romelia asked why she needed to get tested when she had recently got negative results. She asked for more information, and the supervisor told her that she could not give her any information because it was confidential. And that Romelia needed to call the supervisor when she gets the test results. The results came back Negative again after 4 days. Romelia lost working hours again.


Original Post:
We have important news to share – We made significant movement at the bargaining table on Tuesday! Please make sure to come to our Membership Meeting tonight (Thursday, May 6) to learn about the important updates. Here's the Zoom link for the 6pm meeting: 
https://zoom.us/j/94887156953
Thank you to all of our CCSI workers for taking collective action these past few weeks to demand the COVID-19 Emergency Sick Pay we deserve! Hundreds of you filled out petitions and hundreds of you committed to calling CCSI Corporate Office demanding Emergency Sick Pay. So many of you shared written & video stories of how you have been impacted due to losing pay because of work-related COVID-19 exposures.
All of these efforts allowed us to come to the bargaining table with strength, and we can't wait to share updates at tonight's Membership Meeting. We'll talk to you at 6pm!