IL Home, Child Care Workers Call for Living Wages and Retirement in 'Good Care Jobs Sprint' Rockford Stop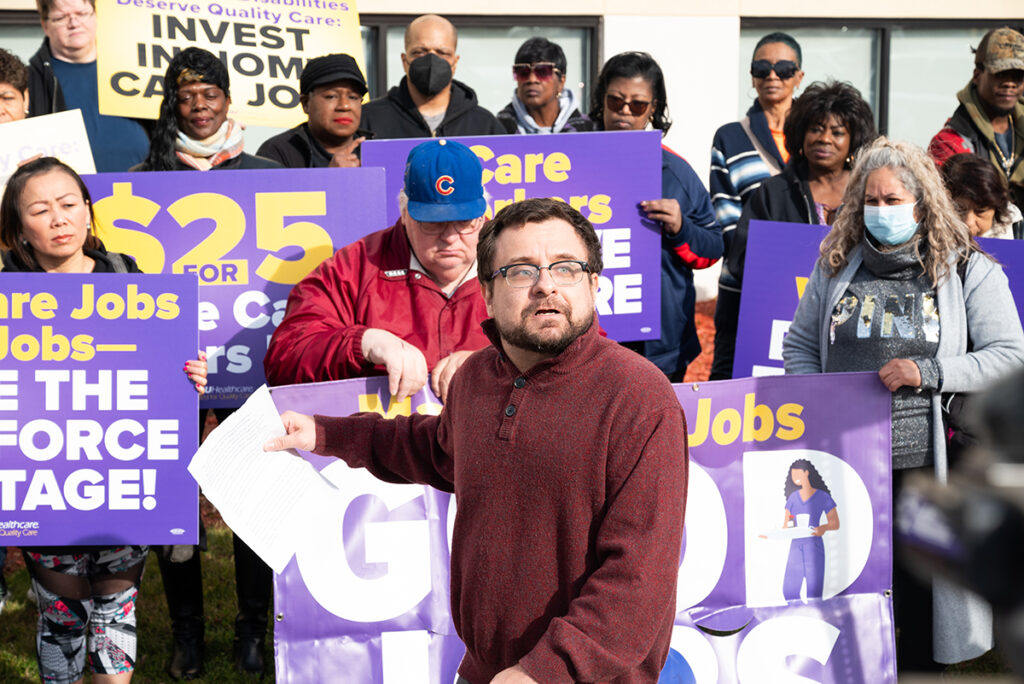 —
SEIU Healthcare Illinois members, allies rallied at the IL Dept. of Human Services highlighting how Winnebago Co. has lost 57% of licensed home child care providers in 12 years
Rockford — Amid a continuing care crisis across Illinois as poverty wages continue to force caregivers out of the field, SEIU Healthcare Illinois child care and home care members gathered in Rockford as part of a statewide campaign to raise wages and secure a retirement benefit for every home care and child care worker. They were joined by community allies, elected officials in demanding living wages and a viable retirement path for Illinois' child and home care workers. Over 45,000 workers who are responsible for care through state-run programs are currently negotiating with the Pritzker Administration to address the care worker crisis.
During the event, home and child care workers recounted their experiences, highlighting the challenges faced by families in Rockford/Winnebago County who struggled to access essential child and home care services due to Illinois' unstable and inadequate care workforce. A video of the gathering is available here. Photos are available here.
"Over the past 12 years, Winnebago County has lost 57% of its licensed home child care providers and saw a reduction of 55% of child care slots in licensed homes—at a time when the need for child care is growing—working families are having a harder time finding affordable, accessible care," said Brynn Seibert, Vice President for Child Care, SEIU Healthcare Illinois. "These figures are a problem for Rockford and for Winnebago County—with potentially disastrous impacts for working families and people with disabilities. And they reflect a problem across the state."
Illinois's care crisis is characterized by a shortage of workers exacerbated by insufficient pay, benefits, and retirement options. This leaves working families and individuals with disabilities unable to access necessary child care and home care services. Notably, this crisis disproportionately impacts Black and brown women who struggle to support their families with their current earnings.
"It's urgent that our state invest in the work we do as child care providers. Without better pay and retirement, providers are not going to be able to come into or stay in this field. And we need more providers – in Rockford there is a lot of demand for child care. I receive so many calls each month looking for care but I don't have space. Here in Rockford there just aren't enough spaces for the families who need child care for their kids," said Ana Garcia, a Home Child Care Provider in Rockford.
Home care consumer Jess Woollcombe spoke glowingly of her DORS home care worker, Samantha. Jess recently underwent surgery and praises Samantha for waking up every three hours to give her the medication she needs. Jess says home care workers are underpaid and deserve more much than the $25 they are seeking.
"Governor Pritzker says he wants to make Illinois the best state in the country to raise a family. This is a goal we share with him. And the way we do it is by expanding access to care services," said Rockford home care worker Sharifa Nichols.
Illinois has a unique opportunity to lead the nation by prioritizing its child care and home care systems, ensuring living wages and retirement for workers. These demands, presented on Wednesday, aim to stabilize the home care and child care workforces through higher pay and retirement options. This aligns with Governor Pritzker's vision of making Illinois the best state for families and ensuring communities have access to essential care.
###