Strike Day Four: Community, Labor, Elected Leaders Line Up on Picket Line with Loretto Workers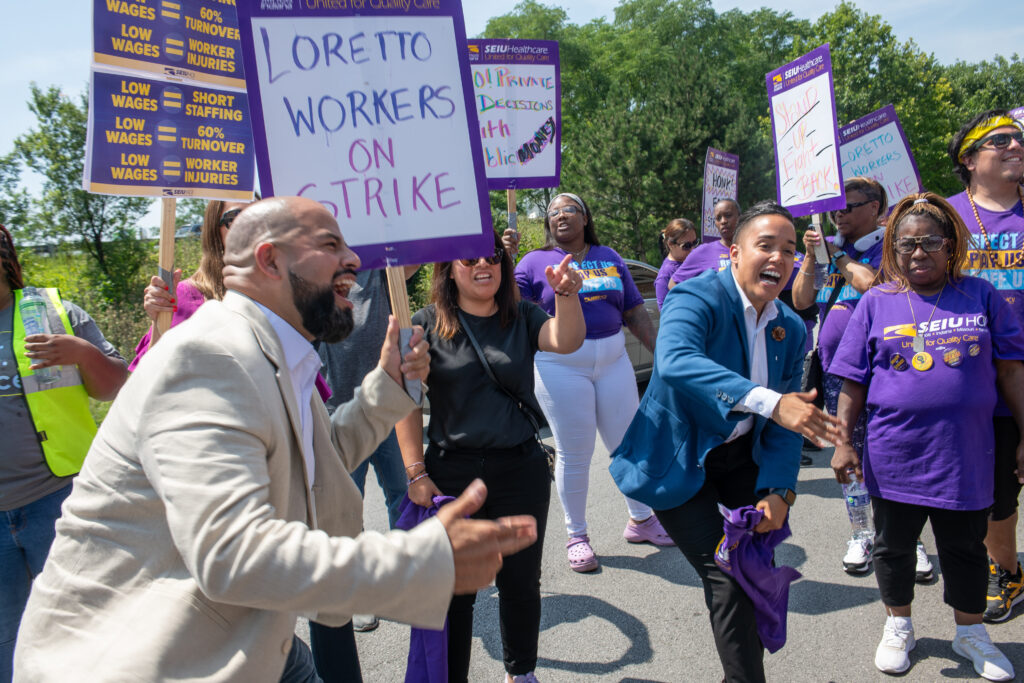 'Step Up Loretto' 
Chicago Teachers Union, SAG-AFTRA, Chicago Federation of Labor, American Postal Union, Ironworkers rally in solidarity with striking Loretto workers
Rallygoers marched from Loretto to highway banner drop chanting 'no contracts, no justice!'
CHICAGO – Loretto frontline technical, service and care workers returned to the picket line on Thursday for the fourth day in a row to demand safe staffing, livable wages and respect on the job. Striking workers were joined in solidarity by community allies including the Chicago Teachers Union (CTU), SAG-AFTRA, the Chicago Federation of Labor, the American Postal Union, and the Ironworkers who called out Loretto for failing, as a largely publicly funded institution, to invest the state taxpayer funds it receives in the living wages necessary to prevent staffing shortages.
A video of the rally is available here. Photos are available here.
"It's about more than the money. It's about staffing, it's about safety, it's about awareness. Let me see our management team live off of what we live off of every single two weeks. They're not going to be able to do it," said Carla Haskins, a Patient Care Tech at Loretto. "I can't understand why they don't get it yet. I don't understand why they're being so stubborn to meet us halfway. We're not asking for the world. We're just asking for what we deserve; a decent living."
As the crowd chanted "No Contract, No Justice" and raised signs blaring "RESPECT US, PAY US, STAFF US!" workers shared stories about their experiences serving patients in an understaffed hospital and emphasized how they're on strike to make Loretto Hospital safer for the community they serve.
"Our liberation is in solidarity, it ain't in separation or in segregation. And I want every worker here right now to know that if you don't win, don't nobody wins. I want the workers here to know if they don't pay you, we go sit in the front lines. I want the workers here to know, that if you can't get it, we can shut all of it down," said Stacey Davis Gates, President of the Chicago Teachers Union
Elected officials and labor leaders rallied alongside workers, emphasizing that as a largely publicly funded institution, Loretto has a responsibility to be accountable to the community through transparent decision-making.
"Not too far away from here is another hospital, Northwestern. Do you think the patients at Northwestern would tolerate this? I don't think so. Do you think the doctors and the nurses and the staff at Northwestern would tolerate this? I don't think so," said State Representative Mary Flowers. "This is a hospital, it's not a playground, and we need to demand respect for the workers, respect for this hospital, because you have our loved ones in this hospital and I stand with you today to demand respect, to demand a liveable wage just like every other hospital in this city of Chicago."
Loretto is facing a severe staffing crisis, with vacancy rates ranging from 25 to 35% in various positions and an annual staff turnover of 60%. Loretto has received numerous citations due to unsafe staffing levels. Despite being allocated $10 million in state funding to address worker recruitment and retention, Loretto has offered increases at the bargaining table that are behind inflation and lower than other hospitals in the area. WBEZ published an explosive report Thursday on federal inspection reports on Loretto patient deaths that could have been prevented with adequate, safe staffing.
"Leadership needs to be open and transparent about the decisions they are making," said SEIU Healthcare Illinois President Greg Kelley. "The state gave Loretto 10 million dollars for staffing and retention. What is not clear is why Loretto is refusing to do the right thing. Loretto needs to invest their public money into the workers who make this institution run."
Background on Safety Net Hospitals
The situation at safety net hospitals like Loretto, St. Bernard, and Roseland highlights the urgent need for better working conditions and fair compensation as hospitals negotiate with workers at the bargaining table. All three hospitals provide essential services to underserved communities, often serving Medicaid recipients and the uninsured.
Workers have been raising the alarm on unsafe staffing levels at Loretto for over a year, and management has failed to fix the problem. Moreover, workers are calling out leadership concerning allegations of misusing state funding and turning a blind eye to unethical practices, leaving the workers to endure poor working conditions. Investing in Loretto's frontline workers is the only way to ensure safe staffing and quality care for the communities that need it most, workers and leaders argue.
Last spring, the Illinois General Assembly passed a law establishing the Health Equity and Access and Leadership (HEAL) Grant Program which creates a permanent program to fund qualifying safety net hospitals by distributing $100 million in funds annually. State agencies have been slow to lay out guidelines and eligibility requirements for the HEAL Grant Program, creating an opportunity for big, for-profit hospitals to continue manipulating state funding streams to their benefit. Workers at safety-net hospitals are calling for increased transparency surrounding the HEAL Grant Program in order to ensure funding is going to the hospitals and workers who serve the Illinois communities where the need for healthcare is most pressing.