Loretto Workers Return to Picket Line, Provide Bargaining Update on Second Strike Day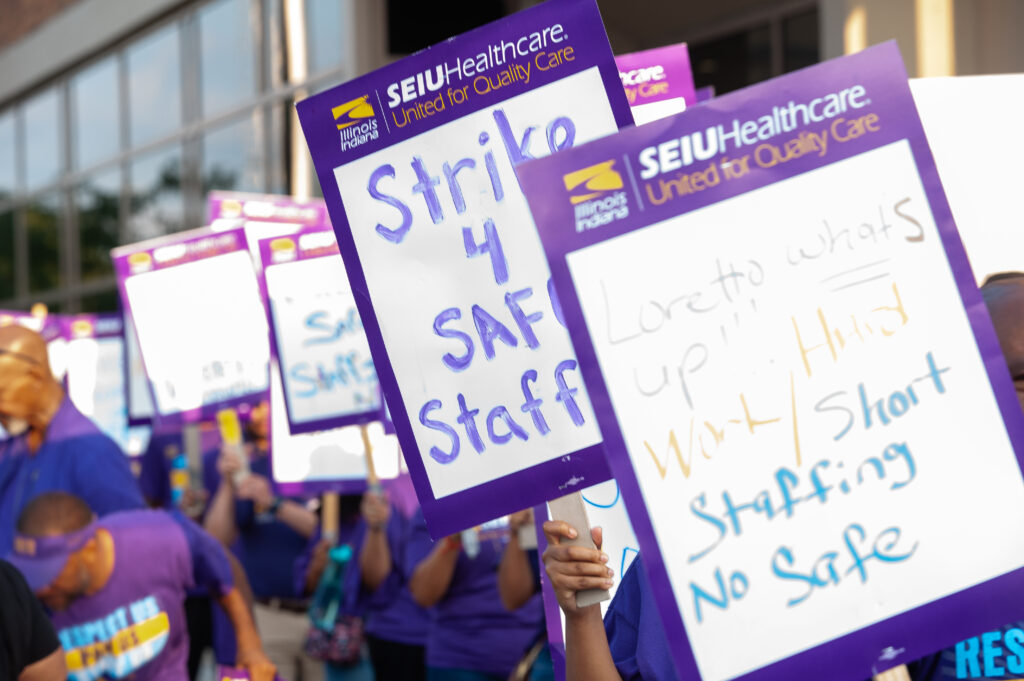 Elected officials, SEIU International Union Executive Vice President Leslie Frane join striking workers as they call out Loretto for misusing public funds intended to strengthen the workforce
CHICAGO – Loretto frontline workers returned to the picket line for day two of their strike to demand safe staffing, livable wages and respect on the job flanked by several Illinois elected officials, SEIU Executive Vice President Leslie Frane and SEIU Healthcare Illinois President Greg Kelley. In a picket line press conference, workers provided a bargaining update and called out Loretto for a lack of decision-making transparency that is unusual and inappropriate in a publicly-funded institution. They emphasized how higher wages that are comparable to those paid by other hospitals in the city are the only answer to Loretto's crisis of unsafe staffing.
A video of the press conference is available here. Photos are available here.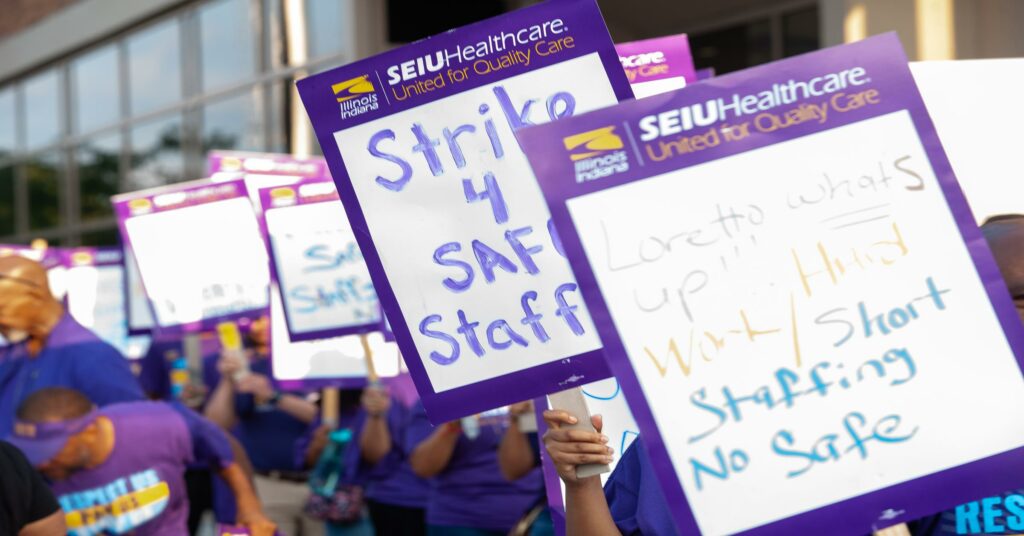 "I'm out here on this strike line to fight for better staff, for safety, and for wages. There are so many of us at Loretto Hospital who work so hard…we are burnt out, we are tired, but we still come in. For the community. We want to see them safe and getting better care at Loretto Hospital," said Ebony Childs, a Patient Care Tech who has worked at Loretto Hospital for 18 years. "Understand that we are here for our community and for our patients because we want to help them."
As the crowd chanted "Strike for staffing" and raised signs blaring "Low Wages = Short Staffing, Low Wages = 60% Turnover, Low Wages = Worker Injuries," workers shared stories about their experiences serving patients in an understaffed hospital and emphasized how they're striking to make Loretto Hospital safer for the community they serve. Elected officials and labor leaders rallied alongside workers, highlighting that the fight for livable wages for Loretto staff is the same fight for quality healthcare and safe staffing.
"We stand here in solidarity with the workers to get not only what they deserve, but what the residents of the West Side deserve, which is quality healthcare," said Alderman Jason Ervin, who lives in Austin and represents portions of Austin, where Loretto Hospital is located. "You cannot have quality healthcare with 60% turnover…You cannot have quality healthcare when the CEO is making half a million dollars. We're calling on those who are making their money off the misery of the people on the West Side to respect your workers by paying a quality wage for quality healthcare for people on the West Side of Chicago."
In bargaining, Loretto has offered increases that are behind inflation and the higher wages of other hospitals in the area. Speakers called out Loretto for their stated intent to use tens of millions in state taxpayer funds intended for addressing staffing shortages for capital projects and debt payoff.
"There's no choice for the workers to protect the safety of our community and our patients but to strike," said Alderman Byron Sigcho Lopez. "We're here to make sure we have safety and quality care. A 2% increase isn't going to cut it. A 2% increase with inflation is a pay cut. When there's public funding, there's going to be public accountability."
Additional Quotes and Highlights from Tuesday's Press Conference:
State Senator Willie Preston: "I started off like you. I started off as a janitor…I wasn't valued by the hospital CEO. I wasn't valued by the people who were making millions of dollars. But let me tell you something – I went to the legislature to value you all…I didn't vote on a budget to give $10 million to Loretto to make sure CEOs live in cushy mansions. I voted on that budget to make sure that workers got treated fairly. Sixty percent turnover is not right. Loretto, listen to these workers."
Leslie Frane, SEIU International Union Executive Vice President: "Management at Loretto Hospital is a little bit confused. They need a little bit of education…You can't have good patient care unless you have enough staff. And you'll never have enough staff unless Loretto Hospitals pays at least as much as other hospitals in Chicago. And if you don't, they'll find themselves exactly in the situation that Loretto Hospital is in now. They are spending a million and a half on temporary staffing agencies instead of putting that money into decent wages for people who do that work every day of the year and getting repeated citations from the state for patient care problems that are directly linked to short staffing."
Greg Kelley, President of SEIU Healthcare Illinois: "Loretto receives $24 million more in annual state assessment funding than it pays in—because of its status as a safety net hospital. It's funded publicly because it serves a public function. But unlike most publicly funded institutions, Loretto makes private decisions. It has a tiny board and its top executive compensation is disproportionately high—and then some—for the size of the hospital and especially for a safety net hospital…Who exactly is making decisions about what to do with all this state funding? It's a crucial question we need to ask today because the decisions they are making—they just don't add up."
Gregory White, a Loretto mental health specialist: "Respect us. Pay us. And don't forget us."
Alderman Jeylu Gutierrez, Workforce Development Vice Chair for the City of Chicago: "All workers in the City of Chicago and all over the country deserve to have good working conditions…We're not going to end this fight until Loretto gets it together…They need to understand what you deserve and you aren't alone – you have a whole community, you have elected officials, and you have the neighbors that you care for. Let's keep fighting until you get what you deserve."
Alderman Carlos Rosa: "It is unacceptable, it is upsetting that this public institution is acting like a private corporation and giving all of its funding to the CEO and people at the top while the people who are doing all of the work to make sure our family members are safe and taken care of have to be out on strike. It is unacceptable that these workers have to be out here today to get basic decency and a fair contract. We are calling on Loretto Hospital's leadership to do the right. To give these workers safe staffing, give these workers a raise, and give these workers a fair contract. Chicago city council is in solidarity with Loretto workers until management gets it right. And if this management can't get it right, they should be changed."
Alderman William Hall: "It is disrespectful to take public money and make private decisions. It's disrespectful for the CEOs who don't live over here, who don't work over here, to make decisions without us. It's disrespectful to take money that's for us away from us without us."
Cook County Commissioner Anthony Quezada: "It is an absolute shame that the board of this hospital is putting profits over people, this is unacceptable and that is why we are here to fight; for a fair contract, for fair staffing, for safe staffing and for fair wages. We are not going to stop until we get what is needed, what is deserved by this community. When they are not paying fair wages and when they are not providing safe staffing, that is a cut back for our community. And when they say cut back, we say fight back!"