Private agency home care workers won a rate increase!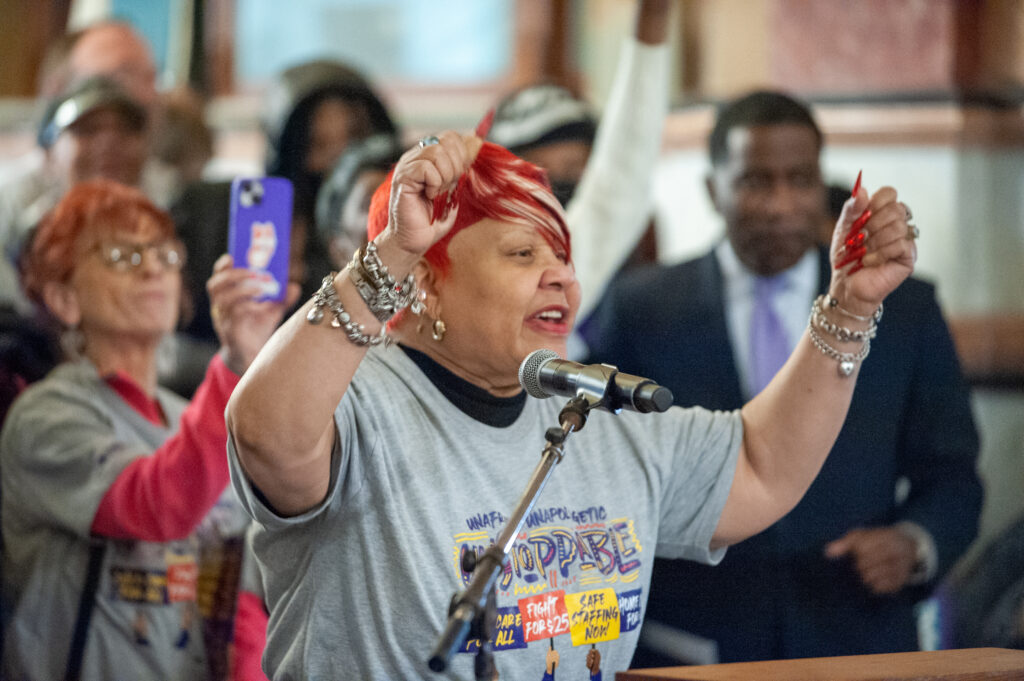 The State of Illinois just passed a budget that includes funding to raise pay for Illinois Community Care Program agency home care workers to $17/hr. starting January 1, 2024! This impacts workers at private agencies such as Addus Healthcare, Help at Home, Chicago Commons, and Family Home Service.
This would not have been possible without members consistently stepping up to take action and making our voices heard:
Members participated in weekly lobby days throughout legislative session,
We held a rally with more than 300 workers, seniors and allies right in the capitol rotunda,
We sent emails and made personal phone calls to our state lawmakers,
We shared our stories with the media,
We testified in legislative committees to ensure legislators understood that our seniors' lives and our livelihoods are at stake, and
We delivered more than 2,500 petitions asking Governor JB Pritzker for his support in our fight.
"This fight is about the future of home care in Illinois. Too many seniors can't get the care they need and too many home care workers are unable to support their families on what we earn," said Margaret Heywood-Smith, a home care worker on the South Side of Chicago and a member of SEIU Healthcare. "The time for action is now and we need every home care aide to get involved in this fight if we're going to win."
By coming together through our union, we were able to win this significant victory that is an important step forward in our ongoing fight to ultimately win a path to $25/hr. and expand home care services to every Illinoisan who needs them, regardless of where they're from, what they look like, or how much is in their bank account.
We work hard each and every day to make sure the seniors we serve receive the services they need, and we deserve a living wage that allows us to take care of ourselves and our families as well.
We are proud of this victory, but we know that $17 is not enough, our benefits and training are not enough to stay invested in this work for our seniors, but we are ready to continue our push for a path to $25/hr for every Illinois home care worker. Our strength is in our numbers, and when we stick together and fight for what we deserve nothing can stop us.
We also proposed a bill that aimed massive improvements to the quality of training workers receive. While we weren't able to get our training bill across the finish line before the end of session, our bill did open the door with key stakeholders in state government to start having meaningful conversations about all the ways training must be improved for homecare workers and seniors. For example, ensure ALL training for home care workers is paid and properly prepares us workers to take on the responsibilities this profession requires. Your involvement in this fight planted the seeds for future victories down the road.
What happens next? First, bargaining is underway with Addus, Help at Home, and Chicago Commons over the April 1, 2023, rate increase we won. We are negotiating to implement these raises and expand paid time off in light of the new Paid Leave for All Workers Act! This means we have to stay vigilant and ensure we are doing our part to secure raises and paid time-off for ALL OF US!
Second, with the new increase we won in this budget, we will be back at the bargaining table on or about the beginning of January 2024 to ensure everyone comes up to a minimum of $17/ hr. and secure seniority raises!
If you have questions, please call our Member Resource Center at 866-933-7348 and stay tuned for our next monthly meeting at the end of June!