Members at Luxor-Owned St. Louis Nursing Homes Approve New Contract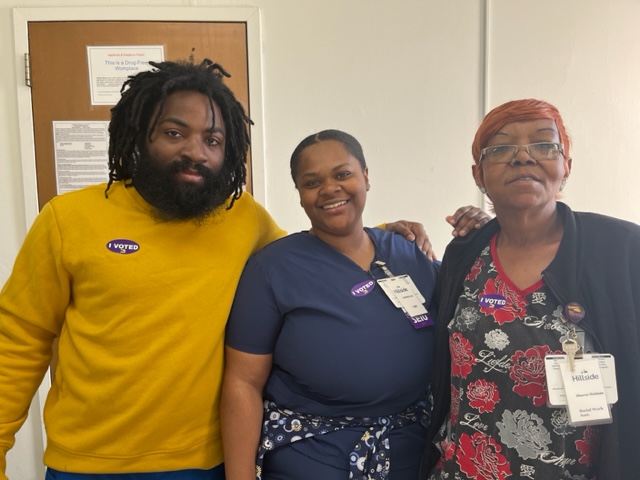 Frontline Healthcare Workers From Three St. Louis Nursing Homes Reach Contract Agreement After a Nearly Two Year Fight with Out-Of-State Owner Luxor, Narrowly Avoid Strike
St. Louis – Frontline healthcare workers at Beauvais Manor, Hillside Manor, and Rancho Manor, represented by SEIU Healthcare Missouri, voted to ratify a new collective bargaining agreement earlier this week. The agreement between SEIU Healthcare Missouri and Luxor Healthcare LLC out of New Jersey was reached late last week after workers filed a 10-day strike notice with the National Labor Relations Board (NLRB).
"I am proud of my coworkers for coming together and demanding the respect, protection, and pay we all deserve," said Gabby Love, a Certified Medication Technician (CMT), who has worked at Hillside Manor Healthcare and Rehab Center for 5 years. "Every demand we made and piece of the contract we negotiated, we did as one union with one voice. We are on the frontlines every day, and we deserve to be paid what we are worth and treated with the same dignity and respect we show our residents."
Over the last two years, a local office of the NLRB has found merit to allegations that Luxor and its operating entities have committed multiple unfair labor practices (ULP). The NLRB has found merit to ULPs, including the termination of union stewards and union-represented employees, changes to holiday pay policies, retaliating against an employee for participating in a union rally, decreasing wage rates, and refusing to provide information relevant for collective bargaining. Workers organized by SEIU Healthcare have repeatedly taken action, even holding a one-day Unfair Labor Practice Strike, to bring attention to this mistreatment and unfair practices.
"Workers at the three nursing homes saw a victory this week, but this fight doesn't end here," said Lenny Jones, State Director and Vice President of SEIU Healthcare Missouri. "We will be watching management to ensure the legally-binding collective bargaining agreement is respected, and that all workers are allowed to continue providing quality care without retribution. Unfortunately, there is a trend we are seeing across St. Louis of out-of-state corporations buying nursing homes and driving working and living conditions down. SEIU Healthcare Missouri will continue to work with the City's Special Investigative Committee to ensure these, and all nursing homes in St. Louis, are operating properly, providing quality care to residents, and treating workers with dignity and respect."
###