'I'm committed to child care for all,' Says Mayoral Candidate Brandon Johnson to Child Care Worker Irma Landeros
Johnson shadows SEIU Healthcare Illinois child care worker for a morning of services, reads to Chicago children
A former child care worker and Cabrini-Green public school teacher, Johnson supports paying workers their 'true worth and their value'
CHICAGO — Chicago Mayoral candidate Brandon Johnson spent Wednesday morning alongside Irma Landeros, seeing firsthand what a day in the life of a local child care provider is like, as working families face a child care crisis wherein demand is high, care is unaffordable, and providers aren't paid living wages. Johnson accompanied Landeros at her home child care center, Irma's Colorful Home Child Care, and shadowed her for a typical morning of providing child care services.
Johnson received a tour of the Little Village child care facility, read a book to the class, and led the children in a Valentine's Day activity.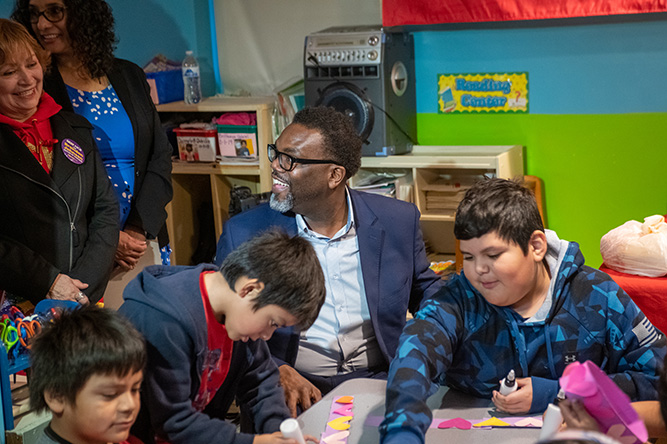 "I started my professional youth development career as a child care worker… As someone who is committed to providing child care services in the community, it means a lot to me as a father to know that there are safe spaces for families to drop their children off in a place where they will be loved, cared for, and supported," said Brandon Johnson, thanking Landeros for her work as a home child care provider. "The bottom line for me is this: child care centers are a public good. Because they are a public good, they have to have public investment. As the next mayor of the city of Chicago I'm committed to child care for all and fully funding this public good. And that certainly begins with paying our workers their true worth and their value."
Immediately after the "walk a day" experience, Johnson sat down with Landeros and SEIU Healthcare Illinois Director of Child Care and Early Learning Brynn Seibert for a conversation on the urgent need to invest in child care for all in Illinois – including how investments in child care are ultimately investments in public safety.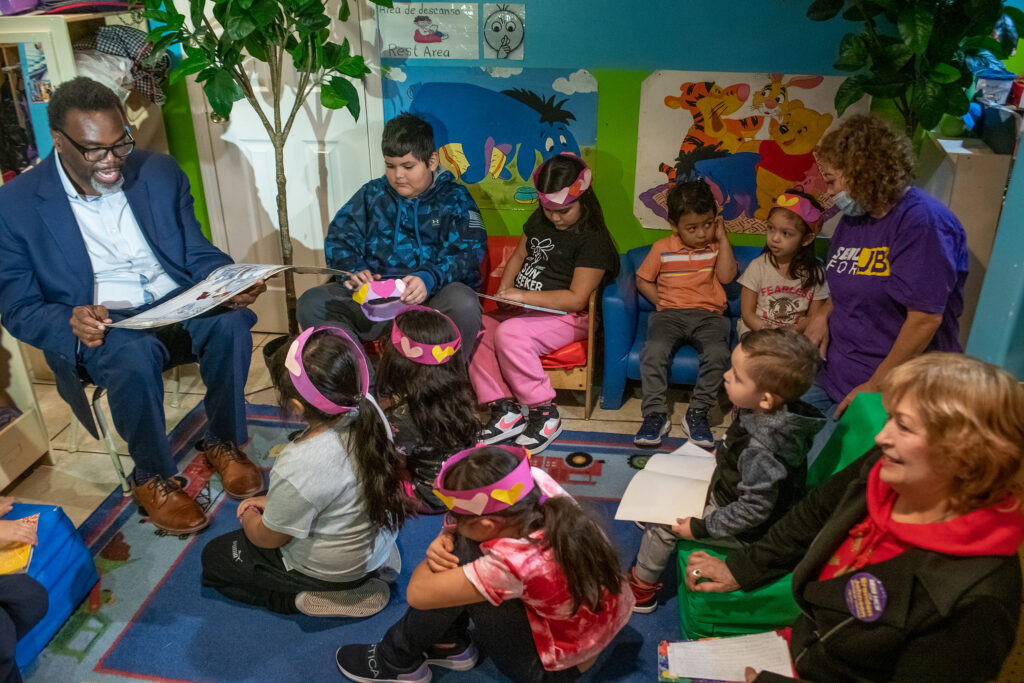 Landeros shared her story, both why she is passionate about her work and the challenges she faces as a child care worker, including her struggle to survive on poverty wages and her concerns about the safety of the children she cares for given the risk of violent crime in the city.
"I have been a child care provider for 22 years and I love to work with children. I love the children, and I'm also a union member," Landeros, a member of SEIU Healthcare Illinois, said through a translator. "These are hard times not only for us but also for the children. We would like to have more supervision in our neighborhood and bring more safety to our neighborhoods so that our children feel safer when they are walking around."
In response, Johnson emphasized the importance of passing Treatment Not Trauma and investing in communities and jobs for youth to help keep Chicago communities safe: "I know this personally as a public school teacher. When we invest in children, the return on that investment benefits the entire community…Investing in people is the best thing we can do to have a safe city. And that's what I'm going to do as mayor," said Johnson.
The conversation happened just as Governor JB Pritzker unveiled his 2024 state budget, which includes the Smart Start Illinois plan and expanded funding for child care and early education.
"Home child care providers all too often earn poverty wages that are less than minimum wage. The challenges we see with the low pay in the child care workforce relate to who often is providing that care work. It's women, Black women, Latina women, immigrant women," said Brynn Seibert, SEIU Healthcare Illinois Director of Child Care and Early Learning. "We appreciate that we have a governor here in Illinois that wants to make Illinois the best state in the nation to raise a family. Now, we want to work with Brandon to make sure that Chicago is the best city in the country to raise a family and be a child care provider."
As a former child care provider himself, Johnson empathized with Landeros' experience and vowed to fight for universal child care in Illinois and living wages and benefits for child care workers if elected Chicago's next mayor.
"As mayor of the city of Chicago, I'm going to continue to build off of my relationships in Springfield to make sure we are receiving the adequate resources and dollars that are needed to bolster the wages of child care workers," added Johnson after praising Governor Pritzker's Smart Start Illinois plan.
As a father of three young children, Brandon understands the struggle of finding affordable child care in Illinois. And as a Chicagoan, former child care worker and Cabrini-Green public school teacher, Brandon knows the importance of livable wages, benefits and protections for child care workers. Brandon Johnson has a proven track record of backing working people's demands. A former organizer for the Chicago Teachers' Union and member of the Cook County Board of Commissioners, Johnson has fought alongside SEIU Healthcare Illinois members for policies that help working people, including child care for all. If elected mayor, he will fight for good-paying union jobs for child care workers and affordable child care for working parents.
###