SEIU HCIIMK members show up. Brandon Johnson shows up for us.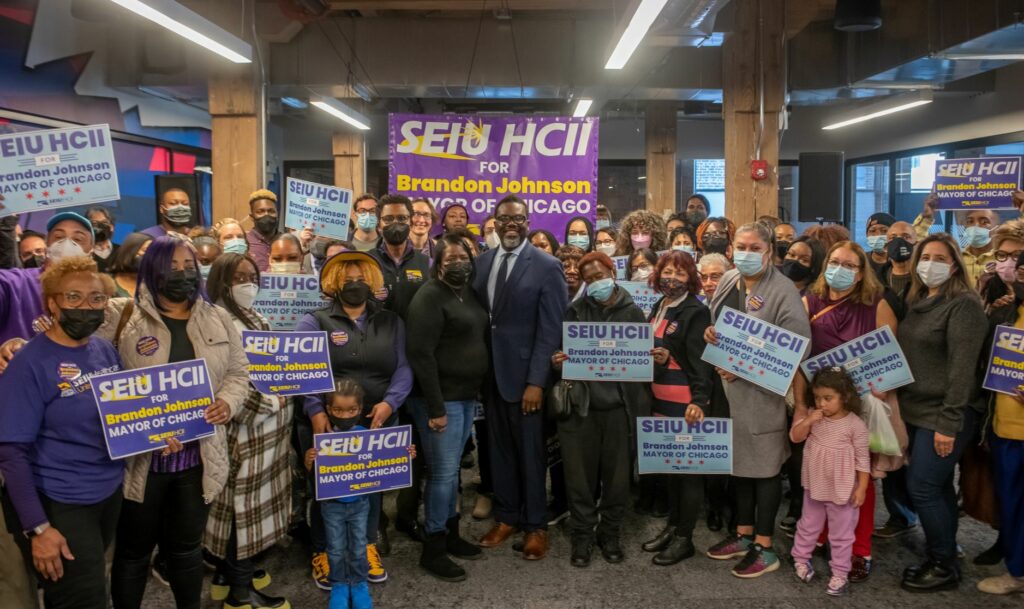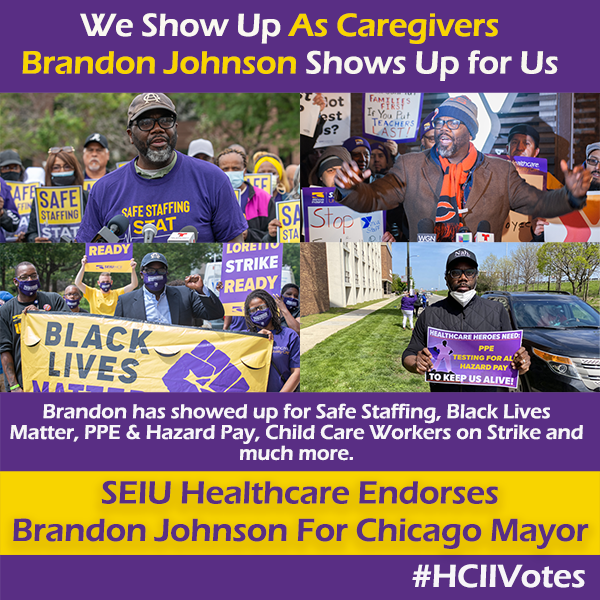 Being a caregiver and essential worker means showing up. During the pandemic, SEIU HCIIMK members showed up every day. We risked our lives to care for everyone who needed it: patients, working parents, kids, seniors, and people with disabilities.
We deserve a mayor who shows up for us too.
Brandon Johnson has been there with us, hand-in-hand, fighting alongside us here in Chicago.
He's joined strike lines, walked beside us at protests, and fought with us for strong communities and workplaces, livable wages, safe staffing, and so much more.
Brandon is our ally and neighbor who understands what we're going through. And he is the right leader to unite Chicago around a common vision that will deliver for all of us, no matter our race, income or neighborhood.
Brandon Johnson has our back, and is committed to fighting for child care for all, true public safety, lower prices for working families, a living wage of $25/hour, and affordable housing.
As we gather with our loved ones this holiday season, don't miss the opportunity to spread the word about Brandon Johnson for mayor and the Chicago we can build together.
In February, we can choose a candidate for Mayor who is already walking the walk and has proven he's willing to show up for us. It's time to vote for Brandon Johnson.
---
Ser cuidador y trabajador esencial significa presentarse. Durante la pandemia, los miembros de SEIU HCIIMK se presentaron todos los días. Arriesgamos nuestras vidas para cuidar a todos los que lo necesitaban: pacientes, padres que trabajan, niños, personas mayores y personas con discapacidades.
Merecemos un alcalde que también se presente por nosotros.
Brandon Johnson ha estado allí con nosotros, mano a mano, luchando junto a nosotros aquí en Chicago.
Se unió a las líneas de huelga, caminó a nuestro lado en las protestas y luchó con nosotros por comunidades y lugares de trabajo fuertes, salarios dignos, personal seguro y mucho más.
Brandon es nuestro aliado y vecino que entiende por lo que estamos pasando. Y él es el líder adecuado para unir a Chicago alrededor de una visión común que nos brindará a todos, sin importar nuestra raza, ingresos o vecindario.
Brandon Johnson nos apoya y está comprometido a luchar por el cuidado infantil para todos, la verdadera seguridad pública, precios más bajos para las familias trabajadoras, un salario digno de $25 por hora y viviendas asequibles.
Mientras nos reunimos con nuestros seres queridos en esta temporada navideña, no pierda la oportunidad de correr la voz sobre Brandon Johnson para alcalde y el Chicago que podemos construir juntos.
En febrero, podemos elegir un candidato a alcalde que ya esté caminando por el camino y haya demostrado que está dispuesto a presentarse por nosotros. Es hora de votar por Brandon Johnson.