2022 End of Year Member Message from President Greg Kelley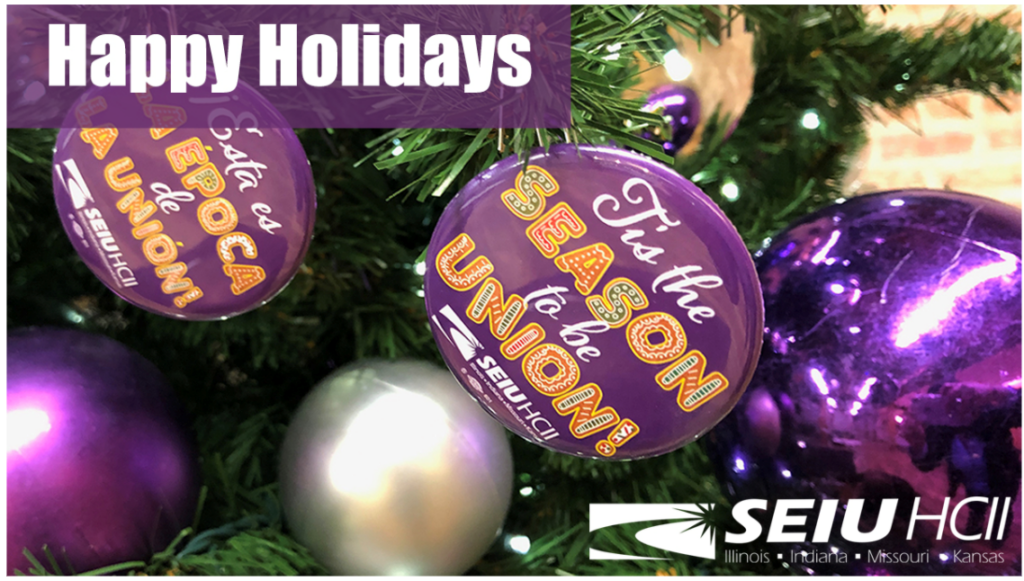 "You cannot lead the people unless you love the people, you can't love the people unless you know the people and you can't know the people unless you walk among the people. You cannot serve me if you cannot see me."
This is a quote that I first heard during Raphael Warnock's victory speech after winning his reelection seat to the U.S. Senate in a heated runoff last month. It truly resonated with me. It reminded me of the work that we do every day, but more importantly it reminded me of the people that are behind the work we do. They are dedicated healthcare and child care workers, but they are also mothers and fathers, grandparents, community members, religious leaders, and activists. They are multifaceted and diverse, and their lives reflect their families, friends, communities, and the people they love. They are the constant reminder that the work we do is not simply centered around a cause but around the people we serve.
After digging a little deeper, I learned that Sen. Warnock adapted this statement from a quote by renowned scholar and political activist, Cornel West. Sen. Warnock and Dr. West, both have been at the forefront of social justice and civil rights for decades. They understand what it requires to activate a movement that is motivated by the people. They understand the power this is harnessed when we lead with love and not with self-interest and greed.
I reflect with great pride on this past year, as I see how we have reached our goals and accomplished the seemingly unachievable. Our members are seen speaking out and demanding safe working conditions for hospital workers and their patients, reinforcing that a safe environment for workers means the ultimate in quality care for those they service. We see our child care members launching the Child Care for All campaign that will transform the child care industry and benefit working families in Illinois as well as being a model for care across the country. We witnessed our nursing home workers fight against greedy owners that refused to pay out designated funds while colluding to keep wages low. Our DORS workers in Illinois are ending this year earning $17.25 per hour while agency home care workers in Illinois and Indiana celebrate hard-won raises and bonuses. We're watching Missouri members build political will in St. Louis as they battle a broken long term care system.
Our members were seen across Illinois, Indiana, Missouri, and Kansas in record numbers, as they mobilized to elect leaders that amplified the voices of working people and stood against price-gouging, tax-dodging and union-busting corporations. One of our biggest victories was the passing of the Illinois Workers' Rights Amendment which will protect our right to organize and negotiate for generations to come.
One of the highlights of the year for me was travelling throughout our states and speaking with members. I had the pleasure of sharing stories, answering questions, and listening to concerns. My priority is to hear our membership, ensure that your voices are translated into action and to walk with you on this journey. I look forward to meeting you all and continuing our tour in the upcoming new year.
The actions and hard work of our members has not gone unnoticed. We see the impact that you have made and recognize that you continuously improve the quality of life of all you touch. At a time when so many are struggling financially and emotionally, our union remains a place where we can all come together, see the humanity in each other, and regardless of where you are from or work you may do, we all ban together to fight for what we deserve.
As we head into 2023, I am filled with great enthusiasm and hope that we as a union continue to walk in unison, see the value that we all bring to our collective effort and most importantly, lead all that we do with love.
Wishing you a joyous holiday season and a Happy New Year to all!
In Solidarity,
Greg Kelley
President, SEIU HCIIMK
---
"No puedes liderar a la gente a menos que ames a la gente, no puedes amar a la gente a menos que conozcas a la gente y no puedes conocer a la gente a menos que camines entre la gente. No puedes servirme si no puedes verme."
Esta es una cita que escuché por primera vez durante el discurso de victoria de Raphael Warnock después de ganar su escaño de reelección en el Senado de los Estados Unidos en una acalorada segunda vuelta el mes pasado. Realmente resonó conmigo. Me recordó el trabajo que hacemos todos los días, pero más importante, me recordó a las personas que están detrás del trabajo que hacemos. Son trabajadores dedicados al cuidado de la salud y al cuidado infantil, pero también son madres y padres, abuelos, miembros de la comunidad, líderes religiosos y activistas. Son multifacéticos y diversos, y sus vidas reflejan a sus familias, amigos, comunidades y las personas que aman. Son el recordatorio constante de que el trabajo que hacemos no se centra simplemente en una causa, sino en las personas a las que servimos.
Después de investigar un poco más, supe que el Senador Warnock adaptó esta declaración de una cita del renombrado erudito y activista político Cornel West. El senador Warnock y el Dr. West han estado al frente de la justicia social y los derechos civiles por décadas. Entienden lo que se requiere para activar un movimiento motivado por la gente. Entienden el poder que se aprovecha cuando lideramos con amor y no con interés propio y codicia.
Reflexiono con gran orgullo sobre este último año, ya que veo cómo hemos alcanzado nuestras metas y logrado lo que parecía inalcanzable. Se ve a nuestros miembros alzando la voz y exigiendo condiciones de trabajo seguras para los trabajadores del hospital y sus pacientes, reforzando que un ambiente seguro para los trabajadores significa lo último en cuidado de calidad para aquellos a quienes sirven. Vemos a nuestros miembros de cuidado infantil lanzar la campaña Cuidado Infantil para Todos que transformará la industria del cuidado infantil y beneficiará a las familias trabajadoras en Illinois, además de ser un modelo de cuidado en todo el país. Fuimos testigos de la lucha de nuestros trabajadores de hogares de ancianos contra dueños codiciosos que se negaron a pagar los fondos designados mientras coludían para mantener bajos los salarios. Nuestros trabajadores de DORS en Illinois están terminando este año ganando $17.25 por hora, mientras que los trabajadores de cuidado en el hogar de agencias en Illinois e Indiana celebran aumentos y bonos que tanto les costó ganar. Estamos viendo a los miembros de Missouri desarrollar voluntad política en St. Louis mientras luchan contra un sistema de cuidado a largo plazo que no funciona.
Nuestros miembros fueron vistos en Illinois, Indiana, Missouri y Kansas en números récord, mientras se movilizaban para elegir líderes que amplificaran las voces de los trabajadores y se opusieran a las corporaciones que suben los precios, evaden impuestos y destruyen uniones. Una de nuestras mayores victorias fue la aprobación de la Enmienda de los Derechos de los Trabajadores de Illinois, que protegerá nuestro derecho a organizarnos y negociar para las generaciones por venir.
Uno de los aspectos más destacados del año para mí fue viajar por nuestros estados y hablar con los miembros. Tuve el placer de compartir historias, responder preguntas y escuchar inquietudes. Mi prioridad es escuchar a nuestros miembros, asegurarme de que sus voces se traduzcan en acción y caminar con ustedes en este viaje. Espero conocerlos a todos y continuar nuestra gira en el próximo año nuevo.
Las acciones y el arduo trabajo de nuestros miembros no han pasado desapercibidos. Vemos el impacto que ha tenido y reconocemos que mejora continuamente la calidad de vida de todos los que toca. En un momento en que tantos luchan financiera y emocionalmente, nuestra unión sigue siendo un lugar donde todos podemos unirnos, ver la humanidad en cada uno, sin importar de donde seas o el trabajo que hagas, nos unimos todos para luchar por lo que nos merecemos.
A medida que nos acercamos a 2023, estoy lleno de gran entusiasmo y espero que nosotros, como unión, sigamos caminando al unísono, veamos el valor que todos aportamos a nuestro esfuerzo colectivo y, lo que es más importante, lideremos todo lo que hacemos con amor.
¡Les deseo una feliz temporada navideña y un Feliz Año Nuevo a todos!
En solidaridad,
Greg Kelley
Presidente, SEIU HCIIMK