Frontline Workers at Blue Circle Rehab and Nursing Hold Unfair Labor Practice Strike – Demand Respect, Protection, and Pay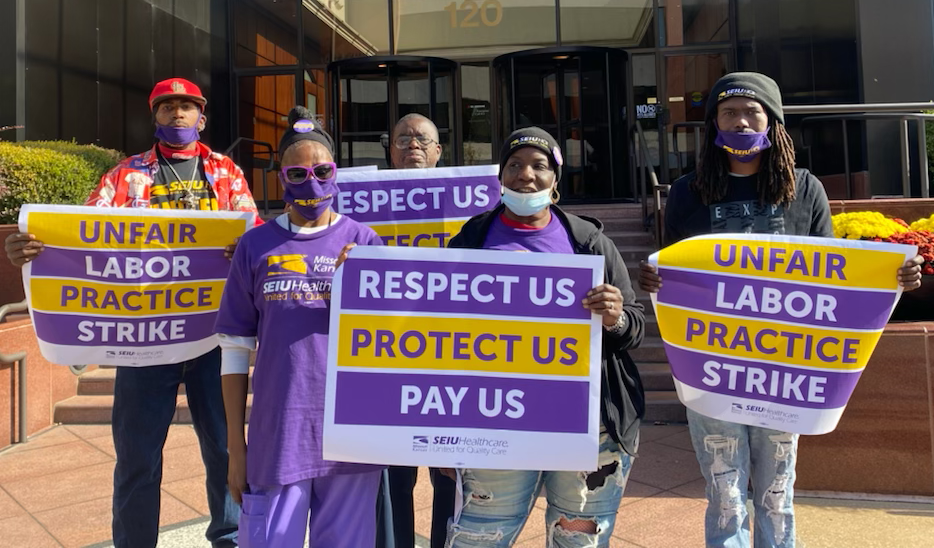 St. Louis, MO – On Thursday, June 9, the frontline nursing home workers at Blue Circle Rehab and Nursing began an Unfair Labor Practice strike at 7:00 a.m. In spite of the workers' continued efforts to secure a fair contract, owners of Blue Circle have refused to bargain in good faith, and have failed to provide information requested at the bargaining table – leaving workers no choice but to walk out in protest and demand the respect, protection, and pay they deserve.

This is the first Unfair Labor Practice strike workers have held since a determination by the St. Louis Region of the National Labor Relations Board that Blue Circle owners had bargained in bad faith. As a settlement of that determination, owners agreed to provide information requested by the union, promised not to threaten workers for participating in an Unfair Labor Practice strike, promised to bargain in good faith, and more. However, owners have once again acted in bad faith and threatened workers for exercising their rights under the law.

"SEIU Healthcare began bargaining with Blue Circle more than a year ago," said Lenny Jones, SEIU Healthcare Missouri State Director. "Every step of the way, they have delayed the process and played games with the livelihoods of workers. These out-of-state owners seem to have learned nothing from the NLRB and are continuing to bargain in bad faith. Our workers are tired of waiting for a fair contract and are now demanding the respect, protection, and pay they have deserved for over a year."

"My coworkers and I have been through more than we ever thought possible in the last few years," said Lamarr Young, a Floor Tech who has worked at Blue Circle for 20 years. "We show up to work every day to care for our community, but the nursing home owners don't show up for us. We have been fighting to keep workers and patients safe, pay workers what we deserve, and treat workers with dignity and respect for over a year, and we'll keep fighting until we win."

Workers from Blue Circle Rehab and Nursing also participated in a June 8 Day of Action at Beauvais Healthcare Center to demand industry-wide reforms and the end of unfair labor practices. Frontline workers from across St. Louis nursing homes called for St. Louis City and County officials to investigate the deficiencies at area nursing homes owned by the out-of-state owners. The frontline workers and residents of Blue Circle and other area nursing homes deserve owners who will bargain in good faith and give workers the respect, protection, and pay they deserve.
###