Black History is American History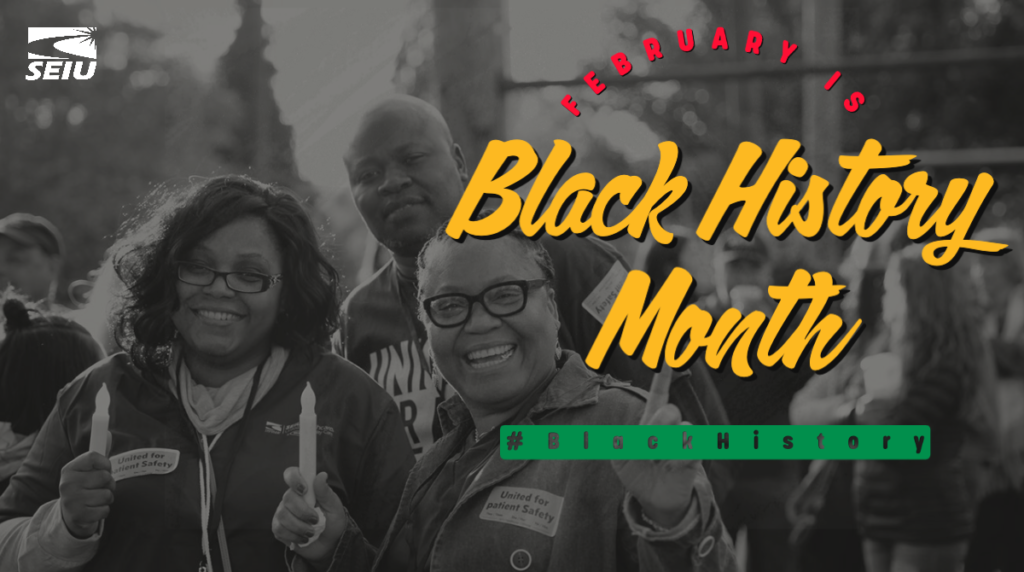 Almost 4 decades ago, Black and Brown women across the city of Chicago were committed to providing quality home care and child care services to those most in need throughout their communities. Despite being a part of a system that silently functioned as the backbone of our nation's care industry, their contributions went unrecognized.
Home care workers, DORS personal assistants and home child care providers were not protected under the Fair Labor Standards Act. They were denied the right to minimum wage and overtime pay, making a livable wage unattainable. The critical work that was performed to keep our most vulnerable populations safe was categorized as babysitting and domestic work duties. These constraints were the legal barriers that attempted to prevent workers from protecting their rights and establishing a union.
These determined workers fought to ensure that the work of health care and child care providers would be recognized as the viable resource needed to maintain and strengthen this nation's care economy. Their fight would eventually lead to the formation of Local 880 which ultimately became the foundation for HCIIMK, representing over 90,000 workers across four states.
It is with great pride that I celebrate our union's rich history and the knowledge that our history is in fact, Black History. The work that our members are doing every day is history in the making. Our members are the frontline workers that have willingly accepted the overwhelming task of securing our nation's future. We are witness to the creation of history as members risk their health and safety by stepping head on into a deadly pandemic. While many are retreating to safe spaces for protection from this virus, healthcare workers and child care workers are marching toward this crisis, just as all heroes do. Without their lifesaving efforts, we will have no chapters left to write in our history books.
This month has allowed us to reflect on what prepared us for this historic moment in our country's story. We must recognize that the determination and tenacity of our brave union members, paved the way and improved the quality of life for ALL workers. It is clear that what we are celebrating this month is not just Black History, but it is American History.
Join me this month as we feature the contributions of inspirational history makers, many in our very own ranks, on our social media platforms.
Once again, I am proud to salute and celebrate our leaders that have not only contributed to Black History but are engrained in American History.
In solidarity,
Greg Kelley
President
SEIU Healthcare IL/IN/MO/KS
---
La Historia Afroamericana es Historia Americana
Hace casi 4 décadas, las mujeres negras y marrones a través de la ciudad de Chicago se comprometieron a brindar servicios de cuidado en el hogar y cuidado infantil de calidad a las personas más necesitadas en sus comunidades. A pesar de ser parte de un sistema que funcionó silenciosamente como la columna vertebral de la industria del cuidado de nuestra nación, sus contribuciones no fueron reconocidas.
Los trabajadores de cuidado en el hogar, los asistentes personales de DORS y los proveedores de cuidado infantil en el hogar no estaban protegidos por la Ley de Normas Laborales Justas. Se les negó el derecho al salario mínimo y al pago de horas extras, lo que hizo inalcanzable un salario digno. El trabajo crítico que se realizó para mantener seguras a nuestras poblaciones más vulnerables se clasificó como trabajo de niñera y trabajo doméstico. Estas limitaciones fueron las barreras legales que intentaron impedir que los trabajadores protegieran sus derechos y establecieran una unión.
Estos trabajadores decididos lucharon para garantizar que el trabajo de los proveedores de cuidado de la salud y cuidado infantil fuera reconocido como el recurso viable necesario para mantener y fortalecer la economía del cuidado de esta nación. Su lucha eventualmente conduciría a la formación del Local 880 que finalmente se convirtió en la base de HCIIMK, que representa a más de 90,000 trabajadores en cuatro estados.
Es con gran orgullo que celebro la rica historia de nuestra unión y el conocimiento de que nuestra historia es, de hecho, la Historia Afroamericana. El trabajo que nuestros miembros están haciendo todos los días es historia en desarrollo. Nuestros miembros son los trabajadores de primera línea que aceptaron voluntariamente la abrumadora tarea de asegurar el futuro de nuestra nación. Somos testigos de la creación de la historia a medida que los miembros arriesgan su salud y seguridad al entrar de frente en una pandemia mortal. Mientras muchos se retiran a espacios seguros para protegerse de este virus, los trabajadores de la salud y los cuidadores de niños marchan hacia esta crisis, como lo hacen todos los héroes. Sin sus esfuerzos para salvar vidas, no nos quedaría capítulos que escribir en nuestros libros de historia.
Este mes nos ha permitido reflexionar sobre lo que nos preparó para este momento histórico en la historia de nuestro país. Debemos reconocer que la determinación y tenacidad de nuestros valientes miembros abrió el camino y mejoro la calidad de vida de TODOS los trabajadores. Está claro que lo que estamos celebrando este mes no es solo la Historia Afroamericana, sino la Historia Americana.
Únase a mí este mes mientras presentamos en nuestras plataformas de redes sociales las contribuciones de creadores de historia inspiradores, muchos en nuestros propios grupos.
Una vez más, me enorgullece saludar y celebrar a nuestros líderes que no solo han contribuido a la Historia Afroamericana, sino que están arraigados en la Historia Americana.
En solidaridad,
Greg Kelley
Presidente
SEIU Healthcare IL/IN/MO/KS