Nursing Home Leader, Shantonia Jackson, Speaks at Pre-Election Day Rally: "I'm voting for [my co-workers who died of COVID], and to make sure that all our votes count!"
On Monday, November 2nd, just before the election day, the Chicago Tribune reported on a labor rally with SEIU Healthcare Illinois, SEIU Local 73, the Chicago Teachers Union (CTU), United Electrical, Radio & Machine Workers of America (UE), AFGE Local 704, Cook County College Teachers Union Local 1600, and the Warehouse Worker Organizing Committee.
The Tribune highlighted our CNA leader, Shantonia Jackson, who was also recently interviewed by WGN Ch. 9 about her commitment to vote in this election to honor her fallen co-workers killed by the COVID-19 pandemic.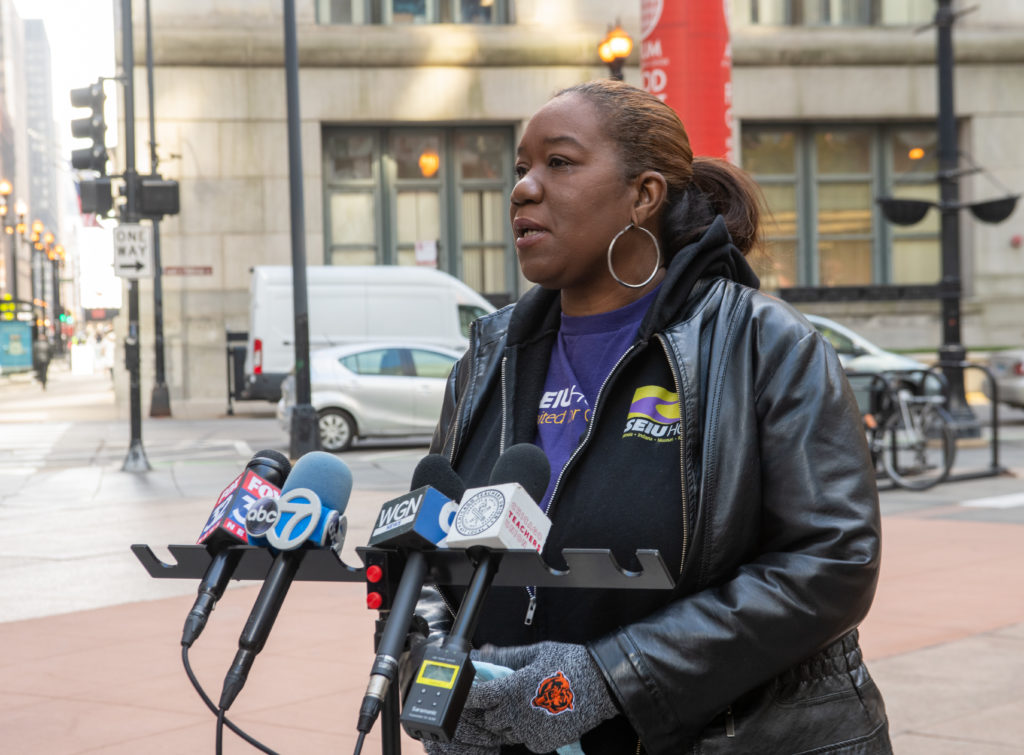 Shantonia Jackson, a certified nursing assistant and member of the SEIU Healthcare Illinois union, said this vote feels especially important after losing co-workers at City View Multi-Care center in Cicero, one of the many Illinois nursing homes affected by a COVID-19 outbreak. Throughout the Midwest, SEIU Healthcare represents more than 91,000 workers.
"My vote counts and I'm voting for [my co-workers who died of COVID], to make sure that all our votes count, and all our union brothers and sisters are together and we stand as one," Jackson said. "… I need all the essential workers to get out and vote, I need everyone to get out and vote, because the world is changing.

And it's been very hard for me, as an essential worker, I've worked 16 hours a day. I've worked to help care for the loved ones … people who can't get their loved ones at home, I'm there for them and I want the American people to know this is a very important election."
In the "Joint Statement of Chicago-area Labor on Protecting Our Democracy," labor leaders called for every vote to be counted.
"We stand firmly in opposition to any effort to subvert, distort, misrepresent or disregard the final outcome," the statement begins, asking other workers, public figures, and community and religious leaders to join their cause.

"We believe that the labor movement has an essential role in demanding and defending democracy," the statement continues. "We believe in the power of the people — the multiracial, working-class majority — and we are ready to defend our right to a free and fair election and a peaceful transition of power."