Nursing home workers "vote early" to honor fallen co-workers from COVID-19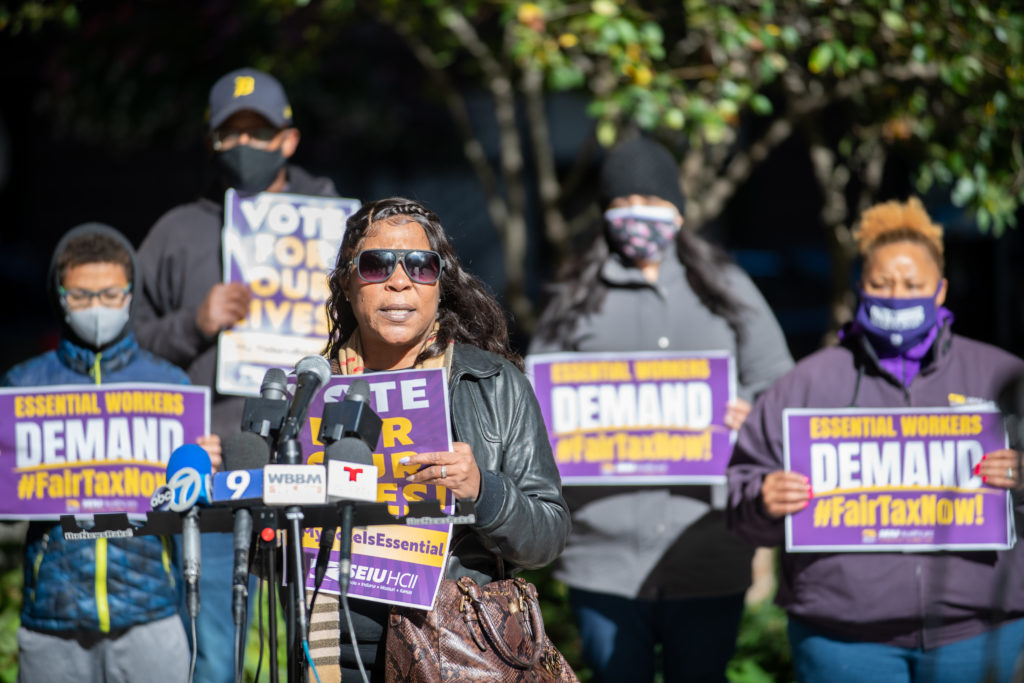 Essential workers demand accountability of President Trump and the nursing home industry by channeling our anger and pain to the ballot box
(Watch and share this incredible news report from WGN-TV about our early voting press event at Federal Plaza).
Go to www.iwillvote.com to find out when and where you can vote.
(October 24, 2020, Chicago) — Nursing home workers pledged to "vote early" as a tribute and to honor their fallen co-workers who died from COVID-19.
Workers are demanding accountability for President Donald Trump and the nursing home industry for their failures to save lives and enact a comprehensive plan to respond to the coronavirus pandemic which has cost 9,788 deaths in Illinois and over 225,000 nationally.
Records are not kept about the numbers of nursing home workers in Illinois who have died, but preliminary reports say at least 17 lives have been lost, though researchers at SEIU Healthcare believe it is a gross under count.
Illinois passed the grim milestone of 5,000 deaths of nursing home residents. (Shaba Andrich, Vice-President of SEIU Healthcare Illinois quoted in the Chicago Tribune; also see our full statement).
Workers renewed their demands for more resources to deal with the pandemic, such as more personal protective equipment (PPE), rapid testing, hazard pay, ending short staffing, paid-sick leave, and adding more public health investigators to hold the nursing home industry accountable.
Jackie Ford, a receptionist at Bria Forest Edge nursing home for 9 years, spoke in honor of her co-worker and friend Leola Grady. "Leola was nothing less than a guardian angel to our residents and seniors. Even though she wasn't paid nearly enough she would actually buy gifts and clothes for the residents to cheer them up. That's just who she was – she was always giving of herself to help others."
"Because back in March and April, even though the pandemic was exploding, management actually told Leola and other workers to take off her own mask because the administrators said it would 'upset' the residents and other staff. That's how we got into such a crisis because these owners simply didn't care about us or care about what we needed to stay safe.

"When I vote, I'm going to think about and carry the memory of my friend, Leola Grady, and all of those essential workers who have lost their lives to this pandemic," said Jackie Ford.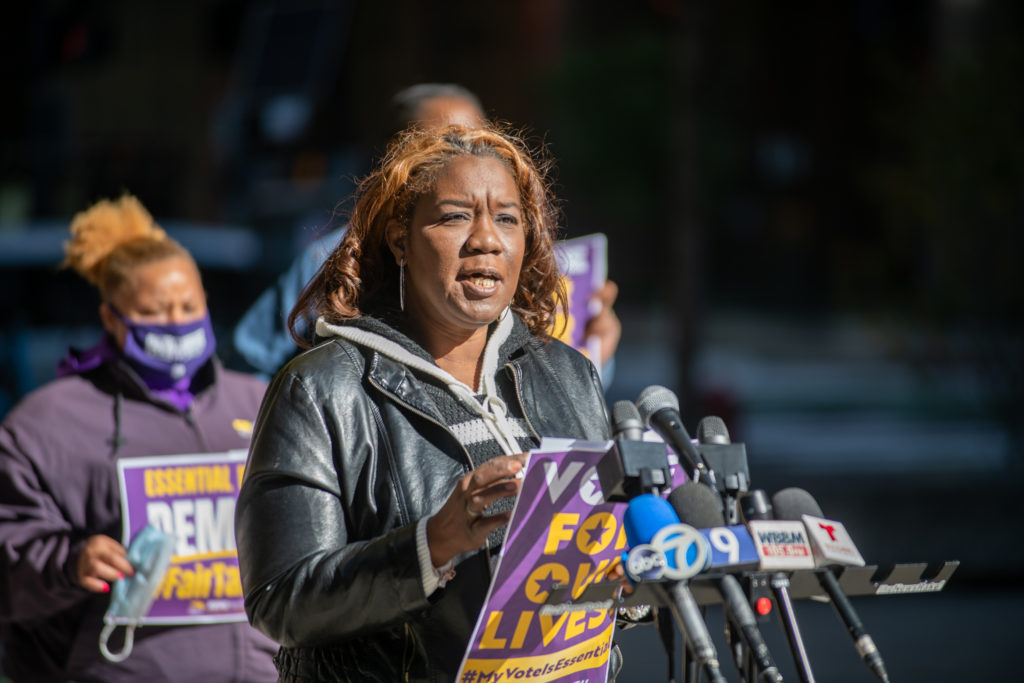 Shantonia Jackson, a CNA at City View nursing home in Cicero, recounted a similar story. Her co-worker of eight years and a fellow CNA, Camelia Kirkwood, was just a couple months away from retiring on June 1st when she suddenly died of COVID-19 in April.
Camelia worked at her nursing home for 30-years. "She had just gotten a senior apartment and was making plans to enjoy her retirement. She was looking forward to getting more sleep, to go on long walks by herself, and to able to relax in a comfortable chair without being told to jump up and respond to some crisis," said Shantonia Jackson. "Ms. Kirkwood was almost motherly to me. She was loving – joyful – and serious. She was fiercely loyal."
"When the pandemic first broke out in early Spring, management actually told us not to wear our masks if you can believe it. But I refused to take my mask off, and dared my supervisors to punish or fire me.

"The industry refused to listen to us even though we were in the trenches. We demanded more protective equipment because we saw the storm coming! But the nursing home industry turned a blind eye, and workers and residents died and got sick because of it," said Jackson.
Shantonia ended her speech by stating, "Mark my words –there will be a reckoning for Donald Trump for his lies and gross failures handling this pandemic. I'm voting for the loved ones, like my co-worker Camelia, and all those who didn't survive this most hellish year."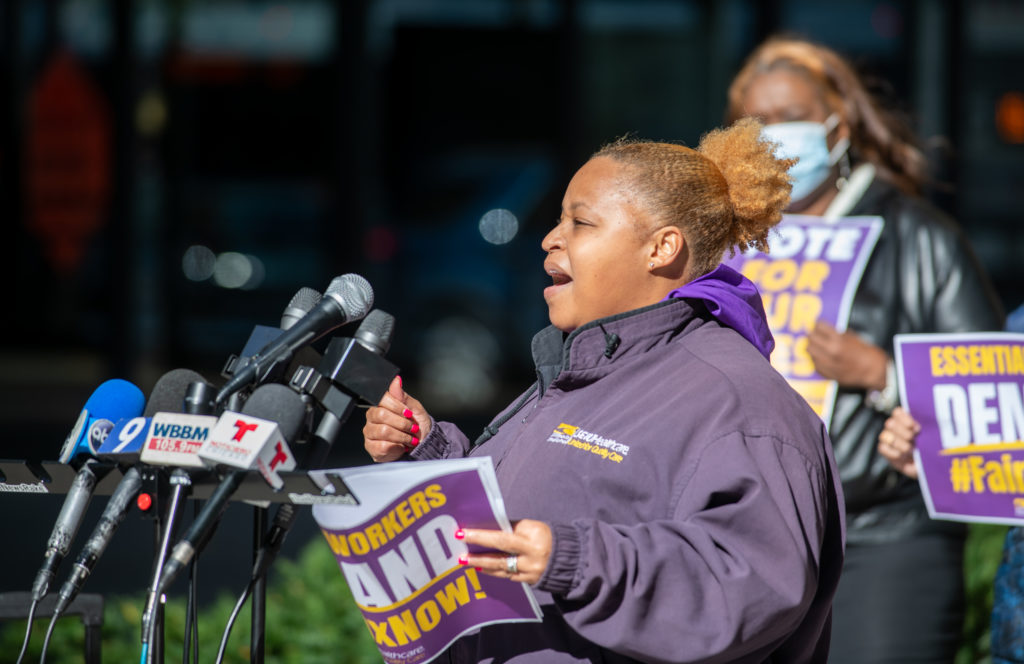 Erica N. Bland-Durosinmi, the new Executive Vice President of SEIU Healthcare Illinois Indiana Missouri Kansas put this year's election in moral terms.
"Our lives, our livelihoods, and our future is on the ballot. Whether it's the Fair Tax on the ballot to FINALLY make the rich pay their fair in taxes – to getting rid of Donald Trump and his goons who are destroying and dividing this country like we have never seen before – voting this year has never been more important.
"This election, believe it or not, goes beyond politics. This election is a referendum on what kind of a country, and a state, we are going to be in the future," said Erica Bland-Durosinmi.
Finally, workers draw attention to the racial disparities of the Covid-19 pandemic. As the Guardian reported, "in Chicago, Covid-19 is battering Black communities. Despite only accounting for 30% of the city's population, Black people make up 60% of Covid cases there and have the highest mortality rate out of any racial or ethnic group."