Watch Video: Our March on Villa's HQ in Solidarity with Detroit Workers Follows WBEZ Investigative Report Slamming Villa for Appalling COVID Safety Record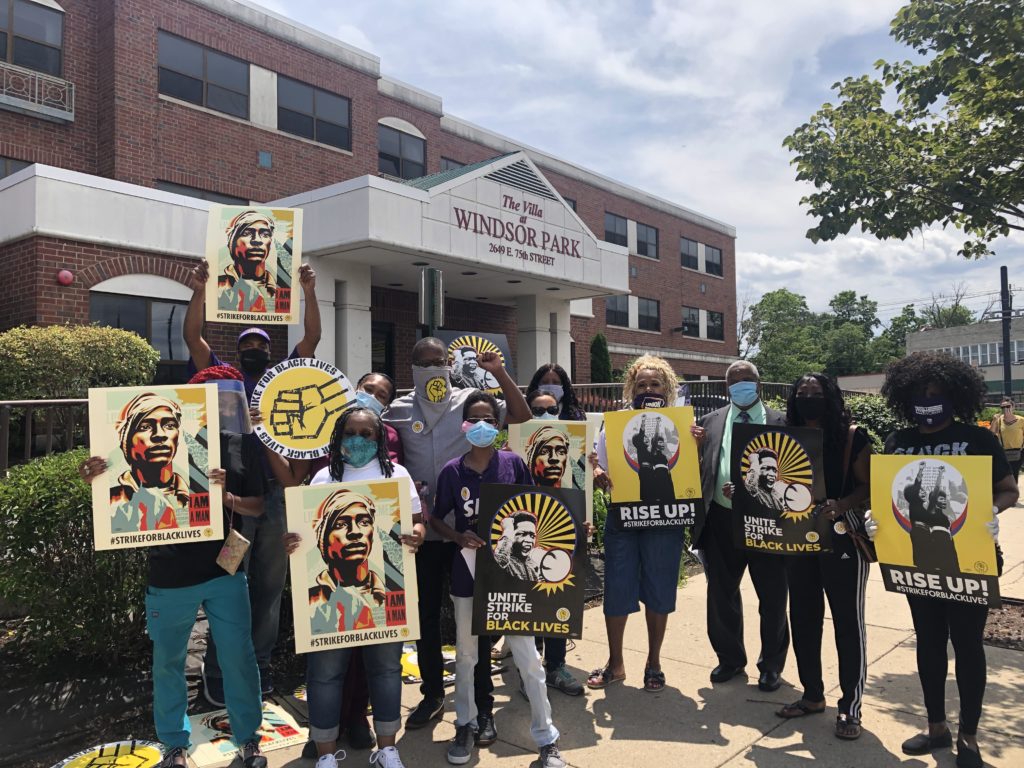 (August 20, 2020) – Nearly a dozen of our nursing home leaders and organizers joined in a march on the boss at the Villa's corporate headquarters in Skokie, Illinois for a solidarity action to support our fellow workers in Detroit who are fighting for a fair contract. A half-dozen nursing homes in Detroit are owned by Villa where workers are demanding a real voice on the job.
Watch this video of our action and share it with your fellow workers to help us spread the word about Villa's appalling safety record on the COVID-19 pandemic and constantly putting profits over residents.
In addition to our action at Villa's corporate headquarters, WBEZ Public Radio is did a remarkable series on the COVID-19 crisis, "50 Lives, 4 Zip Codes." 
And by coincidence, their August 20th's segment focused on Villa at Windsor Park's horrific safety record dealing with the COVID-19 pandemic that included an interview with our very own Francine Rico, a CNA at the facility and who serves as our Nursing Homes Vice-Chair – see in-depth excerpts of the story which we are pasting below.
_______________________________
As of July 27, based on a WBEZ analysis of records from the office of the Cook County medical examiner, more than half the deaths in the 60649 ZIP code were linked to the community's four licensed nursing homes.
The facility with the highest number was Villa at Windsor Park, 2649 E. 75th St.
By early August, according to data from the Illinois Department of Public Health (IDPH), there were 48 COVID-19 deaths tied to Villa at Windsor Park, the highest among nursing homes in the city — and one of the highest tallies in Illinois.

… But experts said the challenges at Villa are also indicative of broader issues throughout the nursing home industry, particularly among for-profit nursing homes, where facilities serving mostly low-income people of color struggle with staffing, equipment and quality of care.
IDPH's 2018 Long-Term Care Facility Questionnaire shows that more than 95% of Villa's residents are Black, and nearly 60% of its revenue comes from Medicaid, government-issued insurance for low-income patients.
Early on in the pandemic, Villa fired its administrator, Levi Israel, after a local activist named Eric Russell claimed that Israel had tested positive for COVID-19 but continued to come to work.

Russell's mother was a resident at Villa at the time, and one of the staff members texted him about a recent morning meeting led by Israel.
"He did a teary-eyed confession to the senior staff, explaining to everyone that he was aware that COVID-19 was running rampant through the building, … and he went on to say he had actually tested positive himself," Russell told WBEZ, summarizing what the Villa staffer shared with him. Russell said the Villa staffer and several other workers walked out in response to Israel's remarks.

Eric Russell's mother was a resident at Villa at Windsor Park, a nursing home in the 60649 ZIP code. Russell exposed that a Villa administrator had tested positive for COVID-19 but continued to come to work. Esther Yoon-Ji Kang / WBEZ
Villa Healthcare declined requests from WBEZ for interviews and, citing company policy, declined to comment on personnel matters involving Israel. Instead, the company issued a statement in response to a list of questions saying that Russell's statements "are simply incorrect."
"No staff member was ever at the facility once they had tested positive for COVID-19 until they were allowed to return" per guidelines from the Centers for Disease Control and Prevention (CDC), the statement read. Israel himself could not be reached for comment.
Francine Rico, a certified nursing assistant, has worked at Villa for 23 years and spoken out in the media about the working conditions there, including the lack of adequate PPE and infection control during the pandemic. She said understaffing has always been a problem at the facility, and it was exacerbated when COVID-19 began to spread through the building.
"These are situations that we had been crying about before COVID-19 hit," Rico said. "We're supposed to, on a day shift, have no more than eight to nine people. So, if I'm carrying 12, 13 … where does that leave our residents with providing quality care?"
According to data reported to the Centers for Medicare & Medicaid Services, which regulates nursing homes, Villa at Windsor Park falls in the bottom 20th percentile in Illinois for direct care staffing — such as nurses and CNAs, who interact directly with patients.

Rico said masks were in short supply during the early weeks of the pandemic and that the facility also doled out rain ponchos for workers to wear during their shifts.
"It's yellow. It's got the hood. It's got the little string. It's got the snaps that you snap … but that was what we started with," Rico said. "It was a hot mess. Everybody was scared. We were scared for ourselves, and we were scared for our residents, as well."
For-profit nursing home chains, like Villa, are associated with higher patient-to-staff ratios, lower pay for core staff, poorer training and knowledge of regulations and care protocols among staff and more citations and complaints, said Lee Friedman, an associate professor at the University of Illinois at Chicago's School of Public Health who has studied nursing homes.
… Greg Will, a research director at SEIU Healthcare Illinois, the labor union that represents some nursing home workers, said Villa and many other for-profit nursing homes use their revenue to pay for services and equipment from companies under the same ownership as the nursing home.
For example, Will said, a for-profit owner may own both the nursing home operation and the land or building where it's located, but the owner then charges high rent to the nursing home to occupy the very building it owns.
Will said these payments, which are often inflated, siphon revenue from the nursing homes and leave less money for the direct care of patients.
"It is a model of extraction of revenue and profit from what is a site of care for very vulnerable folks who are there because they need the care," Will said.