Leader Profile: Ozzmon Dumas, "As essential workers, we must vote for the Fair Tax like our lives depends on it – because they do!"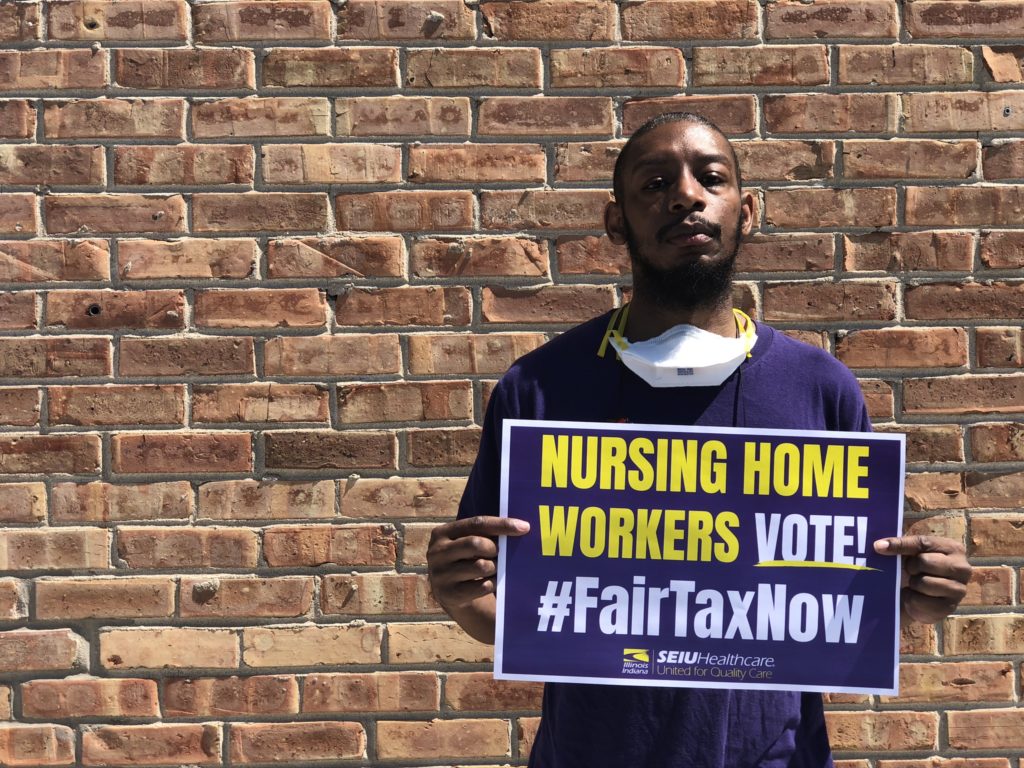 Check you voter registration status. Not registered? Register to vote here. Then sign the pledge to vote for the #FairTaxNow!
Visit our resource page to learn all about the Fair Tax.
---
Guest Commentary by Ozzmon Dumas
As an EVS nursing home worker at Symphony of Midway, I've been called "essential," "necessary" and even a "hero" along with my co-workers on the frontlines of the COVID-19 pandemic.
I sincerely appreciate the sentiment. But what essential workers really need are SOLUTIONS!
We need to vote to pass the Fair Tax on the ballot this November to make sure we have all of the resources we need during this public health crisis, especially as Illinois and the rest of our country experience another wave of this pandemic which many experts are predicting. (In truth, we've never really gotten past the first wave of COVID-19 because of President Donald Trump's failures).
We've already lost over 170,000 Americans to COVID. And just in Illinois, over 4,100 nursing home residents have died from this pandemic, and 25,000 residents have become sick. The sheer scale of this tragedy and loss of life is difficult to comprehend. The pain is profound.
We are going to need the financial resources to protect our healthcare workforce and child care providers, and deal with the economic and housing crisis that is especially devastating Black and Brown families and communities.
We need to start thinking long term, and provide personal protective equipment, increase testing and rapid results, deploy public health strike teams when there are more outbreaks at nursing homes, hire more Department of Public Health investigators to check on facilities and demand accountability of the nursing home industry. But these issues require resources.
In short, our lives as essential workers, and the lives of our nursing home residents, depend on us passing the Fair Tax on the ballot this November!
The COVID-19 pandemic has exposed structural racism in our society for all to see. Black and Latinx workers and families are losing our lives and livelihoods like never before.
So what is our response to this tragedy?
We need to protect and expand investments in people's lives, tear down the walls of structural racism, and provide healthcare, education, child care, job training, unemployment insurance, human services, and infrastructure.
But we can't do any of those things until we raise more revenue from those who can afford to pay their fair share in taxes, such as millionaires and major corporations.
It is not an exaggeration to say that our future is on the ballot.
Because if we don't pass the Fair Tax, not only will our state be at a disadvantage dealing with the COVID-19 pandemic, and unable to provide our essential workers the tools we need, it will be mean crushing and devastating cuts. That means potentially massive reductions to our vital services, schools, and safety net hospitals.
Losing the Fair Tax will create an even greater economic and jobs crisis than what we already have. State Senator Ram Villivalam, a true champion for our Union, spoke to nursing home workers at a tele-town-hall and noted that if the Fair Tax does not pass, many vital programs and services would face deep budget cuts, as much as 20% in some cases, and possibly see income taxes raised on low-income workers just to keep the State afloat.
No one wants to see this nightmare scenario because the stakes are simply too high.
All of us need to make a strong commitment ourselves and get our co-workers, family, neighbors, and church members to make a pledge to vote this November.
We must vote for the Fair Tax like our lives depends on it – because they do!