Could massive numbers of nursing home deaths been prevented? YES, if the industry fully staffed nursing homes & provided PPE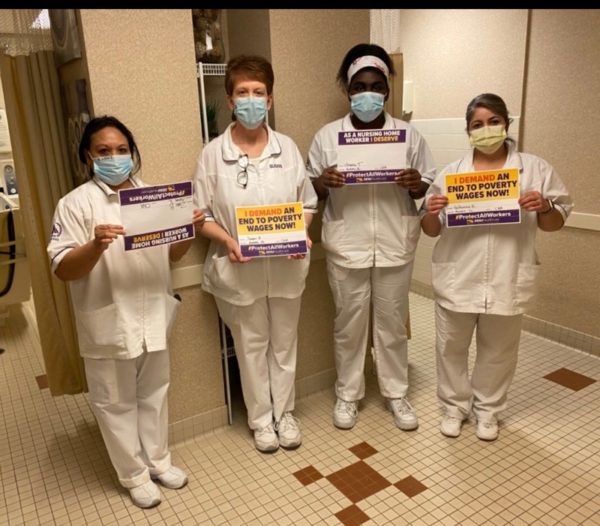 (Auugust 11, 2020) — Politico published a remarkable article profiling the California's Veterans Affairs Department for how the agency dramatically reduced death rates through organization, access to PPE and full staffing.
The article implicitly indicts the entire nursing home industry for their gross failures, incompetence, and greed for not doing absolutely everything in their power to protect nursing home residents, seniors and caregivers from the COVID-19 pandemic.
Had the industry fully staffed their nursing home facilities — even adding more support staff and resources — and made sure workers had proper PPE (personal protective equipment), thousands of lives could have been saved.
Here are some key highlights and takeaways:
Across the country, at least 43,000nursing home residents have died of the coronavirus.

In California, at least 3,400 have passed away. But at the eight CalVet veterans' homes, it's been a different story: Among 2,100 residents, half of whom require round-the-clock care, including hospice patients and Korean and Vietnam war veterans with complicated health conditions, only two have died of the coronavirus.

An average nursing home patient in California is 31 times more likely to die from the coronavirus than a resident of a CalVet home.
But here is the basic and obvious solutions that the nursing home industry rejected or failed to implement:
While more than 300 California nursing homes asked for waivers exempting them from the state's minimum-staffing rules prior to the pandemic, for example, CalVet kept its homes fully staffed and hired extra professionals such as full-time doctors and nurses. Its facilities stockpiled masks, ensuring they wouldn't run short when the rest of the world did.
All in all, CalVet's experience suggests that the sweeping losses of elderly victims and people with disabilities across the country weren't inevitable — a better system of care might have saved tens of thousands of lives.
In addition to the two residents who died, CalVet homes have seen six others get the coronavirus and recover. More than a dozen staff members have contracted the virus, threatening to infect the homes — but through a rigorous program of testing, contact tracing and encouraging employees who think they may have Covid-19 to stay home from work, CalVet has kept the virus mostly out of its campuses.