The Nursing Home Industry Must Be Held Accountable for Their Failures to Stop the Covid-19 Crisis; New National Survey Shows Workers Fear For Our Lives On the Job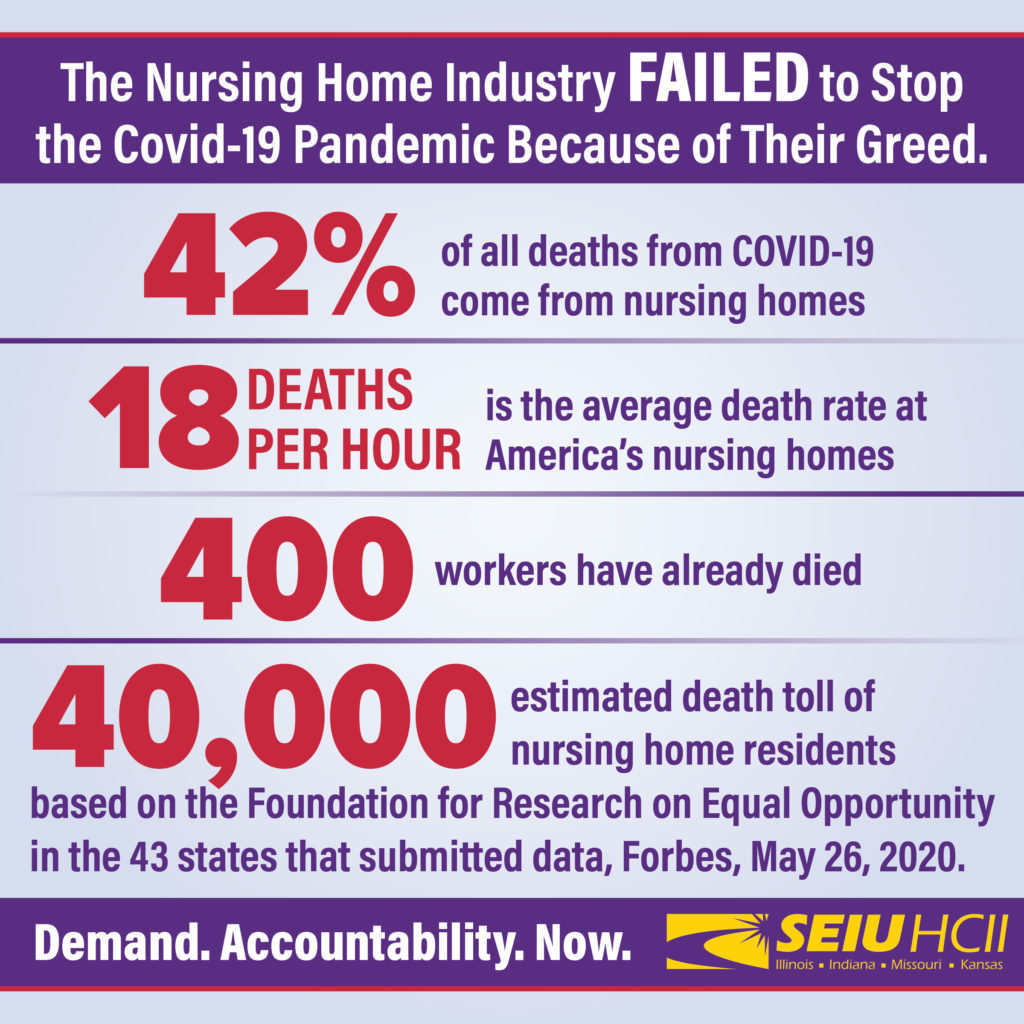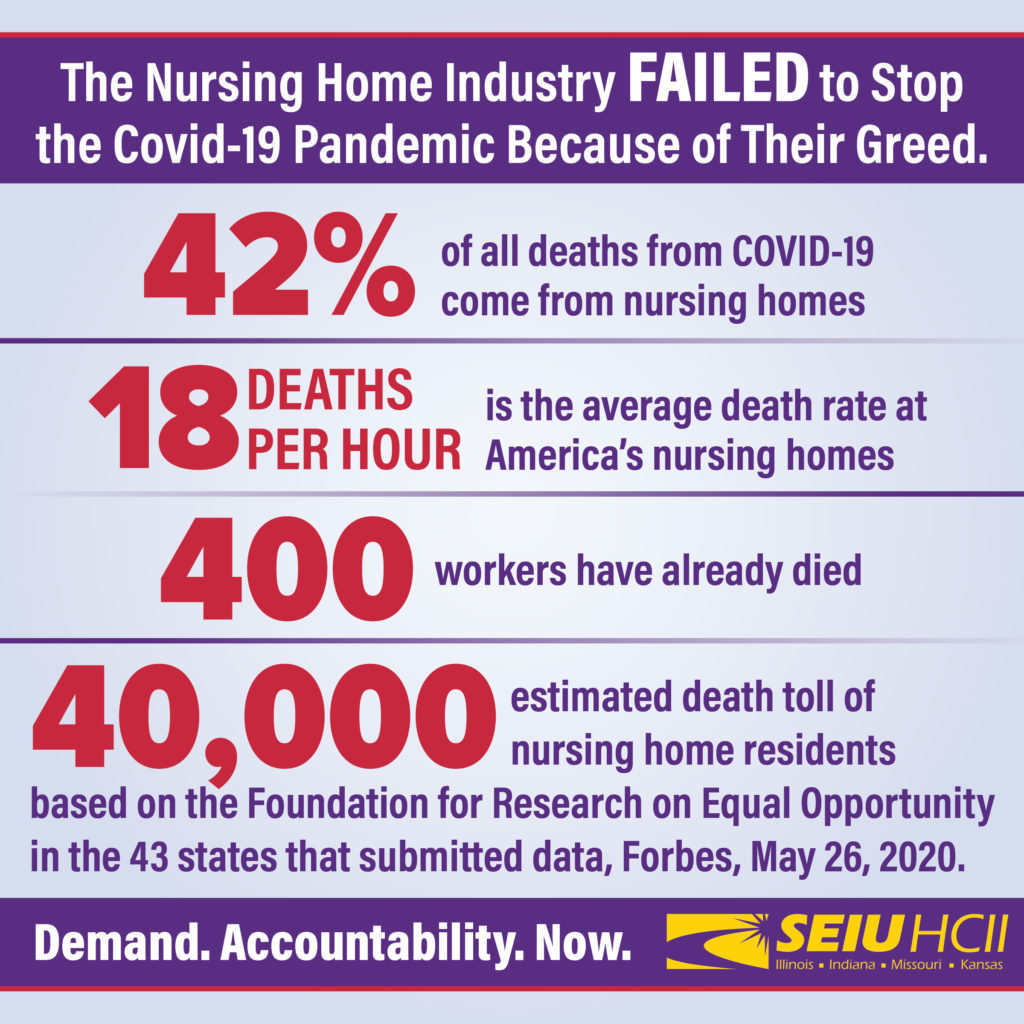 The nursing home industry is facing intense scrutiny and demands for accountability after recent news reports and analysis have uncovered the sheer scope of the industry's continuing and appalling failures to protect residents and workers during this Covid-19 pandemic.
Two major reports are utterly damning. The Foundation for Research on Equal Opportunity as reported by Forbes, May 26, 2020 stated:
2.1 million Americans, representing 0.62% of the U.S. population, reside in nursing homes and assisted living facilities….
According to an analysis that … in the 43 states that currently report such figures, an astounding 42% of all COVID-19 deaths have taken place in nursing homes and assisted living facilities.

Let that sink in: 42% of all COVID-19 deaths are taking place in facilities that house 0.62% of the U.S. population.

And 42% could be an undercount. States like New York exclude from their nursing home death tallies those who die in a hospital, even if they were originally infected in a long-term care facility. Outside of New York, more than half of all deaths from COVID-19 are of residents in long-term care facilities.
The Washington Post reported on June 1st more conservative numbers but nonetheless put the crisis front and center.
More than 25,000 residents died and 60,000 were infected as the coronavirus swept through U.S. nursing homes in recent months, particularly affecting facilities with a history of low marks for staffing and patient care, the federal government reported Monday.

The virus also infected 34,000 staff and took the lives of more than 400, according to the Centers for Medicare and Medicaid Services, the federal agency that oversees the nation's nursing homes.

The numbers represent the first official national accounting of fatalities in the 15,000 nursing homes that receive Medicare and Medicaid funding. The tally, however, is incomplete. Only about 80 percent of the nation's nursing homes reported data to the federal government, and they were required only to include cases since early May.
The American Prospect took the two reports and made the stark calculation:
The numbers are hard to contemplate: between 25,000 and 40,000 elderly lives, in the last 90 days, to be generous on the timeline side.

That's between 12 and 18 deaths per hour, every hour, for the last three months. And given that housing a bunch of dying patients isn't a selling point for these mostly for-profit facilities, and because of the vagaries of statistical analysis of coronavirus (in New York, if nursing home residents die in the hospital, they aren't counted as nursing home deaths), that number is higher.
TIME Magazine reported on a national survey of nursing home workers conducted by SEIU:
In the SEIU survey, 54% of respondents said they currently have enough PPE to safely do their job and have received clear communication from their employer about suspected cases of COVID-19 in their facility. And 69% of respondents said they're receiving effective training on protecting themselves and their residents from COVID-19.

SEIU President Mary Kay Henry says if only about half of nursing home workers have enough PPE, "I think that's cause for alarm."

"That is a tragedy," Henry tells TIME. "We are never going to get this virus under control if we can't get PPE to the frontline essential workers, like nursing home workers."
The nursing home industry's greed and profit motive drives the inept response to the Covid-19 crisis and refuses to deal with the fact that they create poverty level jobs:
Sixty-four percent of workers who were surveyed said their employer is not providing them with paid sick days if they contract the virus, and 72% said their employer is not providing paid sick time if they have to self-quarantine for two weeks.

Meanwhile, the pandemic has exacerbated existing problems for the long-term care workforce. The median pay for nursing assistants was $29,640 last year, which is just above the national poverty level for a family of four.

A majority of workers (85%) said they would have trouble paying for food or housing if they couldn't work for two weeks, and 73% said there are not enough staff at their facility to safely care for all residents, according to SEIU survey.
The damning takeaway is simply this: the nursing home industry continue to fails to do everything in their power to protect residents, seniors, caregivers and staff from the Covid crisis.