When we fight, we win! Illinois Home Care Aides Win Funding for Raise to $14 Starting 2021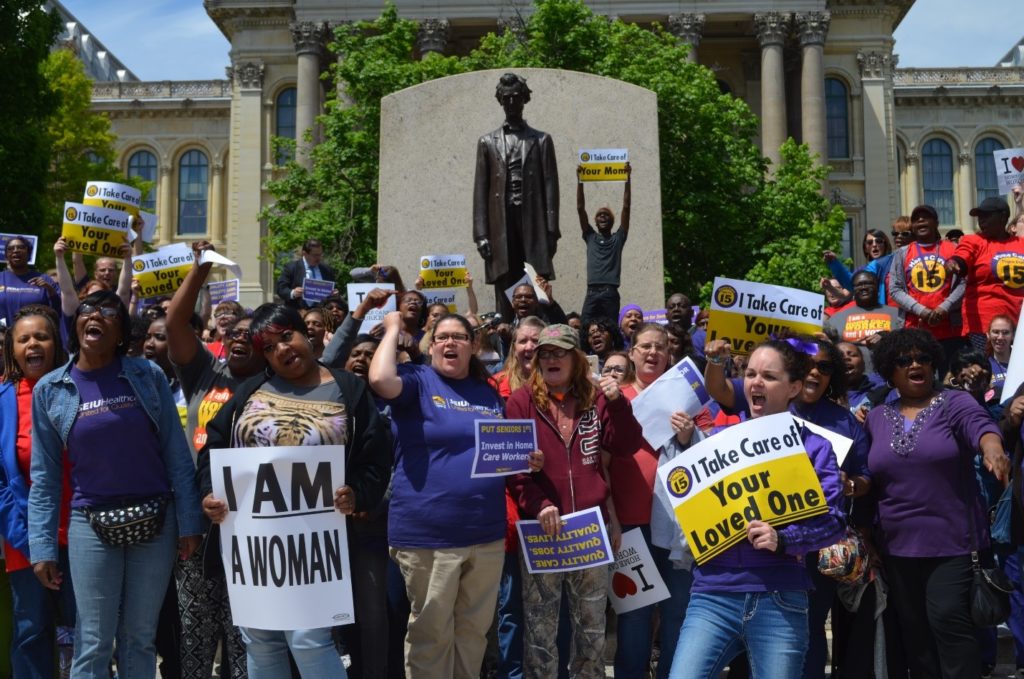 We have breaking news for Illinois home care aides to share. We are happy to report that thanks to the members united in our union, we won funding for another raise for every Illinois home care aide across our state starting January 1, 2021 that will lift pay to at least $14 per hour!
Our union has worked tirelessly throughout the pandemic to educate state lawmakers and Governor Pritzker about the critical role home care aides have played as essential workers. Even though lawmakers were not in session, we kept up the pressure.
That advocacy paid off with lawmakers approving a budget to fund these raises starting in 2021, and Governor Pritzker following through on his commitment to fund raises for home care aides that he made in his proposed budget in February.
Just like the raises we won in 2019, our next step will be to bargain with agencies. Unlike in 2019, we will not have to wait for federal approval of this new raise. So, later this year, we will begin negotiations with Addus, Help at Home, Community Care Systems Incorporated, Chicago Commons, and Family Home Services to fight to win seniority increases to acknowledge those with years of service.
Mark your calendar for our next telephone town hall meeting on Wednesday, June 17 at 6 p.m. to learn more about this victory and our next steps.
These raises will help us continue to improve home care jobs across our state and build a reliable, committed workforce for our seniors who rely on us. Raising standards is vital for workers and for those we serve.
Congratulations to every SEIU home care aide on this huge victory. As we say, when we fight – we WIN! This is another great example of when we come together in our union to fight for what seniors and workers need, we can win real results.
*For home care aides that work for branch offices in the city of Chicago, the Chicago City Council approved a minimum wage increase last year that will take effect on July 1, 2020 raising pay to $14/hr. So, those working out of Chicago branch offices will see a raise to $14 on July 1.