Leader Profile: Lynnette Jones is "patient" when it comes to working as a nursing home cook and being a parent. But poverty wages? Not so much.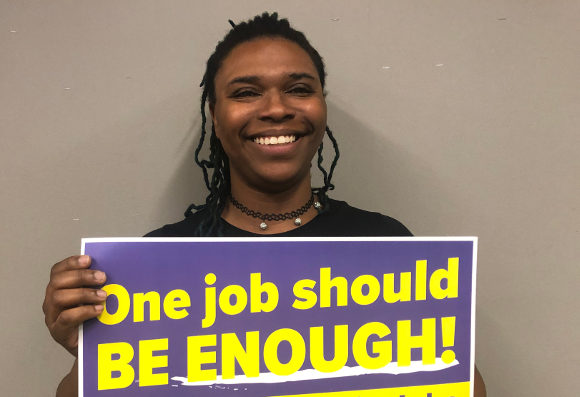 (February 6th, 2020) — Cooking lunch or dinner for 140 nursing home residents and seniors doesn't intimidate Lynnette Jones one bit. She knows her way around a kitchen. She's been cooking since she was 18-years-old.
Lynnette has worked as a relief cook at Bridgeview Healthcare for two years and also serves as a union steward. She's cooked for two other nursing homes as well as St. Bernard Hospital on Chicago's south side.
Lynnette makes $14.10 an hour.
Although her life often feels like a struggle, Lynnette's Mom helps out by driving her 11-year-old son and 4-year-old daughter to school and daycare when Lynnette has to show up for work at 5am, or when she works swing shift from Noon to 8:30pm.
"The things I love most in my life are my kids. And baking. And even better, baking with my kids! The key to both is patience."
She has learned the art of keeping calm despite the chaos that surrounds her at the nursing home. Somehow, she has perfected the art of staying focused and making sure her residents are fed on schedule.
It's not easy because short staffing among CNAs means that trays can stack up and it's easy for delays or any number of small crises to occur that throws the schedule off.
"I work on a great team with my fellow cooks and dietary aides. We get the job done," said Lynnette.
"I take my role seriously, everyone here does. We put our residents first, always. That's why it is so frustrating that the nursing home industry puts workers last."
"I've worked at three separate nursing homes and each one has the same issues: a workforce underpaid and overworked," she said.
Lynnette earned her associate's degree in culinary arts because "food is what brings people together."
After graduating high school she wanted to study music. She excelled at flute. But college was simply unaffordable. She turned to the culinary field because it offered her the chance to use her creativity and she thought she would always be able to find work. She did find work, but she didn't think that her pay would be so low.
Baking is her true passion. "It's hard. You have to be precise. And when you bake fresh bread, or a good pie, residents and seniors let you know. A fresh cake makes people feel good. That hat's why I love my job.
"I just wish the nursing home industry recognized and appreciated my hard work and commitment along with every other nursing home worker. We're worth so much more than what we're given."
Lynnette is now serving as a member organizer to elect our very own Lakesia Collins, as State Representative in the 9th District. (Click her to volunteer for Lakesia).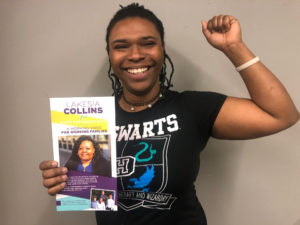 "As a single Mom we need Lakesia and candidates like her who have walked in our shoes to advocate for our community in Springfield. That's why I'm so excited to support her candidacy."
When asked what has surprised her the most being involving in a political campaign, Lynnette said, "I'm just amazed how much hard work it is for Lakesia to run for office. Her work ethic is amazing. It's why I'm doing all I can to support her."
Election day is Tuesday, March 17th – but Lynnette knows that the work doesn't stop then.
Nursing home workers are setting our sights on Friday, May 1st, 2020 as a major rallying point.Our nursing home association master contract expires on April 30th.
Workers have launched a major organizing effort and building leadership to be ready to strike on May 1st if workers don't have a collective bargaining contract in place that invests in our workforce.
"This is our moment to end poverty wages through our new contract – and that is exactly what we are going to do. When it comes to this fight for living wages and good jobs, I'm not patient anymore!"
Take action: Like Lakesia For State Rep's Facebook Page NOW to learn more about her campaign!