Sandra Wiekerson: SEIU union leader & home care worker, arrested blocking House entrance for Fair Tax 11 years ago, Dies (1952 – 2020)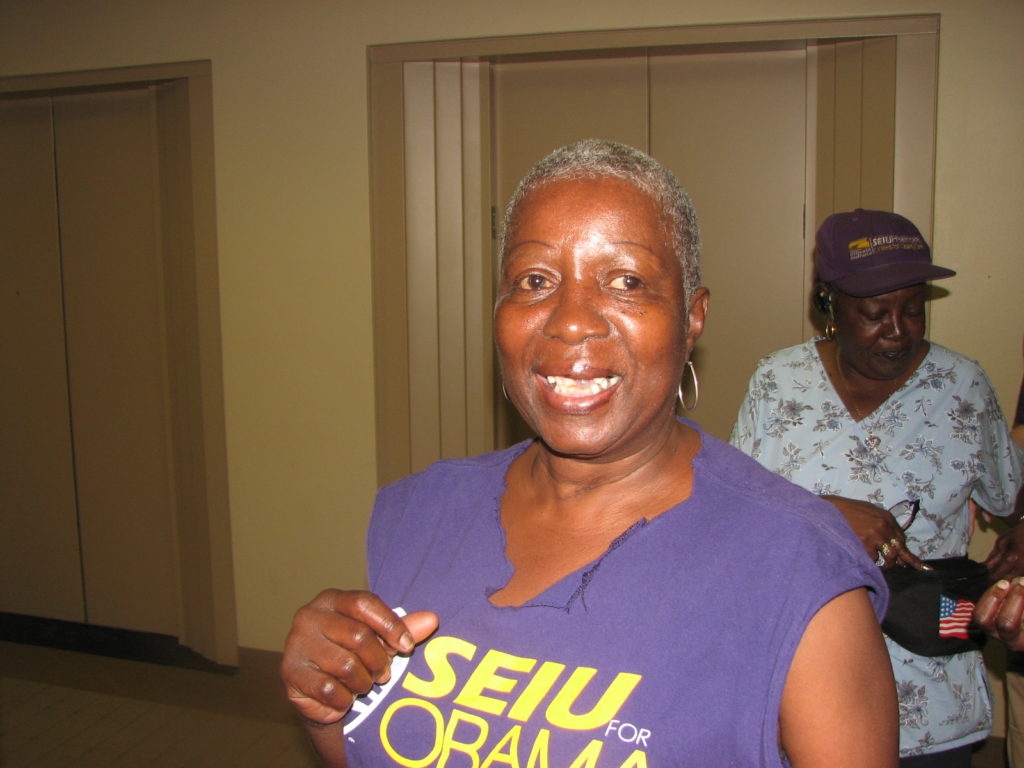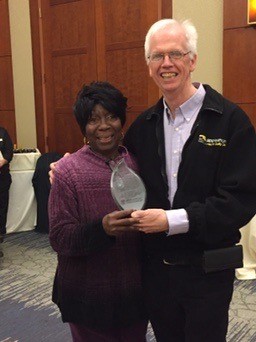 A former home healthcare worker and union leader who spent 30 years building a movement of fellow caregivers that established SEIU Local 880 (now merged into SEIU Healthcare Illinois Indiana Missouri Kansas), passed away peacefully on January 24, 2020. Sandra Wiekerson spent much of her life on the frontlines of fights for justice. Whether standing up for immigrant rights, joining the Fight for $15, or taking arrest more than a decade ago for a Fair Tax in Illinois, Wiekerson was a force for change and paved the way for future generations of activists.
Born in Memphis, Tennessee on February 18, 1952, Sandra was the fifth of six children in her family. Parents Ruth Lee Hopkins and Freddie Lee Gilmore Sr. relocated to Chicago, Illinois in 1954 and Sandra grew up in the Lawndale Community.
She became a home healthcare worker in the 1980's and started organizing with fellow workers to improve pay and benefits. Wiekerson provided vital services for Illinois seniors, enabling them to continue living at home, and she poured her entire heart into that care. She also recognized that the plight of workers, seniors, and people with disabilities were intrinsically connected, and knew that organizing and fighting for better working conditions would translate to higher quality care too.
She led a pivotal campaign against Community Care Systems, Inc., the home care agency she was employed at, after organizing and winning union representation. Community Care Systems home care workers were negotiating for a contract and the employer sat across the table and proclaimed that they would not lift pay from $5.98 to $6.00 per hour because "they weren't worth the two-cents." Fearless and unwavering, Wiekerson's response to the insult sparked a campaign that organized clients to threaten to leave the company for other home care agencies that paid workers better, and ultimately ended with a 40-cent raise for Community Care home care workers.
Wiekerson also was a pioneer in the fight for a Fair Tax in Illinois. In 2009, she joined a group of fellow SEIU members who blocked the entrance to the House of Representatives' chamber in Springfield demanding revenue solutions in the face of staggering cuts to social services that the state's most vulnerable relied upon. "These arrests should serve as a wake up call to the members of the General Assembly who have failed to take these cuts seriously," she told the State Journal Register at the time, while defiantly refusing to move from the entrance along with other community and labor supporters.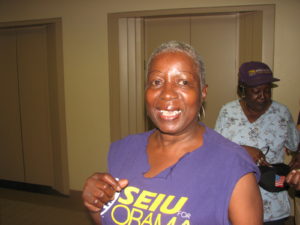 Wiekerson also spoke passionately about the need for black, white, and brown workers to stand united for immigrant rights. During one trip to Washington, D.C. in 2010 for a march for immigrant rights, Wiekerson shared why she and her husband, Edward, boarded the bus for the 12-hour trip, "This fight is no different from the fight for civil rights, we are all brothers and sisters in the struggle."
Wiekerson served on the Executive Boards for Local 880 and SEIU Healthcare Illinois Indiana Missouri Kansas until 2017 when she retired. She was preceded in death by both parents, brothers Ronald and Freddie, sister Diana, her son Antonio, and her beloved husband Edward. She leaves behind children Yanika, Rosalind, Lee, Seneca, and Meghan; brothers Eugene and Leo; sisters-in-law Doris, Charlene, and Ora; brother-in-law Atha; 9 grandchildren and 6 great grandchildren.
"A fighter, pioneer, and tireless leader for justice, Sandra Wiekerson leaves a powerful legacy of activism and ground-breaking victories that have improved the lives of tens of thousands of home healthcare workers in Illinois," said Greg Kelley, President at SEIU Healthcare Illinois Indiana Missouri Kansas, upon news of her passing. "She will be missed and always remembered."