SEIU Healthcare Home Care Workers and Child Care Providers Join Governor J.B. Pritzker in Approving Historic Collective Bargaining Agreements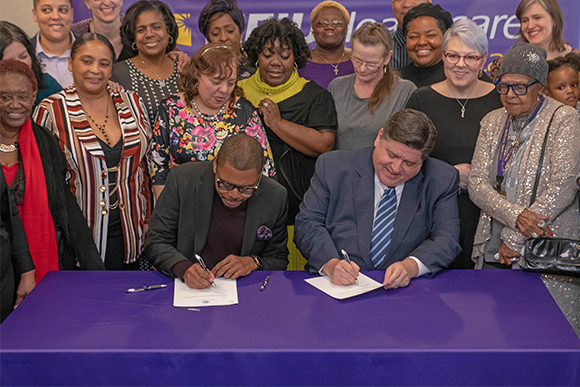 New four-year contracts mark significant progress for 45,000 state caregivers who provide vital services for people with disabilities and children in every Illinois county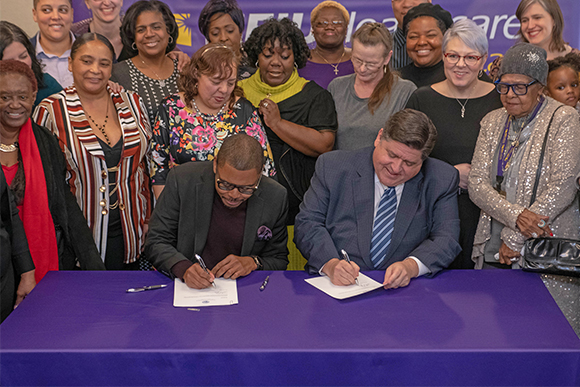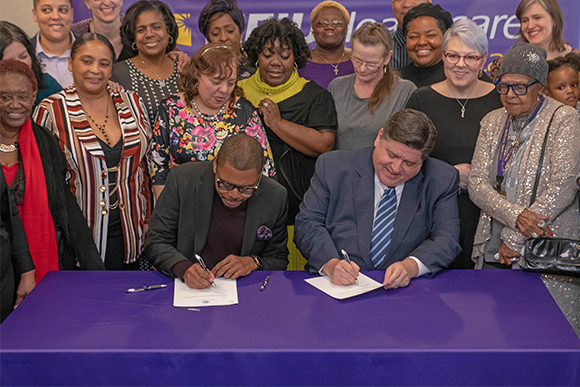 Chicago – Governor J.B. Pritzker, along with Illinois Personal Assistants and child care providers who are members of SEIU Healthcare Illinois, announced two new collective bargaining agreements today that were negotiated and ratified by union members.
The new contracts cover 30,000 Personal Assistants in the DHS Home Services Program (HSP) who provide critical home care services for people with disabilities, and 15,000 child care providers in the DHS Child Care Assistance Program (CCAP) who serve nearly 80,000 Illinois working families by providing quality, affordable child care.
Caregivers who served on the union bargaining teams shared emotional testimony about what this moment meant for them after four years of attacks and bad faith bargaining under the Rauner administration.
The agreements mark a historic step forward for both workforces, who upon organizing with SEIU Healthcare Illinois, have worked tirelessly for more than thirty years to raise standards and improve quality of care.
"From the draconian HSP overtime policy that Rauner unilaterally implemented that punished Personal Assistants and consumers, to the decimation of CCAP enrollment through drastic eligibility changes, and the illegal withholding of raises these workers were owed, our members endured constant hostility from the previous administration and this marks a new day for 45,000 caregivers in Illinois," said Greg Kelley, President of SEIU Healthcare Illinois. "The progress secured in these agreements is thanks to the frontline workers united in our union who never stopped advocating, organizing, and fighting for better futures for their families, their fellow caregivers, and the people they serve."
Personal Assistants will see a 28% wage increase over the life of the contract raising pay to $17.25 per hour starting December 1, 2022, won first-ever paid sick time accrual starting in 2021, secured funding to expand paid training programs, and negotiated a new overtime policy that protects consumer choice and the rights of caregivers.
"Personal Assistants work hard day in and day out for Illinoisans with disabilities in every corner of our state to ensure they can continue to live at home with dignity and independence," explained Lanette Newman, a Personal Assistant with twenty years of experience and a member of the SEIU Healthcare Illinois Executive Board from Riverdale, Illinois. "The work we do matters to so many individuals and families and this agreement means more of us will be able to continue to work in this industry because we will be able to better provide for our own families."
For child care providers, the contract includes 30% cumulative rate increases between January 2020 and December 2022, funding for in-person paid training and professional development, improvements to notification of program policy changes, and a path for providers to voice concerns around CCAP application and payment processes.
Both agreements also establish first-time committees comprised jointly of state officials and union members to explore feasibility of and options for future retirement benefits.
"Our providers have been working hard to rebuild the Child Care Assistance Program to make quality child care affordable for more working families and ensure good paying, union jobs for those who provide the care," said Maricarmen Macias, a licensed home child care provider from Chicago and the Vice-Chair of the SEIU Healthcare Illinois Child Care & Early Learning Division. "This contract gets us closer to an Illinois where every child and parent has access to the quality care they need and deserve."
"Not only do the services our members provide through these invaluable state programs support hard working families and people with disabilities, they also support the wider communities they reside in," added Kelley. "Predominantly women and people of color, these caregivers have too often lived and worked in the shadows never receiving the respect they deserve. These contracts acknowledge the important roles child care providers and home care workers play in our state, and make strides toward establishing standards that our union has long fought for."
###