Leader Profile: Terri Johnson Says Working to Elect Nursing Home Organizer Lakesia Collins as State Rep. Is an Exciting Opportunity Not to Be Missed!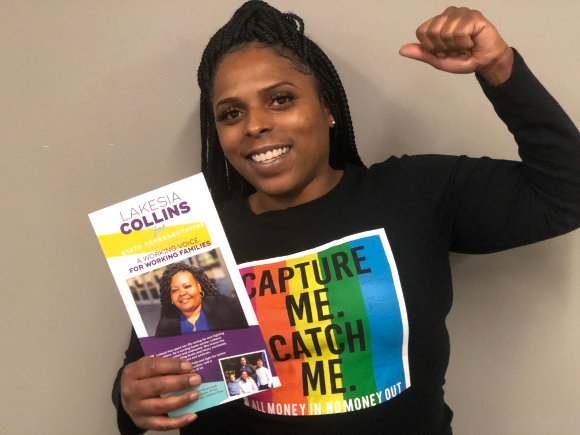 Terri Johnson, a dietary aide at Mayfield Care Center Nursing Home for almost eight years, is taking on one of her most exciting and challenging roles: she's an intern and the right hand for our very own senior organizer, Lakesia Collins, who is running for State Representative in the 9th District!
"I never thought I would, but I love canvassing door to door and talking to our SEIU members and complete strangers about why we need to elect Lakesia as State Representative.  Lakesia is a single Mom like me. She worked in a nursing home, became a member leader, and then a senior organizer.  Now Lakesia is running for State Rep! It's inspiring to be a part of this moment!"
Lakesia led the Fight for $15 in Springfield and Chicago and helped to end short staffing at nursing homes.
Terri Johnson earns just over $14 an hour and is a single Mom with two teenage sons.  Terri asked her extended family if they would allow her boys to live with them in the suburbs where she says they are safer and away from the street violence that consumes part of the West Side.
"It is one of the most difficult and painful decisions not to have my boys live with me.  But right now, I know it is the right choice for them and their future. I Facetime with them several times a day. I'm in constant touch with them. But this is the reality of so many single black Moms here in Chicago.  It's not right, and it's why we need to change it.  And that means electing new leaders like Lakesia who understand what we as black women are going through."
Terri became a union steward a year ago when her fellow nursing workers asked her to serve as a leader in their shop. "I'm actually pretty shy, and I kept telling people I'm not a person to stand up in front of the room. But my fellow coworkers said they knew I would use my voice to speak up when I see something that's wrong and that I always have their back. So, I agreed to become a union steward and it turns out I really like it.
"Even now while I'm out on internship, several coworkers tease me that they want me to come back to our nursing home! But I tell them, I need to be here doing this work to elect Lakesia – it's an opportunity we can't miss."
"I want my fellow SEIU members, especially my nursing home workers to know, that volunteering for a political campaign is worth it to learn about our Union and to feel the pride of being a part of a movement much bigger than ourselves."
Terri said that door knocking every day alongside Lakesia has taught her that many voters in the 9th District share common concerns: such as how as the high cost of healthcare, the anxiety that yet more public schools might be shut down in the community, the struggle to afford child care, and that seniors need more home healthcare services and support.
"These are the very issues that our members at SEIU Healthcare Illinois fight for every day – so connecting voters to Lakesia's record fighting to improve people's lives is exciting.
"What's even better is when Lakesia can look them in the eyes and say, I see you and we're gonna fight together in Springfield to make our lives better.  She is so amazing in her ability to engage with people and win their support."
Terri said that one of the things she learned after knocking on so many doors was that voters want candidates who "keep their word."
"It's just fascinating how many times voters say they want a candidate who is 'loyal' and will keep their promises. Many working families have gotten their hopes up so many times in the past that we must convince them that this election matters and that we have the opportunity to elect a true champion in Lakesia who is from our community.
"I want my fellow SEIU members, especially my nursing home workers, to know that volunteering for a political campaign is worth it because we can learn so much more about our Union and feel the pride of being a part of a movement much bigger than ourselves."
Take action: Like Lakesia For State Rep's Facebook Page NOW to learn more about her campaign!