Educators and School Staff Strike Get Boost from Mt. Sinai Hospital Workers Who Join Fight for Good Jobs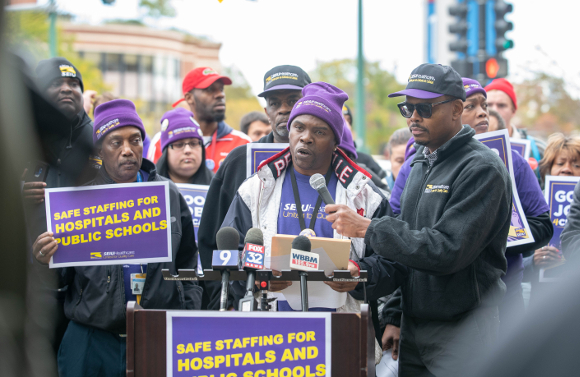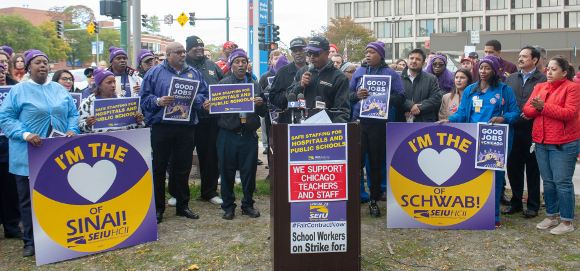 Educators and School Staff Strike Gets Boost from Hospital Workers
Teachers, Nurses, Bus Aides, Hospital Workers and More Stand United in Demand for Quality Healthcare, Education and Jobs
Contact: James.Muhammad@seiuhcil.org,
(October 19, 2019, CHICAGO) — Hospital workers, teachers and support staff held a solidarity rally on Saturday, demanding justice and equality for communities of color, great schools, good jobs and high-quality health care.
Scores of workers at Mt. Sinai Hospital and other Chicago hospitals rallied in Douglas Park alongside striking members of the Chicago Teachers Union and SEIU Local 73 in support of the good jobs that the city needs and the great schools and healthcare Chicagoans deserve.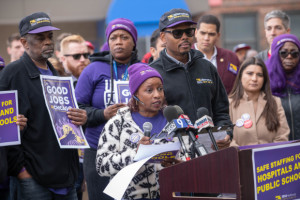 "When it comes right down to it, we're all fighting for the same things: dignity, respect, safe staffing and the best conditions for the patients we care for or the kids we teach," said SEIU Healthcare Illinois member Cheryl Brown. "We want to support our union sisters and brothers and show everyone in the city of Chicago that we are united in fighting to make this city a better place for all, whether you are Black, White or Brown."
As many as 33,000 Chicago public school teachers and support staff have been striking since Thursday after talks at the bargaining table stalled.
"Our students are our number one priority and we're on strike because we want them to be a top priority for Mayor Lightfoot," said CTU school nurse Dennis Kosuth. "Most students in the Chicago public schools only have access to a nurse one day a week. Mayor Lightfoot campaigned on a promise to put a nurse in every school, and we are fighting for her to keep that promise so that students are healthy, in the classroom and ready to learn. Many of our union members are parents too and they know how important solidarity is to getting the quality schools we need."
Some 7,500 members of SEIU Local 73 working as support staff in Chicago Public Schools are also on strike for good jobs with family-sustaining wages.
"After settling our contract with the Chicago Park District I learned the importance of sticking together as a Union. We fought side by side with our CPS staff and teachers who are still striking! We are showing our fellow Local 73 members our solidarity. I know the hospital workers at Mt. Sinai are ready to strike — and I want all workers to know that the fight for good jobs with family sustaining wages, affordable healthcare, and to demand respect on the job is worth it. And yes, being united within SEIU means we are all in this fight together," said Regis Banks, a Chicago Park District Attendant for 25 years.
Teachers and support staff could soon have company on the picket line. Hospital workers at Mt. Sinai, who are represented by SEIU Healthcare Illinois, overwhelmingly authorized a strike earlier this month after their contract expired in August. Registered Nurses at Mount Sinai have chosen union representation, but hospital management has refused to honor their decision.
###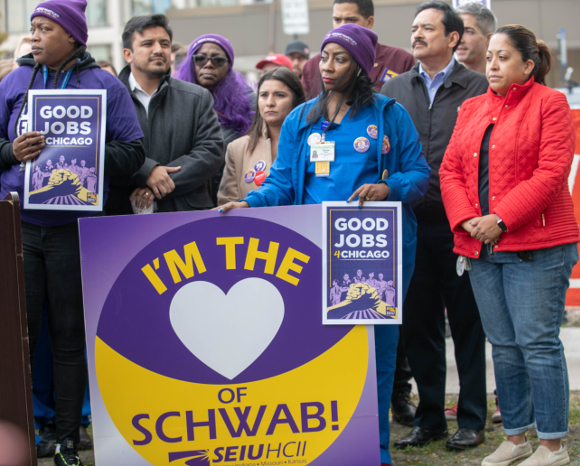 SEIU Healthcare is the fastest-growing union of healthcare, child care, home care and nursing home workers in the Midwest. Uniting more than 91,000 workers who provide vital care to our states' children, seniors, patients and people with disabilities, we are committed to quality care and quality jobs for home care, hospital, nursing home and child care workers. https://seiuhcilin.org/
SEIU Local 73 represents more than 29,000 workers, primarily in public service and publicly funded positions in school districts, municipalities, social service agencies, and many other job classifications in Illinois and Indiana. SEIU Local 73 represents 7,500 Chicago Public School staff and more than 2,500 Chicago Park District Workers. For more information please visit www.seiu73.org
The Chicago Teachers Union represents more than 25,000 teachers and educational support personnel working in Chicago Public Schools, and by extension, the nearly 400,000 students and families they serve. The CTU is an affiliate of the American Federation of Teachers and the Illinois Federation of Teachers and is the third-largest teachers local in the United States. For more information please visit the CTU website at www.ctulocal1.org