Press Release: Nurses at Mt. Sinai Hospital Respond to Hospital's Refusal to Recognize Their Union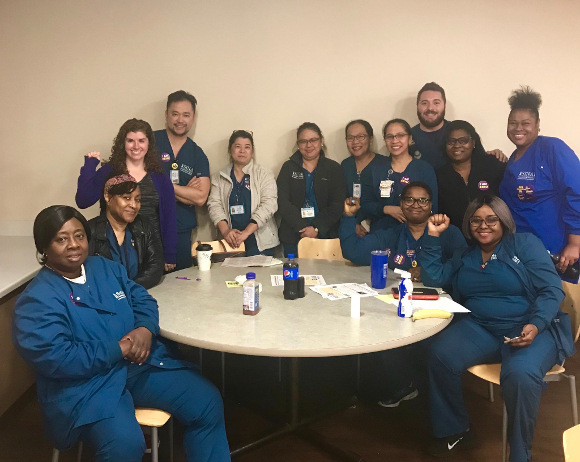 Nurses prepare to take additional steps to win recognition despite hospital's attempts to thwart their efforts

CONTACT: James.muhammad@seiuhcil.org

(June 13th, 2019, CHICAGO)—On the morning of Thursday, June 6th, Mount Sinai Hospital registered nurses—representing the majority of RNs—converged in and around the office of Sinai Health System CEO Karen Teitelbaum to request that management recognize their decision for union representation through SEIU Healthcare Illinois.
Nurses requested that Ms. Teitelbaum respond in a timely fashion—by 5 p.m. June 13. With the deadline just passed and no word on recognition from Teitelbaum, workers are preparing to take additional action to win the recognition of their decision to organize–in lieu of pursuing the NLRB process which Nurses have pursued twice before unsuccessfully.
"We wanted to give Sinai the opportunity to do the right thing," said Tyra Jackson, an RN with Sinai's Schwab Rehab Center. "When we delivered our demand, we made it clear why we were doing it. We've been waiting and waiting for Sinai to respond to our concerns about wages, about benefits, and especially about staffing."
"There's a reason that a majority of us have chosen to organize a union," said Adam Raslawski, a Mt. Sinai Intensive Care Unit RN. "Management tries to divide us and minimize our concerns—but by joining together with other nurses, with medical techs and with all other members—we have the power we need to have a real voice on the job as a patient care team.
"The CEO now has refused to recognize our voice and has also publicly announced committing precious bedside resources into hiring consultants to fight our union. The system is rigged giving employers that advantage–that's why we are seeking a neutral party to validate our majority," Raslawski added.
Workers and supporters are planning to apply pressure on Sinai Health System to recognize their union at a press conference and rally on Juneteenth, June 19th, also known as "Freedom Day." Hospital workers will emphasize the ways that they are regularly exploited on the job through low wages, staffing issues, unaffordable health coverage and lack of dignity and respect.
Through speaking out together with hospital workers, elected leaders and allies from across the Greater Chicago area, the RNs and medical techs will mark this historic day by demanding union recognition to win the freedoms we all deserve—including freedom to have a voice at work to advocate for patients and the community.
# # #