Working Families and Community Groups Hold Major Rally to Protest Gov. Rauner's Extreme Budget Cuts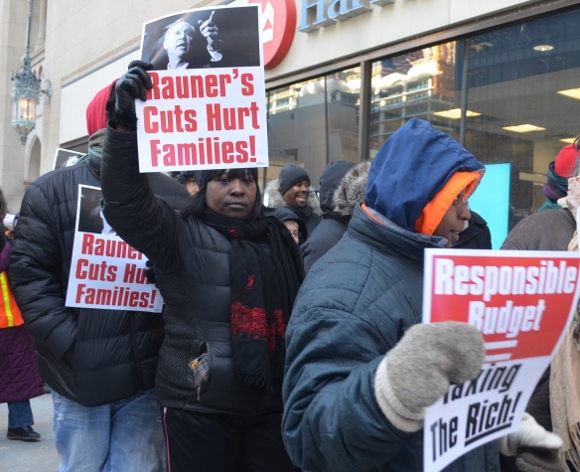 Working families called Gov. Rauner's budget "cruel" and "irresponsible"
Advocates Call for Responsible Revenue Solutions to Make the Rich Pay Their Fair Share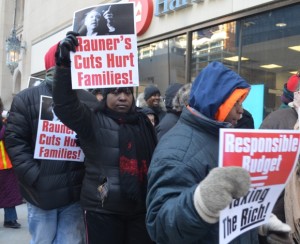 (February 19th, 2015, Chicago) – Despite record freezing temperatures, SEIU Healthcare Illinois, along with our coalition partners Grassroots Illinois Action organized a major rally today at the Chicago Temple. The rally and march was held with a broad-based coalition of working families, community groups, advocates, and faith and labor leaders to protest Gov. Bruce Rauner's extreme budget proposal calling instead for revenue solutions to make the rich pay their fair share.
(See CAN TV's complete video of the entire rally — or scroll below to watch these news clips from the protest).
CAN TV: Protest Against Rauner Budget

Chicago ABC 7: Working Families Fight Back Against Gov Rauner's Extreme Budget Cuts

Chicago CLTV: Grassroots IL Action Marches Against Gov Rauner's "Cruel" Cuts

Chicago NBC 5: Working Families Rally Against Rauner's Budget Cuts; Call for Tax on Millionaires

Chicago Telemundo: Families Fight Back Against Gov Rauner's Harsh Cuts; Chuy Garcia Speaks Out

PHOTO SLIDESHOW OF RALLY AND MARCH

His budget slashes vital programs and services for low-income families, children and seniors by gutting $1.5 billon in Medicaid. Rauner is seeking to slash the Department of Human Services budget that supports Illinois' most at-risk and vulnerable individuals. Every community throughout Illinois will be hurt by his economic agenda and flawed priorities which are clearly focused on protecting the richest 1% instead of empowering and supporting working families.
Gov. Rauner refused to call for any new revenue ideas whatsoever during his budget address. Grassroots Illinois Action and a host of advocates called for a host of sensible, effective and progressive revenue solutions, like a financial transactions tax, a millionaire's tax and renegotiation of toxic swap deals that will make the state's wealthiest bankers and CEOs pay their fair share and adequately fund vital services and programs. Such proposals would generate billions of dollars in revenue every year to fund the state's priorities.
"We are here today to show our gazilionaire Governor Rauner the impact of his proposed cuts, and a better way forward," said Amisha Patel, Executive Director of Grassroots Illinois Action. "Yesterday, Rauner proposed a staggering $6.7 billion in budget cuts to working families. Meanwhile, he lets his millionaire friends continue to enjoy some of the lowest taxes in the country. Rauner's actions will harm working families and the middle class just as they begin to emerge from a recession caused by the reckless greed of people like just like himself."
Cook County Commissioner Jesus "Chuy" Garcia, a longstanding progressive champion for working families, spoke at the rally and asked, "Is Illinois a place of opportunity for everyone, or just for bankers, billionaires, and connected donors to political campaigns? We need ALL elected leadership to do the right thing, the humane thing, and the just thing. To make the hard choices – to protect our most vulnerable citizens, not just the few at the top."
"Every budget cut that Gov. Rauner tries to make, is a cut to protect his millionaire friends and rich donors," said Lakeisha Collins, a low-wage nursing home worker who also uses child care assistance and who emceed today's rally. "We are here to say that we, as working people, will not be silent. We are going to fight back against Gov. Rauner's budget because it hurts our families and our cripple our communities."
Despite the brutal weather conditions, working families marched to the State of Illinois Building at the Thompson Center with signs that read, "Rauner's cuts hurt families" to protest the Governor's economic agenda. The marchers then processed to a Bank of America branch on Washington and Dearborn to cash a large check, as a prop, from Tim Maloney, the Illinois President of Bank of America. A delegation of advocates and workers demanded a refund of the bank's toxic swap deals with the State of Illinois that are worth $119 million in taxpayers' money. Advocates said renegotiating the bank swaps should be used and invested in our communities to fund vital services instead of padding corporate profits like Bank of America's.
###