Working Families of SEIU Healthcare Illinois Issue Statement Endorsing Jesus "Chuy" Garcia For Chicago's Mayor and Progressive Candidates for City Council
For Immediate Release: January 27, 2015
 Contact: James Muhammad, James.Muhammad@seiuhcil.org
(CHICAGO) – Members of SEIU Healthcare Illinois Indiana (HCII), a union that fights for and represents over 92,000 workers in home care, nursing homes, hospitals and child care providers, released its endorsements today for Chicago's municipal election on Tuesday, February 24th, 2015.
Working families of SEIU HCII enthusiastically endorsed Cook County Commissioner Jesus "Chuy" Garcia for Chicago Mayor because he is a progressive champion for working families.  Garica addressed over 300 members of SEIU Healthcare Illinois on January 17th to accept the union's endorsement – see video and slide show of the event. Chuy Garcia believes that all of Chicago's children deserve a world class public education and continues to fight for living wages, safe communities, access to affordable housing, child care, and healthcare, and a fair economy that benefits everyone, not just the wealthy few.
SEIU Healthcare Illinois also endorsed a list of progressive candidates for Chicago's City Council – scroll below to see the complete list.
April Verrett, Executive Vice-President of SEIU Healthcare Illinois, released the following statement:
"Chicago is a city divided because of Mayor Emanuel's agenda to favor the richest 1% over working families and communities of color.  All Chicagoans deserve real economic opportunities that create good jobs with living wages, as well as fundamental fairness with respect to city services, taxes, and investments in our neighborhoods that provide a better quality life.  But by any measure, Mayor Emanuel's agenda, as epitomized by his decision to close 53 neighborhood schools, has been an abject failure for working families in our city.
"That's why our SEIU members enthusiastically endorse and are committed to work hard to elect Commissioner Jesus 'Chuy' Garcia as our next Mayor of Chicago as well as a slate of progressive candidates for City Council.
"Chuy Garcia will unite Chicago's neighborhoods instead of dividing us.  He believes that we should invest in our communities again and put working families first over corporate special-interests and profits.  As a key ally of Chicago's legendary and first African-American Mayor, Harold Washington, Chuy Garcia will be the inclusive, caring, visionary and decisive leader that Chicago deserves.
"We are proud to fight to make Chuy Garcia our next Mayor of Chicago and to elect progressive candidates to City Hall who will be independent and represent the interests of working families."
For Chicago's Mayor: Jesus "Chuy" Garcia, Mayor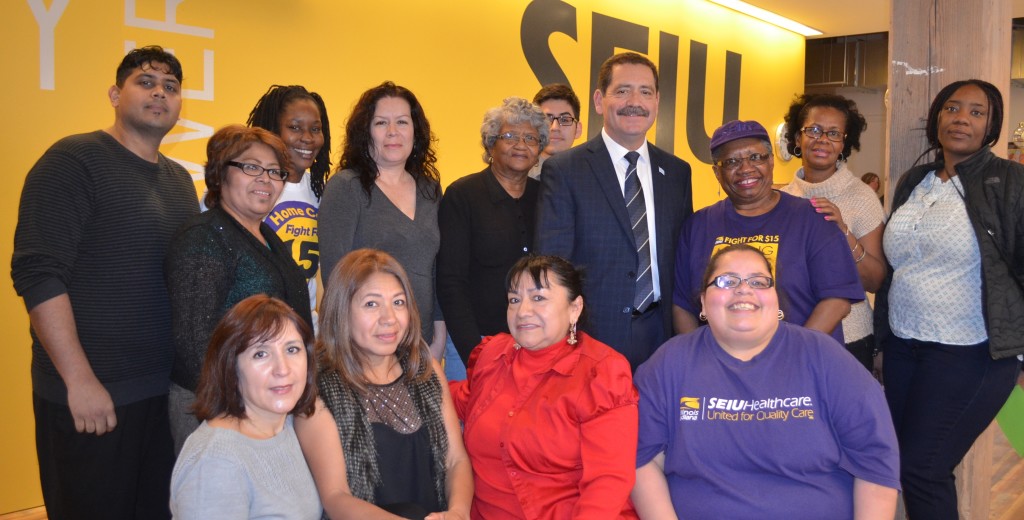 Chicago's City Council
5th ward Ald. Leslie Hairston
6th ward Ald. Roderick Sawyer
8th ward Tara Baldridge
10th ward Susan Sadlowski-Garza
15th ward Rafael Yanez
16th ward Ald. Toni Foulkes
17th ward David Moore
22nd ward Ald. Ricardo Munoz
26th ward Juanita Irizarry
29th ward Zerlina Smith
32nd ward Ald. Scott Waguespack
33rd ward Timothy Meegan
35th ward Carlos Rosa
37th ward Tara Stamps
38th ward Ald. Nicholas Sposato
45th ward Ald. John Arena
###