Missouri members are making their voices heard in Jefferson City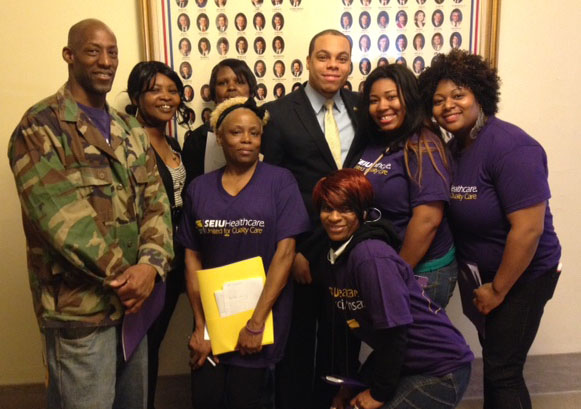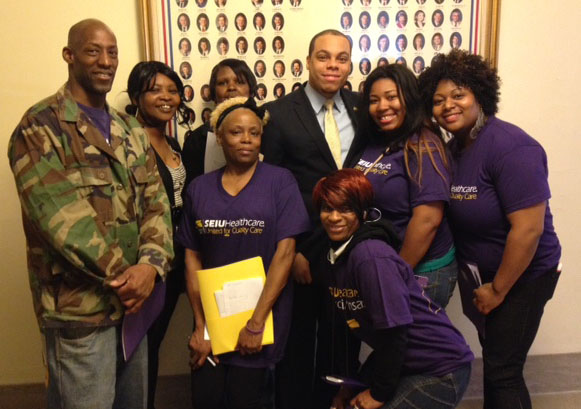 On March 11, a delegation of hospital and nursing home SEIU HCIIMK members traveled from St. Louis and Kansas City to Jefferson City to meet with lawmakers on pressing legislative issues. Medicaid expansion and the need for fully funded home care programs dominated the conversation, but members also spoke out against Paycheck Deception that anti-worker legislators are supporting.
Denise Givens, a CNA of 20 years at Grand Manor Nursing Home in St. Louis, participated in the Lobby Day and fighting for Medicaid expansion was especially important to her. "I have many family members who are struggling with illness because they can't get access to the healthcare they need. They are the face of tens of thousands of Missourians who are counting on lawmakers to expand Medicaid. I brought their stories to Jefferson City with me, and I'll be back on April 2nd for our next Lobby Day too."
From the other side of the state, Kansas City nursing home worker Cherie Brown also participated in Lobby Day, visiting the Capitol for the first time ever. "These issues are so important for us as workers, for our communities, and for the people we serve," explained Brown, a CNA at Highland Rehabilitation and Health Care Center. "I couldn't wait to get back and tell my coworkers about my experience. Between the lobbying and the rally we participated in for Medicaid expansion, it was a very exciting day!"
Missouri members are gearing up for a larger Lobby Day on April 2. If you'd like to save a seat on the bus, please call Tina Coggin at (816) 698-2748 or Twyla Craven at (816) 982-4008.