Working Families to Protest Outside of Archer Daniels Midland (ADM) as It Lobbies for Over $24 Million in Corporate Tax Breaks to Move Its Headquarters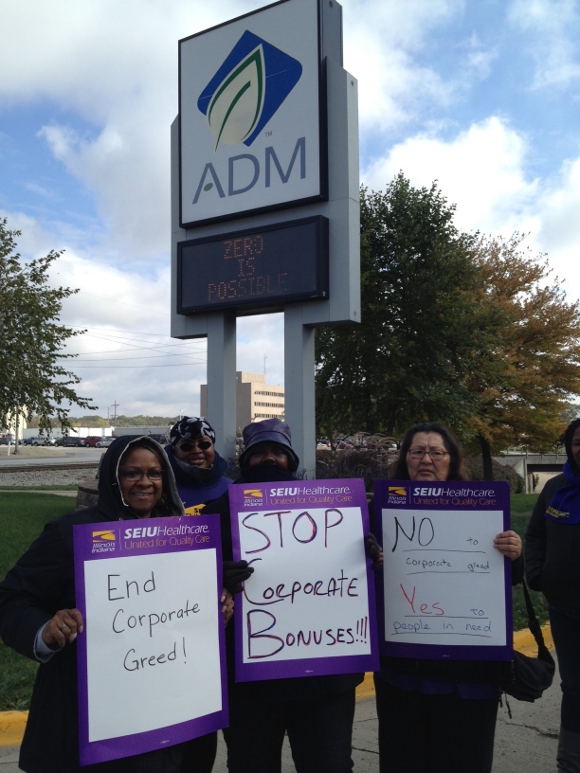 Home Care Workers, Child Care Providers Call ADM's Tax Break Agenda Outrageous, and Push State Lawmakers Not to Give In to Corporate Blackmail
(October 23rd, 2013, Decatur, IL) — Working families held a rally and march outside of ADM's headquarters to oppose the corporation getting an estimated $24 million in corporate tax breaks over the next decade just to move its headquarters either to Chicago, or possibly out of state.
Wandtv.com, NewsCenter17, StormCenter17, Central Illinois News-
Home care workers and child care providers called ADM's lobbying effort nothing short of corporate blackmail, by threatening to take jobs, and the respective tax base from Decatur, unless the corporation gets millions of dollars in taxpayer subsidies.
Kevin Holmes, a personal assistant in the Department of Rehabilitative Services (DORS) program said, "I'm one of 28,000 low-wage DORS PA's in Illinois who think there is a much better use of $24 million dollars in hard-earned, taxpayer money than giving it to a large, multi-billion dollar corporation, such as ADM, just so they can move their headquarters.  ADM thinks they can waltz into this State Capitol and get whatever corporate tax break they think they are entitled to – and not understand the consequences to working families, or the resulting cutbacks to vital services and programs this unnecessary tax cut will produce.  It's not right."
The taxpayers of Illinois should not hand over tens of millions of dollars in corporate tax breaks while this state can't even pay its own bills. Illinois is slashing money for schools, underfunding human services and failing to invest in the state's under-served communities.
The fact that ADM is lobbying for major tax giveaways demonstrates everything that is wrong with Illinois' tax system that continues to prioritize the rich and wealthy corporations – over the needs of working and middle class families.
Working families in Illinois need tax fairness where those with higher incomes, like millionaires and billionaires, should pay slightly higher tax rates. And those who make less money – like working families—should pay less in taxes.
State lawmakers need to focus on how to support the state's small businesses, rebuild the middle class, and protect vital services that empower our working families – not giving away unnecessary corporate tax cuts.
UPDATE, 12/18/13: ADM decided to move its corporate headquarters to Chicago, WITHOUT the $24 million bribe they wanted. President Keith Kelleher issued the following statement in response:
"The decision by Archer Daniels Midland's to move its corporate headquarters to Chicago without receiving over $24 million in state tax breaks clearly demonstrates that lawmakers can and will stand up to corporate extortion. 
"At a time when the state of Illinois can't pay its bills because of corporate deadbeats and tax dodgers, critical resources such as education, public safety and healthcare remain woefully under-funded.  Our elected representatives, to their credit, refused to give into ADM's corporate blackmail attempt. Yet a staggering two-thirds of Illinois corporations pay no income tax.
"The truth is that if ADM really wanted to help the city of Chicago and the people of Illinois, they would pay their fair share in taxes to invest in our communities again and lead a civic effort to demand that other corporate giants pay their fair share as well."