At "Take Back Chicago" Event, Nursing Home Worker, Francine Rico, Rouses Crowd with Great "Fair Tax" Speech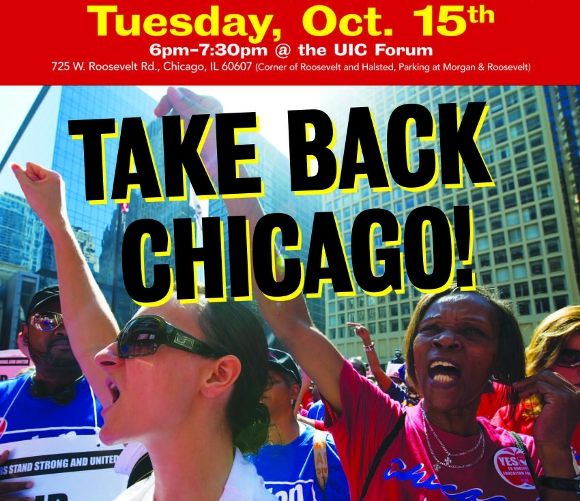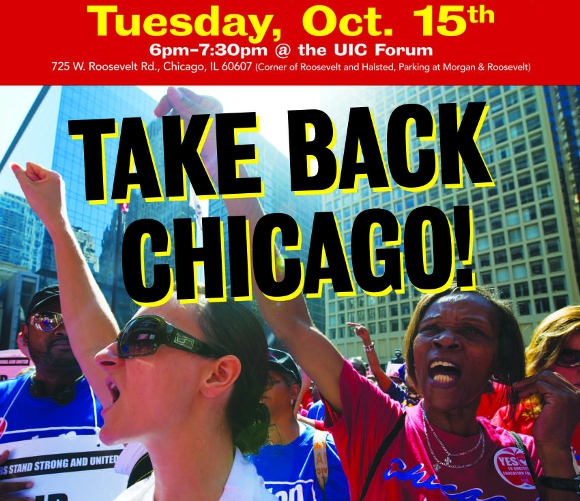 UPDATE: At the "Take Back Chicago" event on Tuesday, October 15th, Francine Rico wowed the crowd with her incredible speech about the urgency to enact a fair tax and the need for the rich and wealthy corporations to pay their fair share.
Watch Francine Rico's Speech
The Chicago Tribune even listed a quote from her speech:
Nursing home worker Francine Rico decried having to support her son and elderly mother on just $14 an hour while having to pay the same state income-tax rate as a wealthy person. "Why should a banker or corporate executive making over a million each year pay the same flat income taxes as a single mom making just $15,000 a year?" Rico said. "That's not right."

Rich corporations and wealthy elites have taken over Chicago.
That's why our members at SEIU Healthcare Illinois are proudly joining thousands of working families to "Take Back Chicago" to launch a new people-focused agenda for our city.
Click here to RSVP for this important community event on Tuesday, October 15th from 6pm – 7:30pm at the UIC Forum, 725 W Roosevelt Rd Chicago, IL 60607 — see Google map.
Together we will fight for a quality public education, a higher minimum wage, a fair tax system, affordable housing, and a budget that puts people over profit.
The working families of our great city deserve better than what we've been given – so it's time to come together and demand real change.
Our partners at the Grassroots Collaborative are bringing together a growing coalition of labor unions, community organizations, and advocacy groups to build a movement to reclaim our city.
Real Chicagoans will share their stories, learn from each other's struggles, and craft strategy to bring justice to Chicago.
Our new people-focused agenda states that:
Our tax money, which should be used to support our public school system and give our children the education they deserve, is instead being handed over to predatory banks and greedy downtown developers.
Our wages are kept too low to support ourselves and our families, while business elites make record profits off of our hard day's work.
Our tax system is plagued by corporate loopholes and sweetheart deals for the super-rich. We need the rich to pay their fair share of taxes.
Our city budget continues to cut funding for mental health clinics, libraries, hospitals, schools, parks, and the public services we need.
Our homes are foreclosed upon by big banks, our rent continues to skyrocket, and our neighborhoods are made dangerous by vacancies. We need the city to create and preserve affordable housing as part of its five year plan.
We're counting on you to join us for this important event about the future for our city.
Join us Tuesday, October 15th – together we can Take Back Chicago!