SEIU HCII launches fight for a fair tax system in Illinois!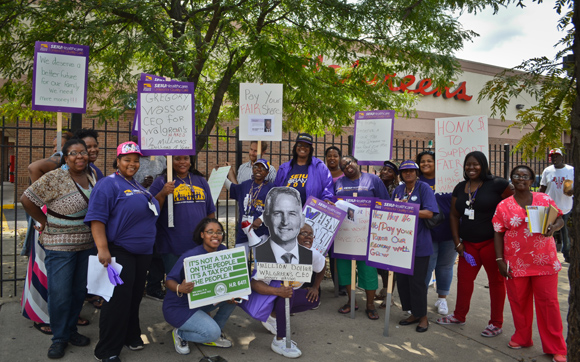 Together with parents, seniors, working families, more than 60 organizations working for economic justice, and taxpayers of all kinds, SEIU HCII is launching an effort to support a strong middle class by passing a fair tax system in Illinois!
Members, staff, and allies will be hitting the streets for the next several months, collecting thousands of petition signatures in support of a fair tax system where higher rates apply to higher income levels and lower rates apply to lower incomes levels.   Currently in Illinois, CEOs pay the same tax rate as the people who clean their offices.
"A fair tax is a crucial step toward eliminating loopholes that allow corporations to make out like bandits, while our schools, home care programs, and hospitals get sold out. Getting the richest Illinoisans to pay their fair share is a common sense solution to a government that has its priorities out of whack," said HCII child care and home care provider Josephine Garrett. Josephine is one of several members participating in a new HCII boot camp, developing our members into organizing leaders who work together to raise public awareness of the fair tax effort and take action against corporations who refuse to pay their fair share. In a week, the boot campers collected more than 1,300 signatures, made their presence felt at demonstrations against the American Legislative Exchange Council's recent meeting in Chicago, and organized several actions against tax dodging corporations that hurt our communities.
"It was important for us to march on Office Max because we have lots of schools in this community that buy their supplies at Office Max, and yet Office Max doesn't pay their fair share, and that causes schools to shut down. My fifteen-year-old sister has to cross the whole city just to get to high school now—it's not fair and it's not safe. We need these corporations to pay their fair share so we can keep the resources we need," said Shawndra Robinson, a Chicago Help at Home home care provider.
Together with our allies, we plan to collect enough signatures to give us the strong voice we need to amend the Illinois constitution and institute a tax system that fosters government accountability, fairness, and a strong middle class. You can add your voice to the fight here, and stay tuned to our Facebook page for more chances to get involved in the fight!