Members unite in Springfield to fight for program funding and fair wages for all workers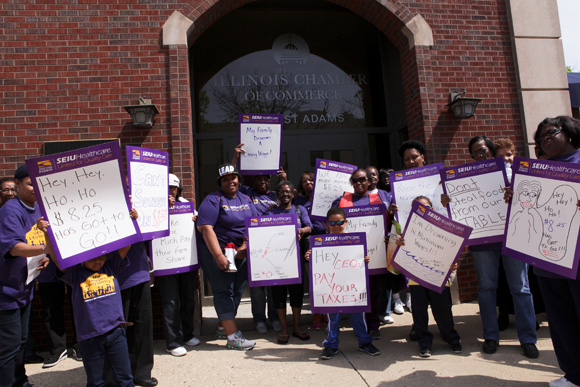 On May 16th, nearly 1000 members of SEIU HCII united in Springfield to fight for vital program funding, support for working families, and fair wages and conditions for workers in our union and beyond it.
Members kicked off the day in Springfield by swarming the Illinois Chamber of Commerce to protest their opposition to closing corporate tax loopholes and raising the minimum wage. The hundreds rallying and chanting on the street actually drew out the President of the Illinois Chamber, Doug Whitley. Mr. Whitley got more than he bargained for when Personal Assistant Lanette Newman from the South Side of Chicago, armed with a megaphone, told him why his organization's stances on these two issues are hurting seniors, people with disabilities, kids, and working families.
Watch the video below to see Ms. Newman break it down and leave Mr. Whitley speechless:

Back at the Capitol, we delivered thousands of letters from working parents to Governor Pat Quinn bundled in children's book covers expressing how important it is that we protect the Child Care Assistance Program. The Governor came out of his office to meet with our members and shake hands with the kids as they presented their 'books' of letters from working parents: Amelia Bedelia Saves Child Care, Clifford the Big Red Dog Goes to Springfield to Fight for Child Care, What the Ladybug Heard – Working Parents Need Quality Child Care, Oh, the Place You'll Go…with Quality Child Care, and Alice's Adventures in Springfield.
At the Rotunda, Roseland Hospital worker Gerald Grant talked about the vital service his hospital provides to its community, calling on lawmakers to provide the funding Roseland needs to keep its doors open.
"Just three months ago I pulled a 16 year old out of a car that had been shot in the head, a 16 year old girl, just driving her car. Someone shot her through the window. If you close Roseland, what's going to happen to those people? There are four high schools surrounding Roseland, and a mentally ill institution that's closed. We've inherited the mentally ill who have nowhere else to get their prescriptions. And they want to shut us down. Help us, you all, because this is not right."
George White, who has served in several positions at the Winston Manor Nursing  Home, summed up our effort in the Capital best:
"I'm not going to stop until every member is making a decent wage, with top-flight health care, not just for nursing home workers, but for every single person in the state of Illinois! And as I look out among us, I see truly that we stand when we're together."