To Understand the Struggle of Working Families, State Representative Kathleen Willis Holds "Child Care Walk-a-Day" With Home Provider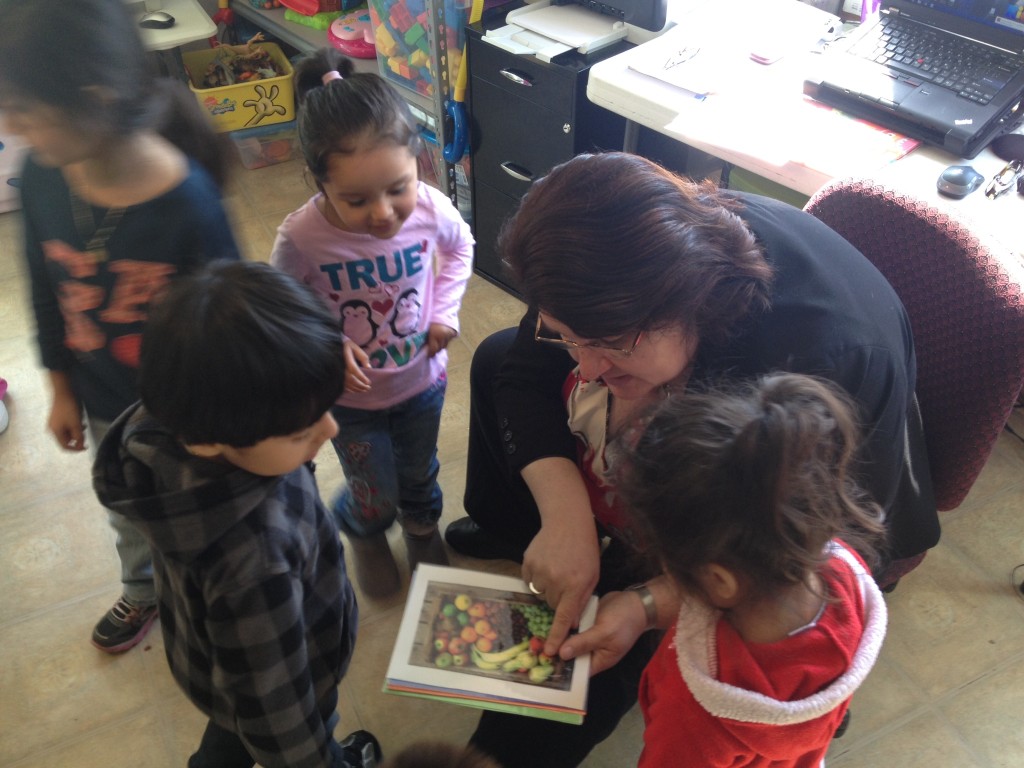 (April 5th, 2013, Addison, IL) — State Representative Kathleen Willis (77th District) visited a home-based child care provider, Alma Reyes, today to learn and witness firsthand her vital work in caring for and educating young children.
Ms. Willis played, read and engaged with children at Ms. Reyes' home as part of a "walk-a-day" to learn about the Child Care Assistance Program (CCAP).  Alma explained to Rep. Willis why providing child care assistance supports single moms and low-income families — especially the urgent need to fully fund the program and to make quality child care affordable for all working families.
Alma Reyes provides child care for about a dozen children throughout the day – six in the early morning hours, and another six children in the afternoon and evening.
"I'm providing a safe, nurturing and healthy environment for single moms and families who want to work to better their lives.  But to build a better life you have to have a strong foundation.  You have to know that your precious little ones are safe and will be cared for.  I'm proud to say that I, and other child care providers, provide that foundation.  It's why we need to make child care more affordable for all working families — not cut this assistance."
Parents and child care providers continue to call on state lawmakers to make child care assistance more affordable. Advocates are pushing legislation (SB 2315 / HB 2244) to lower co-payments in the Child Care Assistance Program for low-income parents and single moms.
Oftentimes even a slight raise or increase in income makes families ineligible for child care services leaving them to cover the full cost of care which is still beyond their means. This is known as "the cliff effect" – a policy that punishes working families and single moms and forces them to choose between getting a raise and keeping access to child care services.
"Affordable Quality Child Care" (SB 2315 / HB 2244) makes child care co-payments more reasonable by creating a tiered system where co-payments rise with families' incomes. The average low-income family spends a dramatic share of their income, 93%, on basic necessities such as housing, food and transportation leaving only 7% for child care and other expenses.
The Child Care Assistance Program is one of the single best investments the state of Illinois can make in the lives of working families.  The program supports over 160,000 children in community and home-based settings and allowing over 85,000 families to work and contribute to our state's economy. CCAP supports and empowers working families to become and remain self-sufficient.  It improves the lives of our children and prepares them for both school and in life; gives parents the ability to work and better their lives; closes the education gap; and reduces inequality.