Victory for Morrison Workers at St. Louis University Hospital!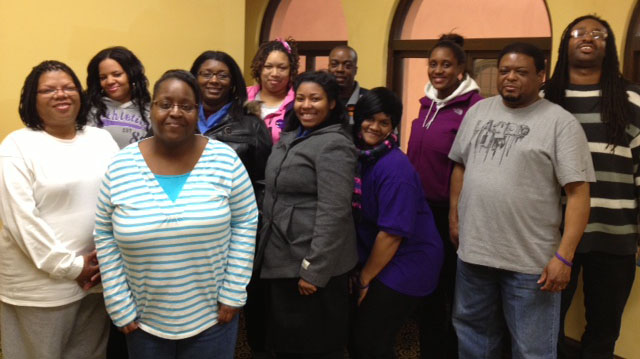 On Wednesday, April 3rd, Morrison cafeteria workers at St. Louis University Hospital voted overwhelmingly to organize their union and join SEIU Healthcare IL/IN/MO/KS.
Morrison is owned by Compass, one of the 7 largest companies in the world, and last year alone raked in $1.3 billion in profits! Yet, Morrison workers at SLUH found themselves falling further and further behind each year.
"Between us we have over a decade of experience at Morrison, yet we can't get consistent raises over 24 cents. Not even the extra penny to make it a full quarter!" said Beverly Chatman, a Catering Associate, and Tray Line Lead Carla Hemphill. "With a union, we will have a voice over our raises and know exactly what to expect every year – that's why we voted yes."
Workers stood strong against their employer's attempts to squash the organizing drive, continuing their struggle in the face of mandatory captive audience meetings, intimidation from management, and harassment. These obstacles were no match for the will of the workforce to improve their jobs and the future for their families. The organizing committee delivered a strong victory on Election Day despite Morrison's shameless tactics.
Morrison workers join over 500 other SEIU Healthcare IL/IN/MO/KS members already working at SLUH as technicians, nursing assistants, and other service and maintenance positions, who organized last summer and are currently bargaining their first contract. Existing members at SLUH stood side by side with Morrison workers in their quest for a voice on the job, participating in 'sticker days' to publicly show their support.
Morrison workers are now planning their next steps to win a strong first contract. Congratulations and welcome to our newest members!