Seniors 'Sound the Alarm' to State Lawmakers to Demand Emergency Funding for Home Care Services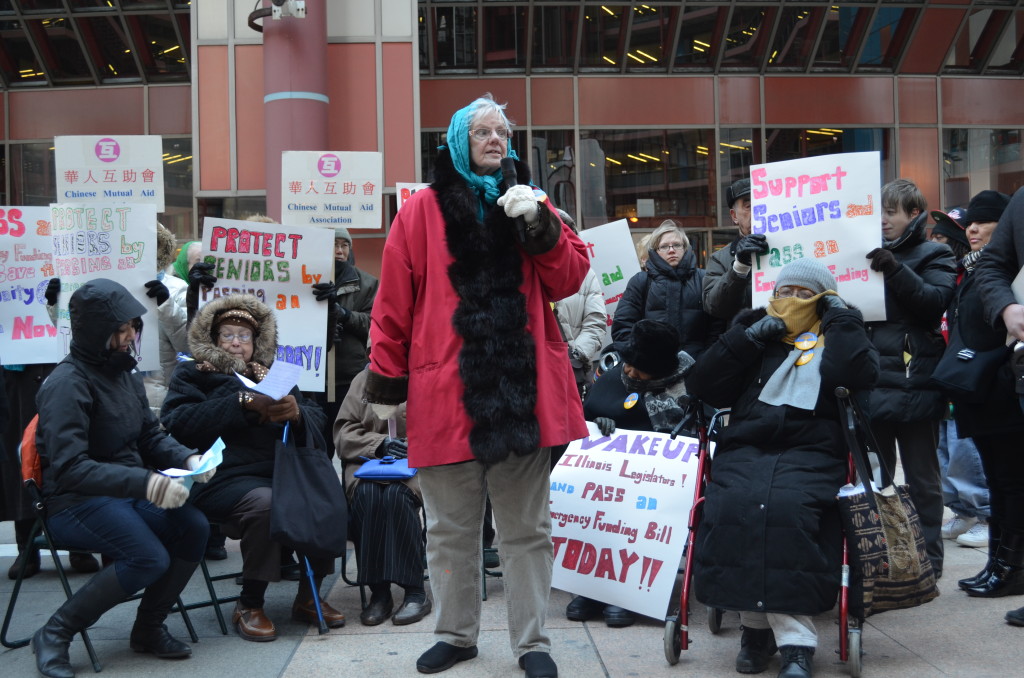 Community Care Program in the Department of Aging Is Completely Out of Money as Political Stalemate Drags On
Our allies at the Jane Addams Senior Caucus held an incredible rally in downtown Chicago at the State of Illinois Building to call on state lawmakers to pass emergency funding to save our home care program that serves seniors.
Watch and share this video from the rally.
Seniors and community advocates blared alarm clocks outside the Thompson Center at the State of Illinois Building to literally 'sound the alarm' to state lawmakers that home care assistance for seniors is in crisis and needs emergency supplemental funding.  Seniors and community allies also delivered letters to the offices of Governor Pat Quinn, House Speaker Mike Madigan, and Senate President John Cullerton demanding that state lawmakers act to protect seniors.
Emily Byrd, Chairperson of the Jane Adams Senior Caucus said in her letter to legislative leaders that: "If providing agencies are forced to cut back or stop services, it will have drastic impact on the lives of our most vulnerable citizens. It will also result in the unemployment of underemployment for the 25,000 workers who care for them. This is a situation the state cannot afford." She added, "The personal cost of having to give up independence cannot be measured."
On March 15th, the Community Care Program in the Department of Aging, completely ran out of money.  The state program funds home care for 80,000 seniors and allows them to live in their own homes instead of being forced into costly nursing home facilities.  In addition to protecting the dignity, privacy and security of seniors, home care assistance also saves the state hundreds of millions by avoiding costly institutional care.
The Illinois Association of Community Care Program Homecare Providers (IACCPHP) says that without emergency funding the state's home care system could collapse. The Association says that more than a third of its members have only 30 days to survive if the state's funding is not restored immediately.
The Community Care Program through the Department on Aging serves seniors and faces a total shortfall of $313 million; $173 million in previous liability from FY12, and $140 million operating deficit in FY13.