In National Day of Action SEIU Healthcare Members Urge Congress to Focus on Jobs, Not Cuts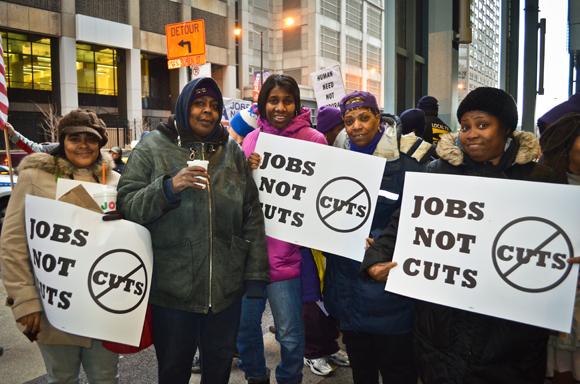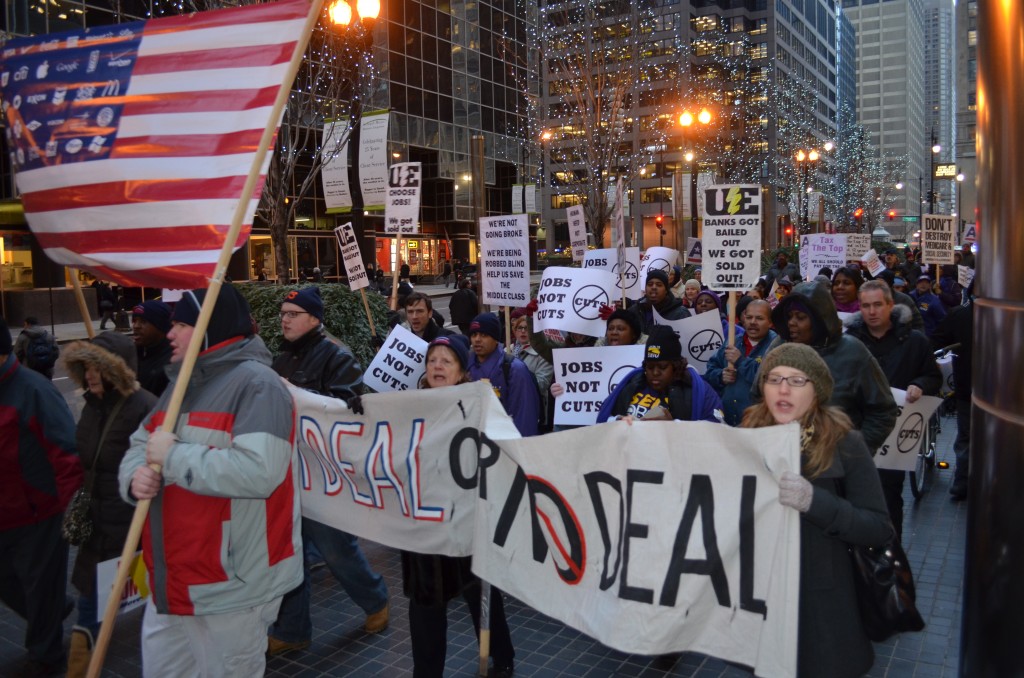 SEIU, Labor Allies and Community Groups Hold Rallies Nationwide to Protect Vital Safety Net Programs In 'Fiscal Cliff' Debate
(December 10th, 2012) — SEIU Healthcare members, working families and community groups organized scores of rallies, candlelight vigils, and marches to call on Congressional leaders and Senators to focus on creating jobs instead of cutting vital programs such as Medicaid and Medicare as part of any 'fiscal cliff' deal. The "Day of Action" yesterday produced an overwhelming amount of press coverage across Illinois and Missouri in addition to other states.
For example, HCII organized a successful rally in Carbondale, Illinois outside of Senator Durbin's office that generated remarkable news coverage.  Janna Miller, an agency home care worker, was interviewed on local CBS 12 and ABC 3.  It was also covered by the Southern Illinoisan newspaper and the local NPR affiliate WSIU. And to top it off the Associated Press posted this headline, "Fiscal Cliff Provides Bleak Outlook for Illinois"
Safety net programs like Social Security, Medicare and Medicaid provide a critical lifeline for Illinoisans. According to a report by the AFL-CIO:
2,033,345 Illinoisans receive monthly Social Security checks, including 274,692 workers with disabilities and 160,257 children;
1,789,800 Illinoisans get their health care coverage from Medicare;
2,698,787 Illinoisans get their health care coverage from Medicaid, including 1,469,950 children and 209,610 seniors.
In addition, cuts to Medicaid would hurt Illinois's economy and threaten quality jobs.  If federal Medicaid funding to states was cut by just 5%, more than 146,000 Illinoisans in the health care industry will lose their jobs over the next five years according to the Economic Policy Institute. In addition the same 5% cut in federal Medicaid would reduce Illinois aid by $27.8 billion over the next 10 years and result in major shortfalls in the Illinois state budget which is already suffering from drastic state budget cuts and $8 billion in unpaid bills.
"Putting people back to work gives individuals a sense of pride about themselves.  It's about self-respect," said Tiki Tunstall a child care provider who rallied in Carbondale.  "The more people who work means more customers for small businesses which also means growing a stronger economy. When we put individuals to work we are investing in our future."
Advocates rallied in every Illinois media market drawing enormous media attention in the fight to protect to vital services that support low-income families, children and seniors such as in Rockford and the Quad Cities.  In Peoria  union members called on Congressman Aaron Schock to support tax breaks for the 98% of middle class workers.
In Springfield, SEIU Healthcare and SEIU local 73 partnered with other labor allies interfaith leaders to hold a rally urging Senator Durbin not to accept a "bad deal" that will result in cuts to vital programs.  NBC Ch 17 did a live interview from the rally.
"It is completely unfair and counterproductive to use the so-called 'fiscal cliff' as a reason to slash vital safety net programs," said Union Baptist Pastor T. Ray McJunkins, President of Faith Coalition for the Common Good. "We shouldn't be trying to balance our budget on the backs of seniors, low-income families, and vulnerable children. It's not right."
"We need jobs and economic growth and our communities need it now," said Kevin Holmes, a union member with SEIU Healthcare Illinois. "We are still feeling the pain from the worst economic recession in 70 years.  Cutting Medicaid and Medicare is simply not a solution for those Americans who desperately need assistance."
In Missouri members joined faith leaders, community activists, and other allies across the state at press conferences in St. Louis, Kansas City, Cape Girardeau, Springfield, Columbia, and Jefferson City to urge Congress to reach a fair deal in fiscal cliff negotiations that protects vital services and makes the rich pay their fair share.
Supporters called on Senators Claire McCaskill and Roy Blunt, and Representatives Emmanuel Cleaver, Jo Ann Emerson, Vicky Hartzler, and Blaine Luetkemeyer to protect Medicare, Medicaid, Social Security and education, programs that millions of Missourians count on every day.
In St. Louis, Ella Giles, a home care worker and member of the Missouri Home Care Union, participated in the press conference, sharing her perspective as a caregiver serving seniors who rely on Social Security and Medicaid.
"With any cuts to programs such as Medicare, Medicaid and Social Security, the seniors and people that I care for would be forced to choose between whether or not they pay rent, buy groceries or purchase their critical prescriptions," said Giles. "That's not a choice we should be forcing our seniors to make just so that we can give another tax break to the wealthiest two-percent."
Hundreds of letters were delivered to Senator McCaskill's office immediately following the press conference that were collected from local constituents threatened by looming cuts as the fiscal cliff negotiations continue.
SEIU said it was mobilizing members and planning more actions to continue the fight to protect vital safety net programs leading up to the fiscal cliff.
"Now is not the time to choke off our progress by suddenly implementing a misguided plan to slash safety net programs in the name of deficit reduction. Instead, we must pursue a robust strategy to put Americans back to work, rebuild our nation's infrastructure and invest in our communities," said Kevin Schott, a former fire fighter and now a labor organizer with SEIU local 73.