Press Release: SEIU Healthcare Illinois Praises State Senate Vote to Allow All Illinois Motorists to Obtain Driver's Licenses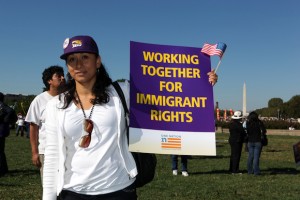 FOR IMMEDIATE RELEASE
Contact: Mike Truppa, Mike.Truppa@seiuhcil.org
Scott Vogel, scott.vogel@seiuhcil.org
Providing a Path for Undocumented Residents to Obtain Driver's Licenses and Purchase Car Insurance Will Dramatically Improve Highway Safety.  Advocates Call on Illinois State Representatives to Immediately Pass Highway Safety Bill
(December 4, 2012, CHICAGO) – Today the state senate passed important highway safety legislation that would permit all Illinois motorists, including undocumented residents, to obtain driver's licenses and purchase car insurance.  SEIU Healthcare Illinois, along with the statewide "Highway Safety Coalition," called on the House of Representatives to immediately take up and pass this historic highway safety bill.
According to the Highway Safety Coalition, Illinois law requires anyone applying for a driver's license to provide a Social Security number (SSN). This law prevents 250,000 Illinois immigrant motorists who cannot get SSNs from getting licenses— even though they need to drive to support their families. These unlicensed, uninsured drivers are involved in 79,600 accidents each year, costing $660 million in damage claims. Nationwide, unlicensed motorists are five times likelier to be involved in a fatal crash than licensed drivers.
In response to the state senate's vote, Keith Kelleher, President of SEIU Healthcare Illinois and Indiana, issued the following statement:
"We applaud the state senate for passing important legislation today that will improve Illinois' highway safety.  By providing a path for all motorists to obtain driver's licenses and to buy car insurance, our elected officials rightfully put politics aside and focused on pragmatic solutions that will save lives.  This is the right time to finally enact this vital legislation and the House should not delay in passing it.
"With today's vote, the senate took a dramatic step towards treating all Illinois residents with decency and respect. This historic bill begins a bipartisan approach to reforming our immigration issue by bringing undocumented residents from out of the shadows and fully incorporating immigrant families into our communities.
"If there is one clear conclusion based on this year's election, it is that our country, and our state, must enact sensible solutions that protect immigrant families and stop the endless attacks and blaming of undocumented workers. It's time for the divisive and cynical politics around the immigration issue to stop and for Illinois, and our country, to enact reasonable immigration reform.  Enacting this crucial highway safety bill is a good start."
-30-
SEIU Healthcare Illinois & Indiana unites more than 92,000 healthcare, home care, nursing home and child care workers across two states in the fight to raise standards across industries, to strengthen the political voice for working families and for access to quality, affordable care for all families.