SEIU Sponsors Town Hall Forum with Local, State Elected Officials to Address Threats to Region's Healthcare 'Safety Net'
GARY, Ind. (June 6, 2012)–Healthcare workers, patients and seniors who receive home care voiced their concerns to elected officials about funding issues that afflict Gary's Methodist Hospital and the rumblings of future cuts to home care services that could leave seniors and people with disabilities with limited to no affordable independent living options.
In addition, participants noted that the hospital and home care services industries provide the region thousands of jobs that keep Hoosiers working.
The concerns were discussed today at Trinity United Church of Christ during a town hall forum that was characterized as a request for "preventive medicine" – in the form of more public investment – to stave off higher rates of illness and the job losses that result from underfunded health care.
Listening to the passionate pleas were Democratic gubernatorial candidate John Gregg, Indiana Democratic state Senator Earline Rogers (3rd), Republican state Senator Ed Charbonneau (5th), Democratic state Representatives Charlie Brown (3rd) and Scott Pelath (9th) and Gary Mayor Karen Freeman-Wilson.
Rep. Brown is the ranking minority member on the Public Health Committee and Senator Rogers serves on the Senate's Public Health and Provider Services subcommittees. Senator Charbonneaux is the former interim president and CEO of Methodist Hospitals, Inc., and Rep. Pelath is a member of the Ways and Means Committee and serves as the assistant minority leader of the Indiana House Democratic Caucus.
"The fate of Northwest Indiana's healthcare system is at a critical crossroads," said forum moderator and home care provider Yvette Hernandez. "If our legislators don't address and fix this funding problem before it gets any worse, desperately needed home care services and jobs could be lost.
"Home care workers already suffer with low pay, little to no benefits, and a lack of adequate reimbursement for travel expenses. Hoosiers working in home care industry are struggling to keep their families above poverty line," she said.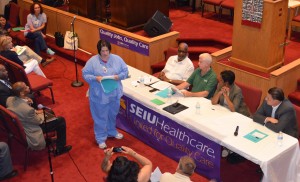 Lu Gragido, whose husband is disabled and depends on home care service, told legislators that home care allows her husband to be home with her and is much less expensive than nursing home care.
"My husband should not be in a nursing home," she said. "The personal care he receives from his home care provider gives me comfort to know that he is in good hands when I'm at work. We've gone from a two-income family to depending only on my check. Any cuts to home care funding would be devastating to hundreds, if not thousands, of families in Northwest Indiana who depend on it."
Workers, patients and advocates for keeping Methodist as a functioning — if not thriving – hospital said the institution's financial condition has improved from its dire 2008 position, yet low staffing issues persist and the company could improve wages and benefits for its workforce.
Medicaid and Medicare are hot button targets for cuts in the aftermath of the nation's economic collapse, but Methodist must stay competitive by offering competitive wage and benefit packages to attract and maintain a professional workforce, they said. One worker noted that Methodist awarded top executives more than $2 million in compensation in 2010, a 49 percent increase from 2009.
"We're here today to act proactively," said Methodist worker Keya Jenkins. "We appeal to our legislators to stand with working families when they go back to our state capital and fight to keep our services funded. This is 'preventive medicine' that could help avert more hardships in the future for people who depend on hospitals like Methodist or home care services.
"On the other hand, as workers we demand that our hospitals compensate their workers fairly. Awarding top executives healthy pay increases while ignoring the needs of those who are providing the quality service doesn't make sense," she said.