Community aids residents at Chicago nursing home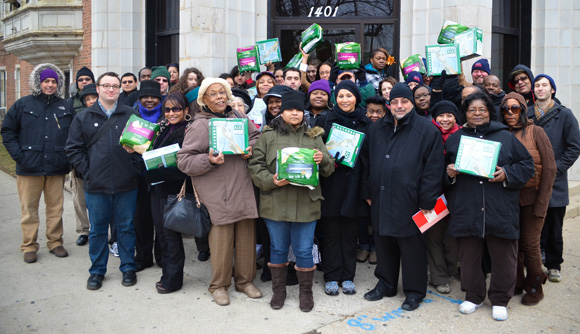 CHICAGO (March 1, 2012)—Fed up with chronic health and safety violations at a Humboldt Park nursing home, a vocal group of pastors, community activists and workers at the facility took matters into their own hands today, delivering badly needed sanitary supplies that the home's ow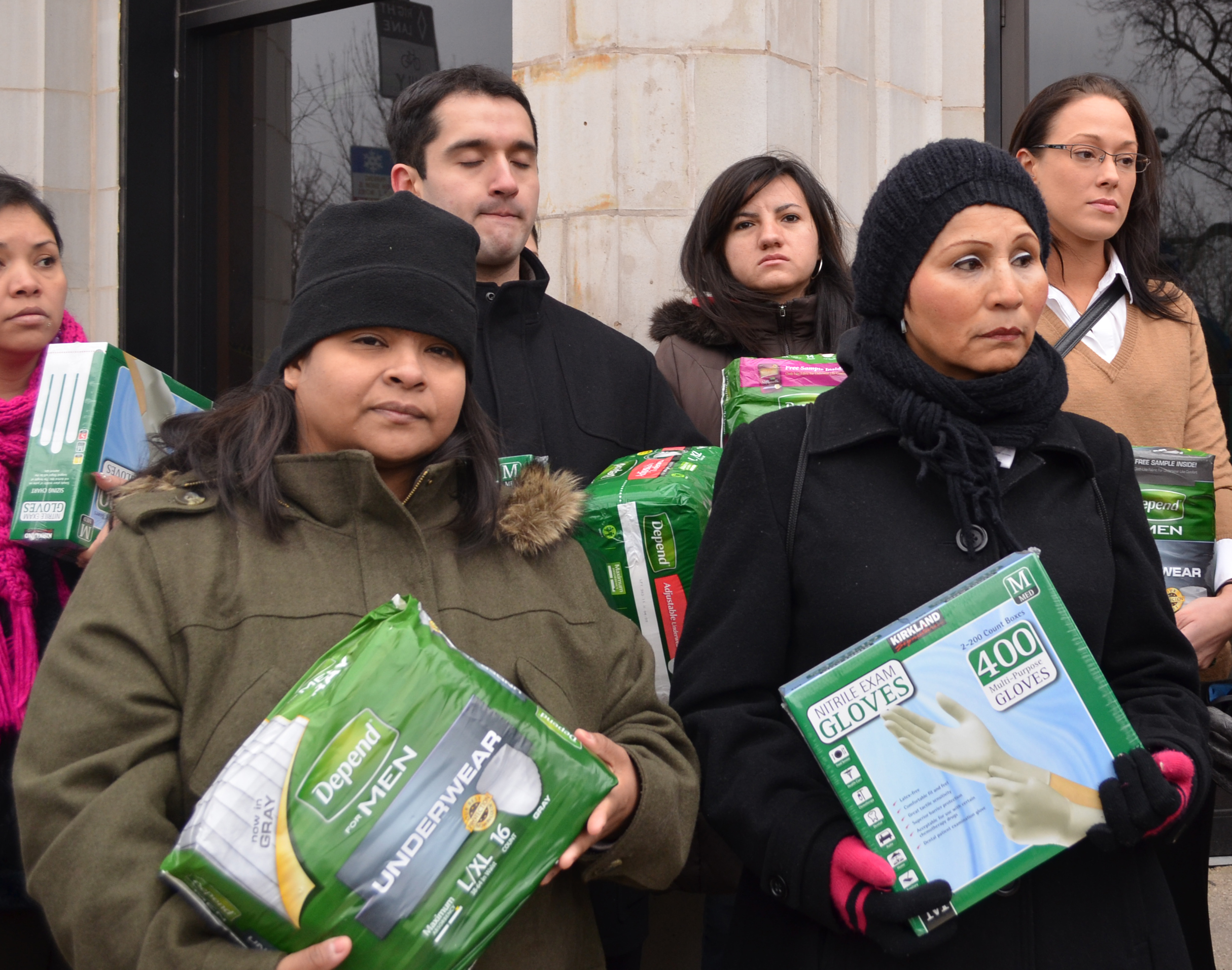 nership has failed to stock for residents entrusted to its care.
The group prayed and chanted outside the Center Home for Hispanic Elderly nursing home, calling on administrators to rectify the dangerous supply shortage and follow through on other reforms it promised to make after state regulators found numerous health and safety violations at the facility three months ago.  Workers also complained that daily staffing shortages add to their difficulty in providing quality care for residents.
Workers have complained for months that nursing home administrators were not giving them enough supplies — such as diapers and gloves — to last an entire shift. Such shortages leave residents in unsanitary conditions that are preventable, workers say.
"It is unfortunate that it has come to this," said Marilu Vazquez, a CNA at the facility. "While the company is making money, it is allowing our elderly residents to experience unnecessary hardships that are easily preventable.
"We are demanding that Center Home administrators not only provide us with the necessary supplies, but to also bring staffing levels up to the required levels. We deserve it, but more importantly, our residents deserve it."
The nursing home was cited by state inspectors in November for similar violations, including "rationing" supplies in a way that exposes residents and workers to the spread of infection and disease. Among other areas of correction, inspectors called on Center Home administrators to "maintain an infection control program" and assure that services provided "meet professional standards of quality."
Meanwhile, the nursing home showed a profit significantly higher than the industry average, according to the latest available statistics.
Press conference participants piled bags of diapers and gloves on the steps of the nursing home to demonstrate the need of the workforce and the neglect of the administrators to provide such items. At the end of the press conference, participants delivered the supplies to administrators inside the building.
"Residents and workers do not deserve these unsanitary and unsafe conditions," said Adam Kader, director of the Arise Chicago Worker Center. "Nursing home operators must be held accountable when they shortchange and neglect their residents and staff just because they want to make more money for themselves. Shame on you, Center Home. Delivering quality care should be the standard you strive for."
See the rally video here: