Hundreds Stand Up for Home Care in Springfield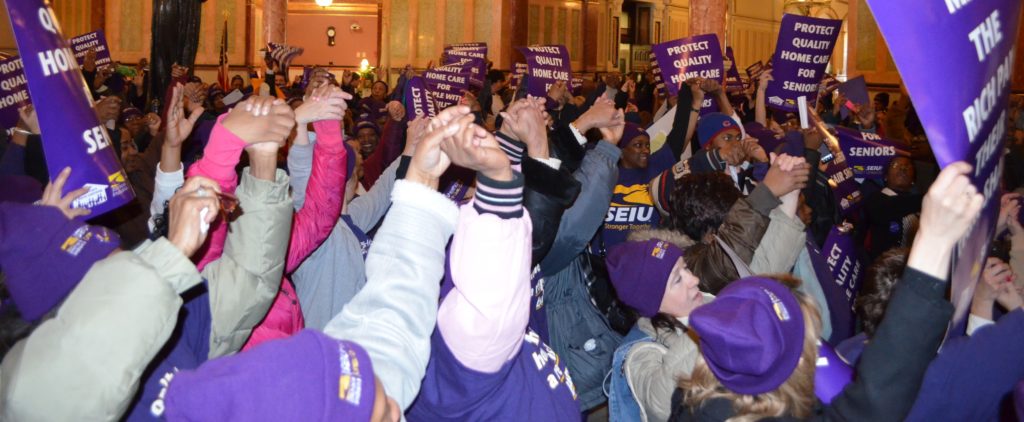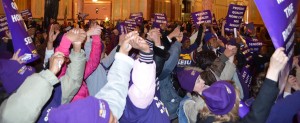 Hundreds of home care workers and consumers took the Capitol by storm on Tuesday, visiting lawmakers and explaining the impact the proposed budget would have on home care services for seniors and people with disabilities.  The lobby day was then followed by a rally where our speakers called for an end to corporate handouts that rob funds from those who need it most.
"Today, we want our lawmakers to know that the $216 million tax break that they doled out to CME Group could have provided 37,000 of our seniors and people with disabilities home care services," exclaimed rally emcee Tonya Smith, a home care worker from Addus.
Several consumers shared their personal stories with the crowd of over 500, pointing out that without the help they get from their home care worker they may not be able to continue living the independent lives they want to live.
"I'm a full-time student right now studying to be a math teacher one day," said Crisstian Hernandez, a home care consumer from Posen, IL.  "Without this program, I would not be able to attend school and pursue my dream.  Our state seems to have its priorities misplaced when it comes to choosing the winners and losers during tough economic times."
Several political allies stopped by to voice their support for home care funding as well.  State Senator Gary Forby from the southernmost region of the state, State Representative Al Riley from the South Suburbs of Chicago, and Chicago's West Side State Representative Derrick Smith all reaffirmed their unwavering support for home care services.
"I want you all to know that my mother receives the services you provide and my sister is the one who provides it for her, so I get it," said Representative Smith, over cheers from the crowd.
While energy was high in the rotunda, the realities of the budget proposals are somber.  The Governor's proposed cuts would mean loss of access for many to the critical services we provide and fewer hours for those already enrolled in the program.  These cuts could leave many of our consumers with no choice but to transition to nursing home care, swallowing more state resources and sending us to the unemployment line.
"Home care workers like me are losing hours, and when I lose my hours that means seniors are losing their services," said Bonita Rodriguez, a home care worker who works with seniors.  "Without my service, my senior probably wouldn't eat, probably wouldn't get out of bed, and probably wouldn't be clean.  Budget cuts are targeting seniors and people like me so the rich can get their tax breaks.  Well we're here to fight back and we'll keep coming back until lawmakers get the message!"
Home care consumers and workers returned home after the rally energized to keep the pressure on back in our communities and make sure quality care and quality jobs are protected in the budget.  Cuts to home care are only initial proposals at this point, but we stand ready to activate and mobilize if these plans move forward.  Stay tuned for more updates and ways to get involved.
Visit our photostream to view more photos from the lobby day and rally.