Candidates, Lawmakers Walk a Day in Our Shoes
This primary season, candidates and lawmakers seeking re-election are getting hands-on experience learning the role home care programs play in the lives of seniors and people with disabilities in Illinois.  Several political hopefuls agreed to participate in 'Walk a Day in Our Shoes' events around the state, where they spend a few hours with a local Personal Assistant and consumer in order to fully understand the vital need for home care services.
"Making sure our lawmakers understand what's at stake is paramount to protecting our jobs and quality care," said Haley Stokes, a Personal Assistant in Rockford.  "Connecting candidates with the consumers we serve and the work we do ensures that our voices are heard and our message gets out."
During these events, candidates perform services for home care consumers and get a chance to hear personal stories about the devastating impact cuts to the program would have on that individual consumer, their families, and their communities.  In addition, Personal Assistants demonstrate their commitment to providing quality care and explain how cuts would hurt them as well, in the form of fewer hours to work and maybe even a loss of employment.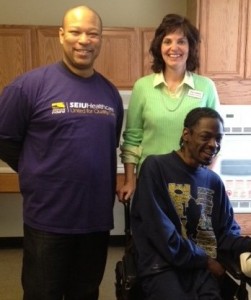 In Springfield, Personal Assistant Kevin Holmes and his consumer Ed Vorties hosted state representative candidate Sue Scherer.  Scherer performed the services Holmes normally would for Mr. Vorties, like meal preparation and cleaning around the house.
"I was in a nursing home at one point and I am not interested in going back," Mr. Vorties explained to Scherer.  "I want to remain in my own home and in my community where I contribute by serving as an Assistant Minister at my church and volunteering my time as a Sunday school teacher.  Cuts to home care funding would mean a loss of independence for me and a loss to my community as well."
"Nursing homes can be an important resource for people who need round-the-clock care," added Holmes, "but people deserve to have a choice if they want to remain in their own homes and can do so with some assistance from a personal assistant like me.  The idea of taking that choice away from someone like Mr. Vorties is wrong, and that's why we want to make sure our lawmakers understand that cuts to home care will have devastating effects."
Sue Scherer got the message and pledged to fight hard in Springfield to protect home care funding if elected.  Check out Channel 3's coverage of the event here.
In Rockford, three candidates vying for a state senate seat also took part in these events.  Candidates Dan Lewandowski, Steve Stadelman, and Marla Wilson each joined local home care workers and consumers from Rockford, seeing firsthand how home care services support people with disabilities in their community.  In the southwestern region of the state, home care consumer Sandretta Howard and her Personal Assistant Silda Chapple will host State Senator James Clayborne.  Finally, State Senator Gary Forby will participate in March with a local Carbondale consumer and home care worker.  These statewide activities are one more way Personal Assistants and consumers are fighting back against budget cuts and helping to protect the future of the DORS program.