Better watch out, CME Grinches: the 99% is coming to town!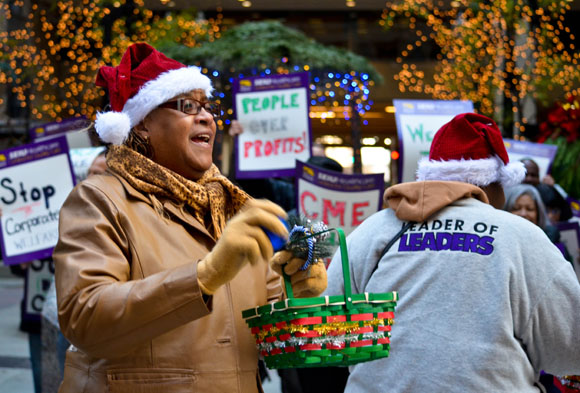 SEIU Healthcare Illinois and Indiana members spread a little Christmas cheer at the Chicago Board of Trade last week, conducting a Salvation Army-style mock charity drive for the CME Group.
The CME Group has made headlines recently as its bid for a $100 million state tax break was overwhelmingly defeated by the Illinois House of Representatives, but the group's demand for corporate welfare is likely to resurface in Springfield. Despite earning $900 million in profits last year, the CME Group has repeatedly threatened to leave the state, taking its jobs with it, if legislators don't pander to its demands for a taxpayer handout.
In spite of members' Santa hats, festive bells, and lovely singing voices belting adapted Christmas carols like "CME gets tax breaks, and we get charged more, they're the Grinch that stole Christmas, stealing from the poor!" to the tune of "We Wish You a Merry Christmas," few passersby seemed interested in giving to the rich this holiday season.
"These people have their hands out to get even more money from taxpayers, money we should be spending on things that the poor and the middle class need, like job creation and Medicare. People are losing their homes, their jobs, they don't have money for food, and the CME is threatening to take their jobs out of the state if we don't give them $100 million? Everyone knows that's a scare tactic. It's blackmail," said DORS PA Flora Johnson.
After the demonstration at the Board of Trade, members went across the street to the Occupy Chicago site at Jackson and LaSalle to deliver lunches to protesters there.
See video from the demonstration: