Chicago, Joliet, and St. Louis members and allies join in nationwide Day of Action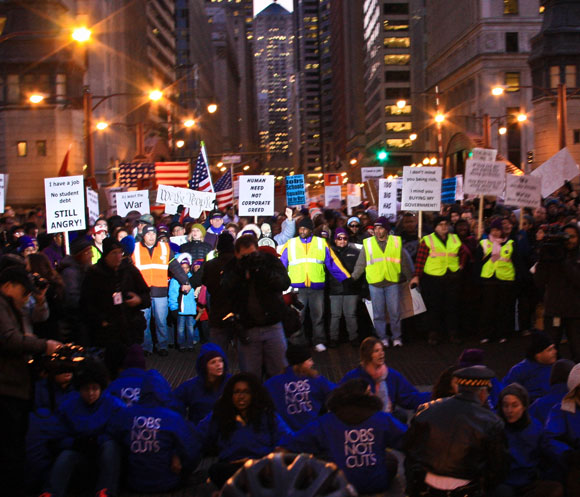 All across the country on November 17th, unions, community groups, chapters of the Occupy movement, and other diverse representatives of the 99% came together to demand support for job creation instead of more corporate welfare.
In Chicago, Joliet, and St. Louis, SEIU Healthcare members spoke, marched, and occupied bridges to speak against cuts to vital safety-net programs as hundreds of similar actions across the country made our voices even stronger.
Home care worker Veronica Wansley spoke out for home care consumers on a bridge in St. Louis.
"My consumer has multiple sclerosis, and she's blind. It's a proven fact that it would cost more to put her in a nursing home than to continue to fund the programs that allow me to help her stay safe and independent in her own home, and it would eliminate the jobs of thousands of health care workers like me. I'm here to say that Congress needs to focus on protecting jobs and safety-net programs, not tax breaks for corporations and the rich," Veronica said.
"I depend on Social Security, Medicaid, and public housing to get my needs met, but I'm not just worried about me," said Jane Addams Senior Caucus leader Ruth Long, addressing the crowd in Chicago shortly before it shut down the LaSalle St. bridge. "I'm worried about the thousands of vulnerable Americans who depend on these programs who are suffering because of the greed and selfishness of the 1%."
Hear more from Veronica, Ruth, and other participants at our three actions, and read more about the National Day of Action.