My Medicaid Matters! Home care consumers, providers, and advocates rally with ADAPT in DC for real Medicaid reform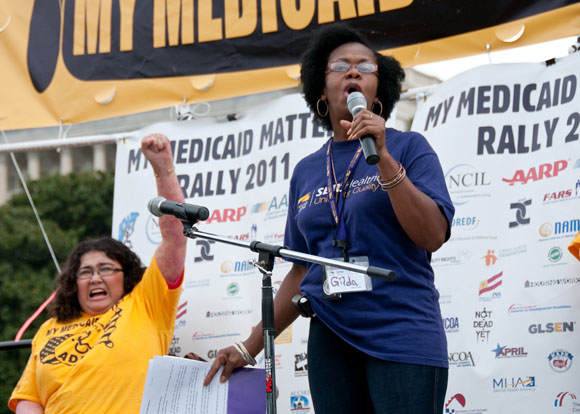 On September 21, more than a thousand home care consumers, providers, and advocates traveled to Washington, DC to rally and lobby for Medicaid reform that contains costs without sacrificing the needs and rights of seniors and people with disabilities.
"We went to make our voices heard for the people who rely on this funding to live independently," said Alberta Walker, a home care provider in Dixmoor, IL.
Alberta cares for a woman with Multiple Sclerosis and her 42-year-old son, who was paralyzed 11 years ago.
"People want to be independent. My son doesn't need round-the-clock care, and he's still young—I don't think he could handle being cooped up in a nursing home. Home care funding allows my son to stay independent and be around his family, and it helps me to pay to keep the lights on. If these programs were cut, it would be a real hardship for our whole family."
After the rally on Capitol Hill, members and their consumers fanned out to lobby lawmakers to support reforms to Medicaid that save money without cutting care to the people who need it, eliminating home care providers' jobs, or shifting expenses to already-struggling states. More than 58 million Americans rely on Medicaid for care, and millions more are employed by providing that care.
"We had a meeting with a member of Senator Dick Durbin's staff and got a very positive response," said Rose Crawford, a Chicago home care provider. "With so many of us going down to DC to rally, we really made our voices heard."
"Our next step is to start writing letters to lawmakers, together with our consumers," Rose said. "We all know how much Medicaid means to their quality of life, so we're going to keep fighting as hard as we can to protect it."