Share Your Story Now: End Short Staffing in Nursing Homes ⛑️ | Comparta su historia ahora: ponga fin a la falta de personal en los hogares de ancianos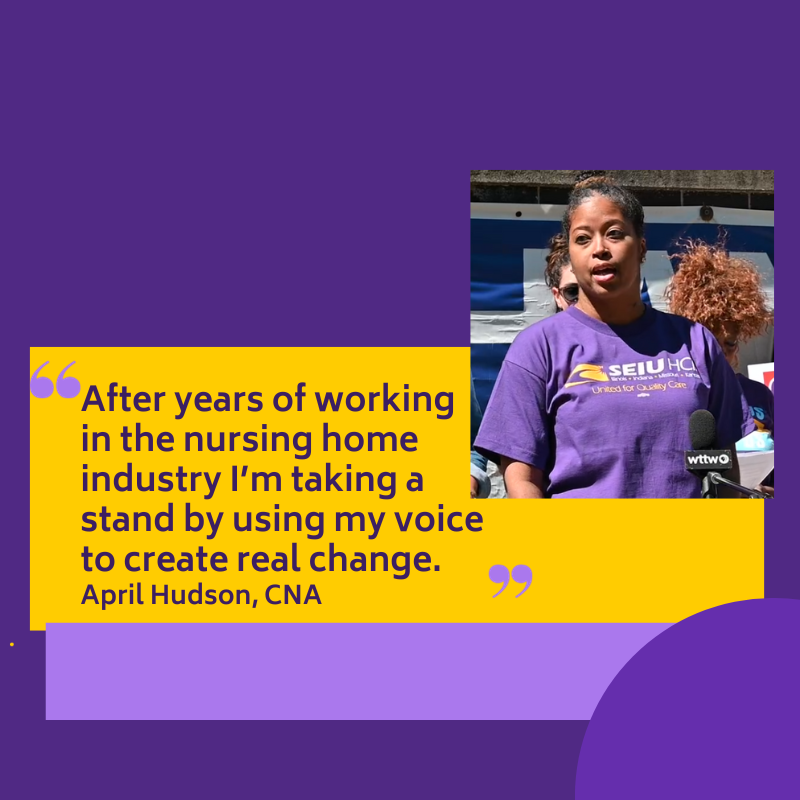 Desplácese hacia abajo para leer este mensaje en español.
My name is April Hudson and I am a CNA at Ambassador Nursing Home. There are many weeks where I work short staffed every single day of the week and I know that many of you can say the same. I often work with one other CNA caring for 30 patients together and it has got to stop.
📣 Have a short staffing story? Share it here: https://seiu.co/NH-Story
Without adequate staff, workers are often asked to do the job of 2-3 other people alone. This puts both workers and patients in extremely unsafe situations where there is a lot of room for injury. I know that I'm not the only one here who has been injured on the job due to our physically demanding workloads while working short staffed. We all deserve to leave work the same way we arrived, without injury and without being completely exhausted, that is why I'm asking you to share your stories.
🗳️ Our short staffing stories can help The Centers for Medicaid and Medicare Services push their proposed ruling on staffing to the finish line. After years of working in the nursing home industry I'm taking a stand by using my voice to create real change, I invite you to do the same.
🏴 WE NEED TO HEAR YOUR STORIES ABOUT WORKING SHORT STAFFED, GO TO OUR PETITION NOW: https://seiu.co/NH-Story.
✊ In Solidarity, April Hudson, CNA
---
Mi nombre es April Hudson y soy CNA en Ambassador Nursing Home. Hay muchas semanas en las que trabajo con poco personal todos los días de la semana y sé que muchos de ustedes pueden decir lo mismo. A menudo trabajo con otro CNA que atiende a 30 pacientes juntos y esto tiene que terminar.
📣 ¿Tiene una historia breve sobre la falta de personal? Compártelo aquí: https://seiu.co/NH-Story
Sin el personal adecuado, a menudo se pide a los trabajadores que hagan el trabajo de 2 o 3 personas solas. Esto coloca tanto a los trabajadores como a los pacientes en situaciones extremadamente inseguras donde hay mucho riesgo de sufrir lesiones. Sé que no soy la única aquí que se ha lesionado en el trabajo debido a nuestras cargas de trabajo físicamente exigentes mientras trabajamos con poco personal. Todos merecemos salir del trabajo de la misma manera que llegamos, sin lesionarnos y sin estar completamente agotados, por eso les pido que compartan sus historias.
🗳️ Nuestras breves historias sobre la falta de personal pueden ayudar a los Centros de Servicios de Medicaid y Medicare a llevar a la meta su propuesta de resolución sobre la dotación de personal. Después de años de trabajar en la industria de hogares de ancianos, estoy adoptando una postura usando mi voz para crear un cambio real. Te invito a hacer lo mismo.
🏴 NECESITAMOS ESCUCHAR SUS HISTORIAS SOBRE EL TRABAJO CON POCO PERSONAL, VAYA A NUESTRA PETICIÓN AHORA: https://seiu.co/NH-Story.
✊ En solidaridad,
April Hudson, CNA